Tampa Bay Lightning vs New York Islanders Pick – Game 6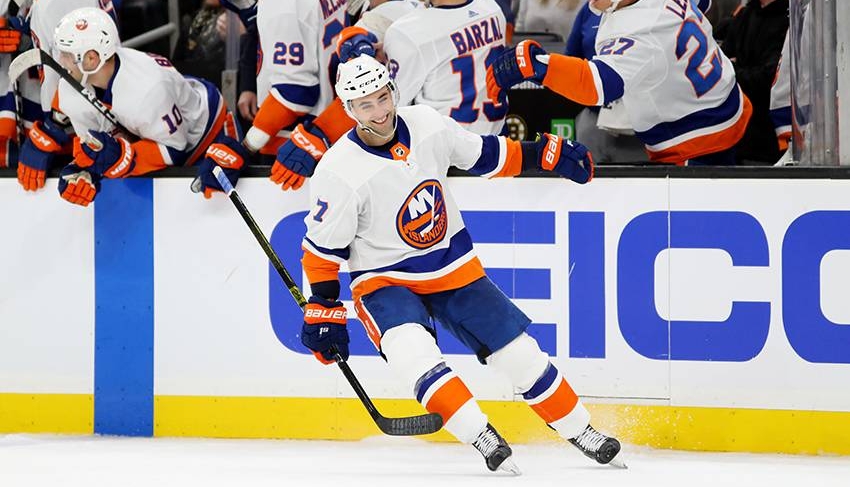 OddsHQ's Tampa Bay Lightning vs New York Islanders Pick for Game 6: The Lightning have another chance to advance to their 2nd Stanley Cup Finals in just five years on Thursday, as the Islanders managed to keep their dreams alive in Game 5. The only glaring question for the Ligthtning is the health of Brayden Point, as Tampa is 0-2 in this series without him in the line-up.

| | | |
| --- | --- | --- |
| MLB Betting | NY Islanders | Tampa Bay Lightning |
| Best Odds | +150 | -167 |
| Total | Over 5 (-128) | Under 5 (+107) |
| Where/When | Rogers Arena – Edmonton | 8:00 PM EST |
The Island Stays Open
The New York Islanders lived to fight another day thanks to a 2-1 OT win in Double Overtime of Game 5. Jordan Eberle converted after a great pass from captain Anders Lee on a great 2-on-1 rush by the Islanders to get the victory. Semyon Varlamov picked a marvelous time to put forth his single strongest goaltending effort and performance of this series for the Islanders. He was on top of his game cutting down the shooting angles, and didn't give up many juicy rebounds in front of the net. Varlamov turned aside 36 of the 37 shots that Tampa Bay fired at him, and allowed the Islanders to withstand several shifts during the game when the Lightning continued swarming in New York's defensive zone, but Tampa Bay couldn't capitalize on any of the chances they got.
In the first five games of this series, the Lightning have held a 57-41 advantage over the Islanders in high danger scoring chances, and the Islanders find it difficult to keep the Lightning from garnering quality looks at the net. The difference for them in Game 5 was the lack of finishing ability by Tampa Bay, as well as some great goaltending from Varlamov. The absence of Brayden Point also played a factor in the Lightning loss, as he has been by far the best forward on this Tampa Bay Lightning team in the playoffs if not their best overall player. That leads to this all-important question in Game 6…
Will the Lightning be On Point in Game 6?
Brayden Point's playing status for Game 6 on Thursday night is still in question as Lightning head coach Jon Cooper was non-committal that Point would return to the lineup and suit up in Game 6. Sometimes it's counterproductive to make too much out of the absence of one single player in a team sport. However, the recent stats and results for Tampa Bay don't lie when it comes to Brayden Point. Tampa Bay is 0-2 in this series without Brayden Point in the lineup. The two games the New York Islanders have won in this series were Game 3 and Game 5 both of them were games that Brayden Point didn't play. He leads Tampa Bay in goals and points in the Stanley Cup Playoffs and the top line with Point, Nikita Kucherov, and Ondrej Palat is nearly impossible to contain when they are all on the ice at the same time. There was a feeling of the Lightning being a bit more out of sync without Point in Game 5 especially Kucherov who didn't have his usual level of impact nor the same flash and dash without his linemate Point on the ice. If you are into trends, one long-term trend significantly favoring Tampa Bay is that they are 43-8 in their last 51 games when scoring 2 or fewer goals in their previous game which fits for this game.
Tampa Bay Lightning vs. New York Islanders Pick
This is an extremely fascinating game to handicap for me. The NY Islanders have proven to be a gritty and resilient group that is not going to stand by and watch their season end without a battle. They proved that in Game 5. I'm in no rush to take Tampa Bay here laying another very steep price on the ML at around -160 but the status of Brayden Point for this game is significant. Tampa Bay has won seven straight games when Point has played and if he does play, it would probably lead me toward liking the Over 5 quite a bit in this game at -135. I will probably look toward the Over regardless of whether he plays or not but I definitely would like that bet more if Point does return for Tampa Bay. This is an elimination game so there is always a chance for a late goal-scoring explosion in the 3rd Period to help the cause with the Over. It isn't like Tampa Bay didn't generate chances in Game 5. They did but unfortunately only scored one goal as the team had more trouble burying their chances with Varlamov's best goaltending of this series so far is the main reason for that. 
If Point doesn't play, I will absolutely be interested in betting on the NY Islanders as an underdog at +140 in this game, especially knowing the Lightning are winless in this series when playing without him. Check on his status leading up to the puck drop of Game 6 on Thursday night, and if Point doesn't play, I will be adding the NY Islanders as a wager for this game in addition to the Over.
Best Current NHL Odds on the Over 5 is at -128 via BetMGM