Tampa Bay Lightning vs Dallas Stars Pick – Stanley Cup Final Game 6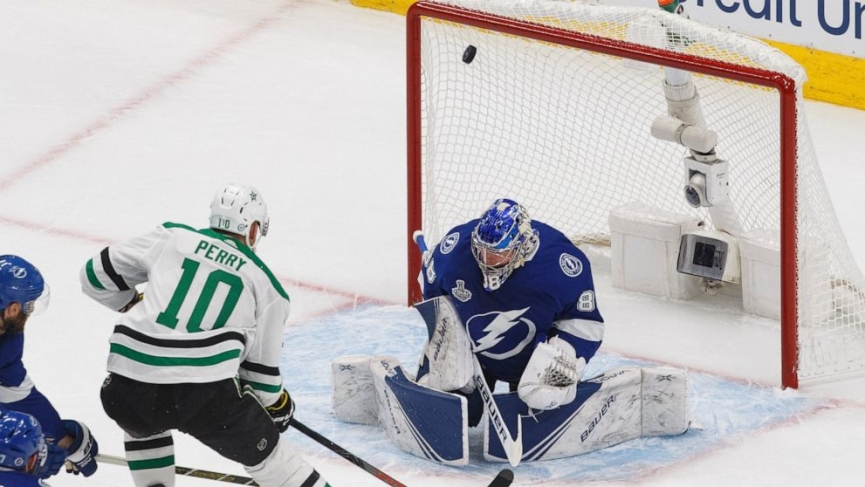 Odds.com's Tampa Bay Lightning vs Dallas Stars Pick – Stanley Cup Final Game 6: The Stars are now 1-0 in the playoffs in games in which they face elimination, they will have to make it 2-0 in Game 6. As the Stars will fight to stay alive, for a chance for a game 7 at a shot at the Stanley Cup.  

| | | |
| --- | --- | --- |
| NHL Betting | Dallas Stars | Tampa Bay Lightning |
| Best Odds | +150 | -161 |
| Total | Over 5 (-130) | Under 5 (+120) |
| Where/When | Rogers Arena – Edmonton | 8:00 PM EST |
Nothing in life comes easy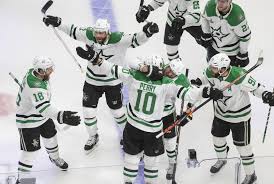 There is no tougher championship to win in major North American professional sports than the Stanley Cup in the National Hockey League. It demands a physical, mental, and emotional toll of epic proportions, especially during the playoffs. Winning the Stanley Cup is not meant to be easy. It's meant to be hard, challenging, and a true display of withstanding pain, and adversity. It's fitting that notching that elusive Stanley Cup clinching-win for the Tampa Bay Lightning isn't coming easily for them. The Lightning found that out on Saturday night against the Dallas Stars who rallied the troops 24 hours after a very tough 5-4 OT loss in Game 4 on Friday night to bounce back with a 3-2 OT win of their own in Game 5 on Saturday night with Corey Perry scoring the game-winning goal to extend this series to Game 6. Dallas was outplayed for much of Game 5, but they capitalized on the chances they got while they got one of the strongest performances of the series in goal from Anton Khudobin as he, and the Stars defense put forth a strong effort after a rough Game 4.
As injuries mount, other Stars must shine
Dallas continues to show great resilience to force this Stanley Cup Final to Game 6, but they are definitely feeling it physically right now as cluster injuries have kept this team from icing their best lineup on a nightly basis. Stars forwards Radek Faksa, Blake Comeau, and Roope Hintz all sat out Game 5 with various ailments along with the defenseman Andrej Sekera. All of them are very good players at the defensive end of the ice in particular, and we've seen Tampa Bay take advantage of some of those injuries with the Lightning scoring more goals, and gaining more high quality scoring chances as this series has progressed.
Big D for Dallas, Bigger D for discipline
Dallas was outplayed in Game 5 and outshot, but two things allowed them to still hang in there, and win that game. The obvious factor was goalie Anton Khudobin rebounding from a couple of subpar performances, but even more so was Dallas finally cleaning up the undisciplined play, which has plagued them for most of the series. The Stars had taken at least 3 penalties in each of this series until Game 5 on Saturday night when they were only penalized once giving Tampa Bay only a single power-play chance in the game, which Dallas successfully thwarted. It will require that same focus to stay out of the penalty box, and not give Tampa Bay so many opportunities with the power play (which had gone 6-for-12 in Game 2, 3, and 4 combined) if the Stars hope to force this series to a seventh, and deciding game. The Stars penalty kill has struggled and may continue to without the players mentioned above if they don't return so the best way to avoid exposing a struggling penalty kill is not to take penalties at all.
Tampa Bay Lightning vs Dallas Stars Pick:
There is no doubt the Dallas Stars have put their grit, and character on display for all to see, and they will once again not be a pushover for the Tampa Bay Lightning here in Game 6. However, if I am betting this game from a side perspective, I have to stick with the team that has controlled the play and dominated for portions of this series in terms of generating scoring chances, and time in the offensive zone, and that would be the Lightning. Tampa Bay has outshot Dallas 175-125, and the third game in four nights scenario here for Game 6 on Monday is probably worse for the Stars especially if they can't get any of their injured players back in the lineup for this game. The Stars can't match the depth of the Lightning, and it will be much tougher for Dallas to get their players to perform at a high level with fatigue becoming a bigger factor. The Stars depth players have had to play more minutes due to the injuries, and also due to each of the last two games going into overtime. Tampa Bay has consistently gotten it done in this year's Stanley Cup Playoffs after a loss with the Lightning going a perfect 5-0 after a playoff loss. That is not a track record I am messing with or betting against here in a potential closeout Game 6. I lean to Tampa Bay wrapping up this series, but that is a lean only and not a bet for me. I respect the grit, and the no-quit attitude of this Dallas Stars team enough to stay off it.
However, I am going to stick with betting the total here in Game 6. The Over is 2-0-3 in this series. None of the games in the Stanley Cup Final have seen fewer than 5 total goals scored, and I don't expect that to change here. This is an elimination game so there is the potential for an empty net scenario late in the 3rd Period, which could lead to a late explosion of goals as well. I'll be betting this game Over the total of 5 at -140.
The best price currently on the Over 5 is at -130 via PointsBet