Golden Knights vs Blackhawks Pick Game 3 August 15 2020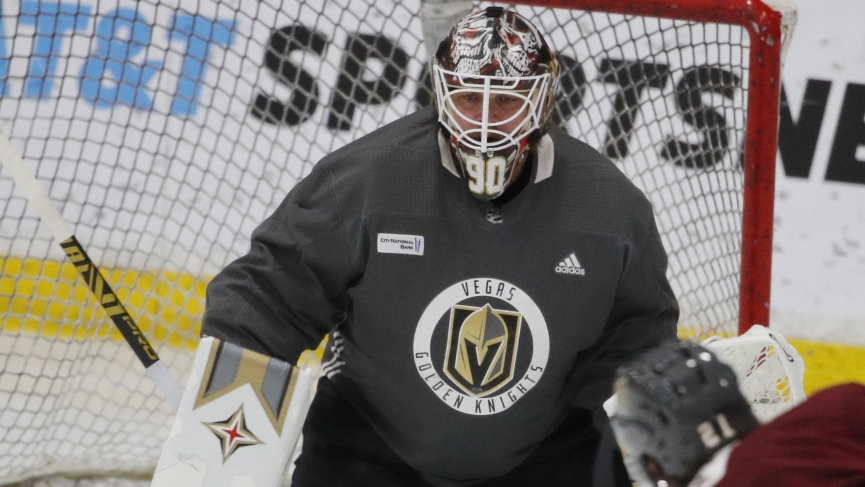 Today we are taking a look at my Golden Knights vs Blackhawks pick for game 3. Vegas looks good, really good so far in the Edmonton hub city where the Western Conference portion of the NHL restart is taking place. The Golden Knights are the NHL's lone remaining unbeaten team since the season resumed on August 1st. Vegas swept all three round-robin games and have taken the first two games of their first-round playoff series against the Chicago Blackhawks to take a 2-0 series lead. Vegas is as complete a team as any left in the chase for the Stanley Cup.
Yes you can have Great "Knights" in Edmonton
The Golden Knights have a strong quartet of forward lines that are fast, hound the puck, and can get on the scoresheet in any given game. Vegas has scored 4+ goals in each game they have played so far and in all but one of them, their leading goal scorer and point producer Max Pacioretty hasn't been on the ice for the Golden Knights. That speaks volumes about how much talent and skill up front Vegas has and the ability throughout their lineup to be able to score goals and contribute offensively.
Their defense has more depth on it than at any point in the short existence of the franchise led by Shea Theodore who is blossoming into an elite defenseman. The blue line is fully completed by veterans Nate Schmidt and Alec Martinez who was acquired from the LA Kings at the trade deadline. Vegas also has a very good problem to have with their goaltending which is two very capable goaltenders to start for them on a nightly basis with Marc-Andre Fleury and Robin Lehner. Lehner has started the first two games of this series for the Golden Knights but it is likely we will see Marc-Andre Fleury get his first playoff start either tonight in Game 3 or Sunday in Game 4 as these two teams will play each other back-to-back this weekend.
Blackhawk Down
Chicago is facing a near must-win situation tonight facing a 2-0 series deficit although head coach Jeremy Colliton and the team can take some comfort in knowing they played a much harder, stronger, and better team in the 4-3 OT loss in Game 2 to the Vegas Golden Knights. Chicago couldn't sustain any offensive zone time in Game 1 and barely had the puck enough to generate anything in terms of shots and scoring chances.
That changed significantly in Game 2 which also helped send that game over the total after the 4-1 win for Vegas in Game 1 cruised under the total. Chicago knows they need to be aggressive and have the puck to have a chance in this series. They can't spend extended amounts of time defending in their own zone because the Blackhawks have a terrible defense and a blue line that has struggled all season to keep the puck out of their own net.
Corey Crawford their goaltender has also had a less than stellar showing in net for the Hawks so far in these playoffs and I'm not sure that is going to change because we've seen very ordinary and average performances from him consistently in between the pipes since the season resumed. It's worth noting Crawford had a short training camp due to a COVID-19 infection last month and to me, he really hasn't recovered from that and gotten into the kind of rhythm that is required to be an NHL goaltender and be able to play at a very high level. Chicago knows that their best chance to win is to score early and score often and I believe they will have that mindset once again today just like they did in Game 2 when they tried to push the pace and the attack constantly against Vegas.
Golden Knights vs. Blackhawks Pick
Chicago has surrendered 3+ goals in five of their six games they've played against Edmonton and Vegas combined as defense remains a problem for this team. That isn't about to significantly improve at any point. This is just a team that doesn't have the player personnel to defend in their own zone at a high level and has to try and shut down a Vegas squad that has scored at least 4 goals in every game so far. Chicago can score though with talented forwards like Patrick Kane, Jonathan Toews, Brandon Saad, Dominik Kubalik, and Kirby Dach among others. The Blackhawks have poured in 3+ goals in all but one game so far. The over cashed in Game 2 and I expect more of the same here. I'm passing on the side but I am betting this game over the total of 6 and will ride a strong totals streak of 8-3 to the over in the last 11 meetings between the Blackhawks and Golden Knights.