Washington vs New York Giants Pick – NFL Week 6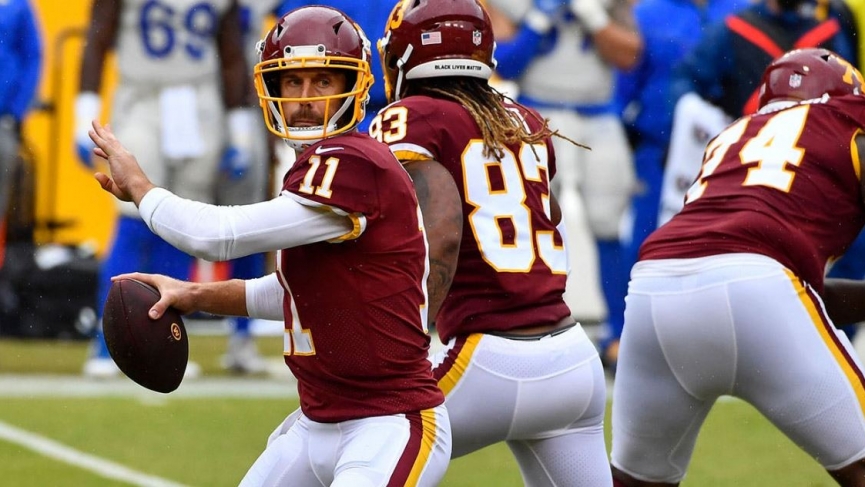 Odds.com's Washington vs New York Giants Pick – NFL Week 6: The Washington Football Team will be in New York taking on the Giants on Sunday. Washington comes into this one in 3rd place of the NFC East with a 1-4 record.
The Giants come into this game in the last place of that same division at 0-5. The Giants are winless on the season yet they are a -3 point favorite in this game. This season, the Giants are 0-2 ATS at home but, the Football Team is 0-2 ATS on the road. This is sure to be a painful divisional battle.

| | | |
| --- | --- | --- |
| NFL Betting | Washington | New York Giants |
| ATS Line | +3 (-118) | -2.5 (-114) |
| Total | Over 42.5 (-110) | Under 43 (-110) |
| Where/When | MetLife Stadium | Oct 18th, 1:00 PM EST |
Big Changes in Washington
The Washington Football team comes into this game with a 1-0 divisional record after defeating the Eagles back in week 1. The Football Team has proceeded to lose 4 games straight from then. They started the year with Dwayne Haskins as the starting quarterback but, in the past weeks, Haskins has been demoted to third-string with Kyle Allen being named the starter and Alex Smith his backup. Kyle Allen could give this team a bit of an advantage as he and Rivera were in Carolina together just last year. This team has been so disorganized though, it's hard to see them having any kind of an advantage coming into this game. On offense, they are averaging 181.6 passing yards, 81.4 rushing yards, and 17.8 points per game.
The Giants defense allows 232.4 passing yards, 110.6 rushing yards, and 26.6 points per game. This Football Team offense has been so dismal all year and with no real weapons, it's hard to see them putting much up against the Giants on Sunday. Kyle Allen had his first start of the season last week and he did not have a very good outing. He completed 9/13 passes for 74 yards and no touchdowns before Alex Smith took over. They did not have a single rusher with over 30 yards and not a single receiver with over 50 yards in that game. That game was at home to the Rams, now he looks to improve on the road in New York. There have been too many changes to this Washington offense for them to have solid chemistry right now, expect more disarray from them on Sunday.
Giant Problems In New York
The New York Giants are winless on the season with a 0-1 division record as well. They will be desperate for a win here against a weak Washington side and a divisional win at that. The Giants' offense averages 203.4 passing yards, 79 rushing yards, and 16.2 points per game. The Football Team defense allows 226.8 passing yards, 129.6 rushing yards, and 28.4 points per game. Unlike Washington, the Giants have a starting quarterback in Daniel Jones that has been somewhat reliable. He averages 248.2 passing yards per game, has a 61% completion percentage, 2 touchdowns, and 5 interceptions this season. He also leads the team in rushing with 130 yards.
Davonta Freeman has 103 rushing yards this year but, he is a reliable running back that can carry the slack if they lean on him more. The Giants also have talent on the receiving end. Slayton might miss this game, he leads the team with 365 yards, 40 targets, and 23 receptions. There's still a chance he plays but if not the Giants still have plenty of talent in Engram, Tate, and Shepard. The numbers this year don't show it but, these receivers have been playing for years and can be big playmakers when given the chance. Both of these teams have played badly to start the season but, it's very clear that the Giants have the more talented side and should be able to find a way to get their first win of the season.
Washington vs New York Giants Pick :
 The best current price on the Giants is at -2.5 (-114) via DraftKings: This game is a battle of the stink, with only a single win on the season between these two teams. Despite both teams being 0-2 ATS away and at home, the Giants are 3-2 ATS on the year while the Football team is 2-3. This is a game where the Giants should dominate at home. They have the better players on offense and defense and they have the consistency of knowing who their quarterback will be. The Football Team also has one win while the Giants do not, they will be desperate to get their first win here at home. Giants win and cover -3.