NFL Week 3 Teaser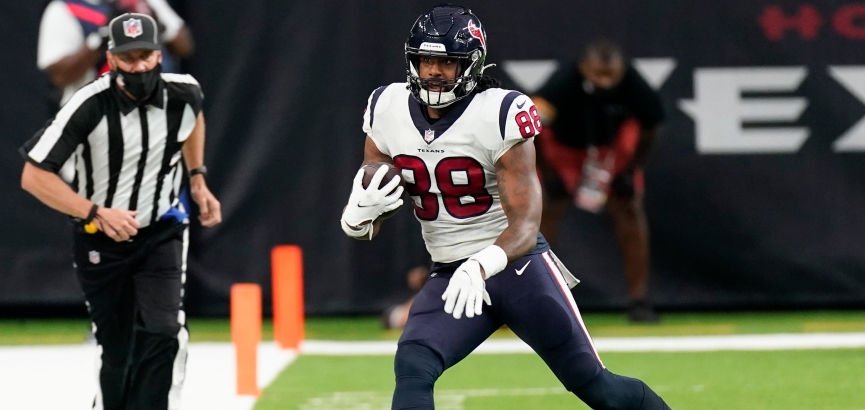 Odds.com's NFL Week 3 Teaser Best Bet: Time to tease it up for Week 3 of the NFL Season. 
NFL Week 3 Teaser Best Bet:
| | | |
| --- | --- | --- |
| Week 3 Games | Tease | Teaser Odds |
| Pittsburgh Steelers vs Houston Texans | Texas +10.5 | -270 |
| New York Giants vs San Francisco 49ers | Giants +11 | -320 |
| Total Teaser: | Texans +10.5, Giants +11  | -127 |
Teaser Odds via Bet365
Each week moving forward I'm going to give my best possible 6.5 point NFL teaser. This week I'm going to suggest taking the Houston Texans line from +4 to +10.5 and the New York Giants line from +4.5 to +11.
Teaser Leg 1: The Texans +10.5
| | | |
| --- | --- | --- |
| NFL Betting | Houston Texans | Pittsburgh Steelers |
| Best ATS Line | +4.5 (-110) | -3.5 (-118) |
| Total | Over 44.5 (-109) | Under 45 (-106) |
| Where/When | Heinz Field | Sept 26th, 1:00 PM EST |
Houston surely has a legitimate shot at winning this game outright, and at the very least, there's an argument to be made for taking the Texans plus the points. However, the real value lies on the Texans on the 6.5 point teaser.
Houston is 0-2 and Pittsburgh is 2-0. But these records are deceiving if we look at each team's competition in the early going, as the Texans have faced the Chiefs and Ravens, while the Steelers have faced the Giants and Bengals. Houston was expected to make the playoffs this year and it'll look to get back into the hunt on Sunday as DeShaun Watson and company try to pull off the upset.
The Texans were mocked for the David Johnson trade, but he's been a consistent and pleasant surprise so far in the early going by averaging five yards per carry, over his first two games. It's impossible to replace a player like DeAndre Hopkins, but DeShaun Watson still has plenty of weapons around him, including Randall Cobb, Brandin Cooks, and Will Fuller.
The Steelers pass rush is formidable, but Watson is mobile and, it's worth noting, that despite the back-to-back setbacks, the dynamic pivot is still averaging 7.8 yards per attempt. The strength of Pittsburgh remains its defense. Big Ben has been decent, but not great. He looks like he's lost a step and his throws are coming out slower and look weaker than before his injury. Roethlisberger also has offensive line issues, with a couple of key injuries, including RT Zach Banner.
Finally note as well that the Steelers are just 1-4 ATS in their last five as a favorite, while the Texans are 8-1 ATS in their last nine following a double-digit home loss.
Teaser Leg 2: The Giants +11
| | | |
| --- | --- | --- |
| NFL Betting | San Francisco 49ers | New York Giants |
| Best ATS Line | -3.5 (+105) | +4 (-120) |
| Total | Over 42.5 (-110) | Under 42.5 (-110) |
| Where/When | MetLife Stadium | Sept 26th, 1:00 PM EST |
This Week 3 matchup at home sets up well for them. Just like the Texans, New York has a legitimate shot at winning this game outright and at the very least, there's an argument to be made for taking the Giants plus the points. However, once again, the real value lies on the Giants on the +6.5 point teaser.
49ers' QB Jimmy Garoppolo is out with injury and that's significant for this 49ers team that's playing its second game on the road. Not only did San Francisco lose its best offensive player last week, but defensive specialist Nick Bosa tore his ACL and he'll now miss the rest of the season as well. These two guys are the heart and soul of their respective units and it's impossible to replace their presence on the field of play in a week.
However, it gets worse. Both Dee Ford and Soloman Thomas are also out for the defense, so it's difficult to see how the 49ers will get any sort of a pass-rush on Giants' QB Daniel Jones on Sunday. TE George Kittle is set to return, but he won't be at 100% health. Top receiver Deebo Samuel is still out and so too is DE Richard Sherman. Finally, it's important to note, that RB's Raheem Mostert and Tevin Coleman are both also out with injury.
We all know how well teams do that start the season 0-3. Not too good. In fact, the odds to even make the playoffs after starting 0-3 are huge.
Jones will be without Saquon Barkley, who tore his ACL in Week 2. That's a big blow, but Jones still has dynamic playmakers around him in Evan Engram, Darius Slayton, and Golden Tate. The run defense has been solid as well for New York. So far Jones has had to face a couple of strong defenses in the Steelers and Bears, both of whom have strong pass-rushers. The 49ers defense though is completely depleted.
Note as well, New York is 4-1 ATS in its last five following a straight-up loss, while San Francisco is just 3-8 ATS in its last 11 following a straight-up win of more than 14 points.
NFL Week 3 Teaser Best Bet:
Texans +10.5, Giants +11 @ -127 (via Bet365)
The basics as far as betting teasers are concerned. With these selections, it's best not to cross over zero, but instead, cross over three "key numbers." (3, 4, 6, 7, 10, and 14 are the key teaser numbers.) Why are these considered key numbers? That's because those are the five most common margins of victory in Football.
One other factor to look at when making a teaser wager is the "back door" angle. How will an opposing defense play down the stretch of a game with a lead? Or conversely, how much should you trust that 'team A' is going to drive the field late for a meaningless score?
As previously stated, both of these sides are worth an ATS bet, even without the 6.5 points. However, the "back door factor" does come into play here for both teams in this teaser as well.
This is one of the best teaser combinations on the board for Week 3, not only do it crosses the three key numbers, but we also have every reason to believe that these favorites won't run up the score late if they have a lead.

Teaser odds will vary: check the Best Sportsbooks to find the most suitable teaser offers.