NFL Week 3 Props: Best Bets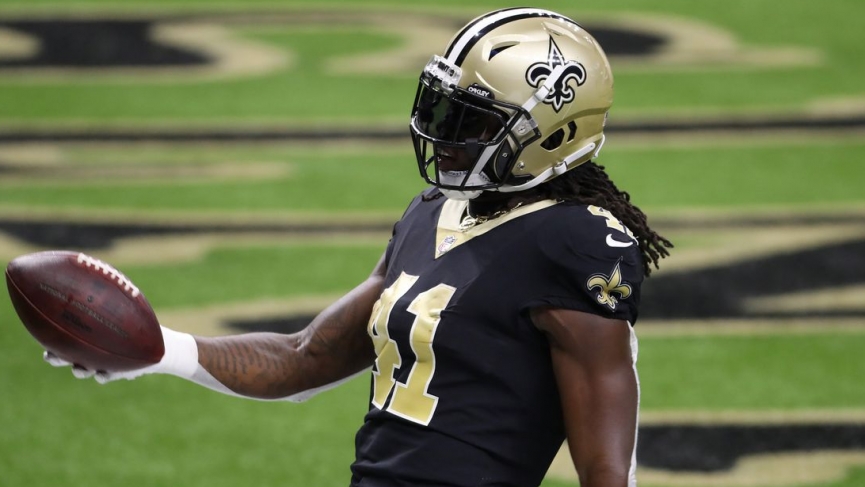 Odds.com's NFL Week 3 Props: Best Bets A 5-pack of NFL prop bets for the Sunday Night and Monday Night football games in Week 3 of the NFL Season.
NFL Week 3 Props: Best Bets
| | | |
| --- | --- | --- |
| Match Up | Prop Bet | Best Odds |
| Green Bay Packers vs New Orleans Saints | Aaron Jones: First Touchdown Scored | +500 via Bet365 |
| Green Bay Packers vs New Orleans Saints | Davante Adams: Anytime Touchdown | +100 via WilliamHill |
| Green Bay Packers vs New Orleans Saints | Alvin Kamara Over 1.5 Touchdowns | +250 via Bet365 |
| Kansas City Chiefs vs Baltimore Ravens | Travis Kelce: Anytime Touchdown | +120 via Bet365 |
| Kansas City Chiefs vs Baltimore Ravens | Patrick Mahomes o17.5 Rushing Yards | -125 via WilliamHill |
Aaron Jones First Touchdown +500
The Green Bay Packers take on the New Orleans Saints on Sunday night, and they lead the NFL in offensive yards averaging 510.5 yards per game. One of the focal points of this high octane offense is Aaron Jones. In the first 2 games of the season, Jones already has 234 rushing yards on 34 attempts and 3 touchdowns averaging 117 rushing YPG. He is also a prominent piece in the passing game as he has 78 yards on 8 receptions with a passing touchdown as well. This Packers offense is going to be able to move the ball on this Saints defense with some ease. Jones is coming off a game where he rushed for a career-high 162 yards scoring 3 touchdowns along the way. He also scored the first touchdown for his team in that game. The Packers will want to strike early in this game being on the road, in a basically empty Superdome so they can get a quick stranglehold on the game. Jones is the perfect target to go to coming off an exceptional game they will want to keep him rolling and he is a double threat since Rodgers can hand the ball off to him or feed him through the air.
Davante Adams Anytime Touchdown +100
Davante Adams is another one of those focal points in this powerful Green Bay offense. Adams is "the man" when it comes to Rodgers' go-to guy in the passing game. He leads the team with 192 receiving yards and 2 touchdowns this season. He is the most reliable pass-catcher on this team for Rodgers and he can also be a threat for the deep ball. The Packers also have one of the best red-zone offenses in the league so once they get close scoring should not be an issue. Whether the pass comes from a long bomb or in the red zone, Adams should be able to score at least 1 considering he is "the man" in this offense, and since the line is plus money just for him to get in the endzone at all, this one's a no brainer for me.
Alvin Kamara Over 1.5 Touchdowns +250
The New Orleans Saints have been moving the ball "okay" as they average 352 yards per game on offense after these first 2 games. They primarily run their offense through 1 man and that man is Alvin Kamara. So far on the season, Kamara leads the Saints in rushing with 95 yards on 25 attempts and 3 touchdowns. He also leads the Saints in receiving with 146 yards on 14 receptions and 1 touchdown to go with that. This play makes so much sense because if the Saints are going to find ways to score against this Packers' defense, it's going to be through Kamara. Not only that but Kamara already has 2 touchdowns in each of the first 2 games this season and I see no reason why that won't continue on Sunday night.
Travis Kelce Anytime Touchdown +120
The Baltimore Ravens have a top 3 defense in the NFL. Their secondary is going to cause problems for Mahomes and the Chiefs all day. The Ravens defense will most likely be focusing their efforts on Tyreek Hill and Sammy Watkins as these players feed on the big play deep ball. This should open up some space for Kelce in the slot to make some big plays of his own. Kelce is a beast who can run through anyone when he has the ball. He should be a huge factor to move the ball for the Chiefs in this game as the deep threats get the main focus from the Ravens defense. Mahomes will need to look for that big body in the endzone as he can beat out defenders on those 50/50 balls. Kelce already has 140 yards on the season and a touchdown in each game, I expect that streak to continue.
Patrick Mahomes o17.5 Rushing Yards -125
Patrick Mahomes is enjoying a 2-0 start to the season after winning his first Superbowl last year but now he runs into a very good team with a strong defense that could give the Chiefs a run for their money in the AFC this season. Mahomes is averaging 283.5 passing yards per game on 51 completions total. He also has 54 rushing yards on 6 attempts. Now, Mahomes is already averaging 27 rushing yards per game but this is a perfect spot for him to exceed that. It is most likely that the Ravens defense will take away his WR options and with a solid defense just in general they will find ways to get the pressure on Mahomes. When that pressure comes Mahomes will either have to throw it away or scramble to make a play himself and we already know that Mahomes has legs on him and 17.5 is such a low number it's begging to be taken.