Houston Texans vs Pittsburgh Steelers Pick – NFL Week 3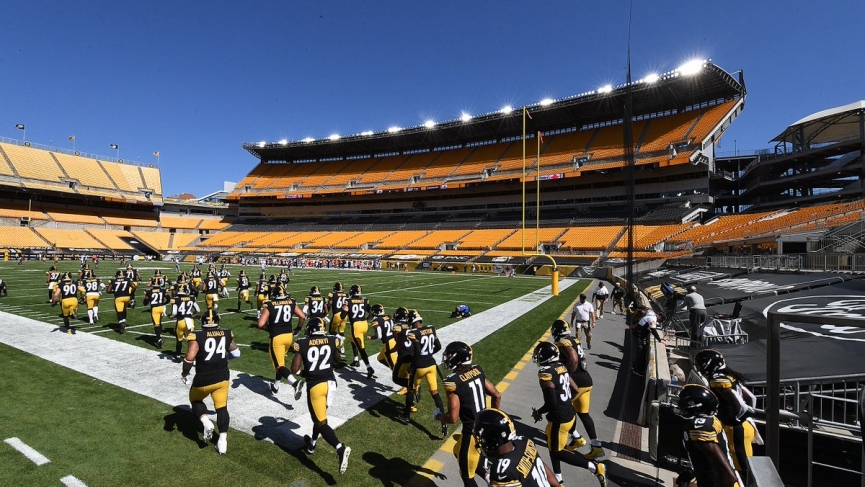 Odds.com's Houston Texans vs Pittsburgh Steelers Pick for NFL Week 3: The Steelers and Mike Tomlin are 5-2 in their last 7 home games, going back to 2019. With all seven of those games coming with back-up Mason Rudolph behind center. It's a new year, and big Ben is back. As the Steelers take on the reeling Texans, who will look to avoid going down 0-3 on the season on Sunday.

| | | |
| --- | --- | --- |
| NFL Betting | Houston Texans | Pittsburgh Steelers |
| Best ATS Line | +4.5 (-110) | -3.5 (-118) |
| Total | Over 44.5 (-109) | Under 45 (-106) |
| Where/When | Heinz Field | Sept 26th, 1:00 PM EST |
Houston, We Have A Problem
The Houston Texans are 0-2 SU, and ATS to start the 2020 NFL season losing by double digits to Kansas City, and Baltimore by a combined score of 67-36. Now granted, the Texans' two losses were to extremely high-quality opponents as there is a very strong chance the Chiefs, and Ravens could be your AFC Championship game in January. That being said, the Texans haven't played well or consistently on either side of the football. QB Deshaun Watson has been underwhelming this season and adjusting to life after DeAndre Hopkins who was stunningly traded away in the offseason to the Arizona Cardinals by head coach, and GM Bill O'Brien. The Texans receiving corps has been banged up early in the season with Brandin Cooks and Will Fuller both battling injuries heading into this game. Watson has as many TDs as INTs in the first two games. His offensive line has been below average failing to open up holes for the ground attack or give Watson adequate time in the pocket to find receivers down the field.
The defense has been gashed by both the Chiefs, and Ravens with Houston ranked in the bottom half of the NFL in yards per play, and yards per game allowed on defense. The Texans have not looked sharp on either side of the football. The body language and postgame comments from the team do not look or sound good. This is not a team I'm in any rush to trust especially as they go on the road to face the Pittsburgh Steelers who are very much motivated to bounce back after a disappointing 2019 season with QB Ben Roethlisberger back on the field and a defense that appears to be a potential Top 5 defense in the NFL.
Time to put up that Steel Curtain again
The best days of the Pittsburgh Steelers included a dominant defense that was nicknamed the "Steel Curtain" back in the glorious 1970's era of the team. I'm not ready to put this 2020 edition of the Steelers defense in that category yet, but this no doubt looks to be one of the best defensive teams that head coach Mike Tomlin has had at his disposal in years. The Pittsburgh Steelers are currently ranked 2nd in the NFL in opponent yards per play, and yards per game allowed including #1 in the league against the run. The front seven is the defensive strength with a loaded defensive line and as strong a linebacker group as there is in the NFL. That could be extreme trouble here for Houston's offensive line which has struggled to hold up against aggressive, and formidable defensive fronts and Pittsburgh definitely has one that fits the mold.
Steelers' offense ready to tell the NFL: "Here We Go"
The Pittsburgh Steelers offense is still a work in progress with Big Ben still working toward gaining more chemistry and cohesion with his receivers, but many of them including Juju Smith-Schuster, Diontae Johnson, and rookie Chase Claypool has made some very big catches in the passing game early in the season for the Steelers. Houston is struggling to get a pass rush, struggling to stop the run, and their secondary has been torched in each of the first two weeks of the new season. Pittsburgh playing their third game should continue to find an increased level of traction, and efficiency on the offensive side of the football against a Texans defense that is having its share of problems right now. Roethlisberger has still thrown 5 TD passes and has thrown for 270 passing yards per game through the first two games, and you could argue that he hasn't even fully rounded back into form yet. The Steelers will also welcome back their best offensive lineman this week as David DeCastro will make his season debut after missing the first two games due to a knee injury.
Houston Texans vs Pittsburgh Steelers Pick:
Houston has taken a good amount of $$ this week as the Steelers opened 6 point favorites, and they are now as low as -3.5 to -4 in most places for this game. The reason for the market move toward the Texans is because there is a segment of the betting public that looks to bet on teams that are 0-2 to start the season especially when those teams were expected to be decent teams like Houston. The reasoning is these teams are desperate and will bring a maximum effort to try and get that first win knowing an 0-3 hole to begin the season puts you in a tough spot trying to make the playoffs in the NFL.
The long-term ATS records of 0-2 teams playing in Week 3 is very strong in recent years, but they don't always win either, and that is important to remember here because I'm bucking that trend in this game. I'm backing Pittsburgh -3.5 here in this game. Houston is struggling on both sides of the ball. Their offense is having trouble finishing drives and now must face a Pittsburgh defense that should be among the league's best in 2020. On the other side of the ball, the Houston defense has been ripped apart by the opposing offenses in each of their first two games, and that's good news for Pittsburgh's offense which should continue to get better, and more cohesive as Big Ben gets more snaps under his belt. Pittsburgh is 5-2 ATS in their last 7 home games, and I like the Steelers to win by enough of a margin to cover this small number as home favorites.
 The best current price on the Steelers is at -3.5 (-118) via BetRivers