Green Bay Packers vs Tampa Bay Buccaneers Pick – NFL Week 6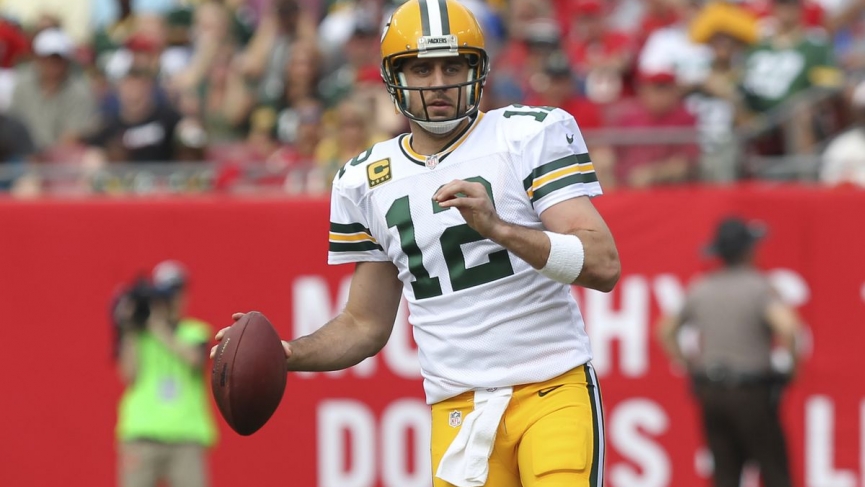 Odds.com's Green Bay Packers vs Tampa Bay Buccaneers Pick – NFL Week 6: The Packers are riding a 4-0 ATS streak to start the 2020 NFL season. While Bruce Arians and the Buccaneers are 1-6-1 ATS in their last 8 as a dog, and 1-7-2 ATS in their last 10 at home. The value lies with the Packers in this one, even as money continues to pour in on the Green Bay. 

| | | |
| --- | --- | --- |
| NFL Betting | Green Bay Packers | Tampa Bay Buccaneers |
| Opening ATS Line | +2.5 (-110) | -2.5 (-110) |
| Total | Over 51.5 (-110) | Under 51.5 (-110) |
| Where/When | Raymond James Stadium | Oct 18th, 4:25 PM EST |
The Green Bay Packers will be in Tampa taking on the Buccaneers on Sunday. The Packers come into this game as a -1 favorite on the road. They are in 1st place in the NFC North with a 4-0 record. The Buccaneers come into this game in 2nd place in the NFC South with a 3-2 record. The Packers are 4-0 ATS this year and 2-0 ATS on the road while the Buccaneers are 2-3 ATS and 1-1 ATS at home this season. Aaron Rodgers is 3-2 in his career against the Buccaneers but, the Packers have won the last 3 games straight between these two.
The Untouchable Packers
The Green Bay Packers are one of the few teams left in the NFL that are still undefeated with a 4-0 record. They are coming off of a bye week but, before that this whole team was clicking on offense. The Packers have one of the best offenses in the NFL right now. Aaron Rodgers is leading this potent offense averaging 309.8 passing yards per game, with a 70.5% completion percentage, 13 touchdowns, and 0 interceptions through 4 games. As if the passing game wasn't already good but, this offense also averages 150.8 rushing yards per game and puts up 38 points per game.
Now, the Buccaneers defense allows 239.8 passing yards and 58.4 rushing yards per game which is pretty good but, they are still allowing teams to score an average of 22.4 points per game on them. That will not fly against a high octane offense like Green Bay has, expect the Packers to be able to move the ball on this defense and put up points fairly easily. They have two solid running backs that they can give the ball to, Aaron Jones who is averaging 93.5 rushing yards per game and Jamaal Williams who has a little over 100 yards rushing on the year.
They also have two wide receivers that have over 200 yards receiving and three ball catchers with over 100 yards receiving. Now, the Packers have managed to do most of this without their star wide receiver Davante Adams who has missed the last two games. Adams is expected to be back in this one adding that much more firepower to this offense. It will be hard for the Buccaneers to slow down these Packers.
Playoff Hopes Sailing Away
The Tampa Bay Buccaneers are coming off of a heartbreaking loss to the Bears where they lost by 1 point. That game ended in a little confusion for Tom Brady as he lost track of downs which ended up costing them their chance at getting into field goal range. Now, they look to regroup at home as they host the Packers in a classic Rodgers vs Brady matchup. The Buccaneers have managed to move the ball okay on offense. Brady averages 276.2 yards passing per game, with a 64.3% completion percentage, 12 touchdowns, and 4 interceptions. They also average 99.4 yards rushing and 27.8 points per game.
The offense has been alright for the Buccaneers but, nowhere near as good as the Packers offense. The Packers' defense allows 294.8 passing yards, 150.8 rushing yards, and 20.2 points per game. On paper, both of these teams seem to be pretty even in production hence the spread but, in reality, the Buccaneers cannot compete with the Packers. The Buccaneers are led by an ageless Tom Brady but he is starting to crack. Brady's age is really starting to show on the field, between losing track of downs, to throwing an average of 1 interception a game, it is evident that this is not the same Brady that has been showcasing for years. Turnovers will be a big factor in this game and considering Rodgers has yet to throw one, the advantage is on this Packers side.
Green Bay Packers vs Tampa Bay Buccaneers Pick:
The best current price on the Packers moneyline is at -112 via FanDuel: This is the first game all year that the Packers have been a favorite on the road. They are a perfect 4-0 ATS and straight up. The big story here is the fact that two of the greatest quarterbacks to ever play the game will be facing off against each other. These two players have only met each other as starters on one occasion because of the conferences they are in, Brady and the Patriots won that game. However, this is a much older Brady with a brand new team, Rodgers has the comfort of knowing the pieces around him well.
This gives the Packers an advantage from a chemistry standpoint. Rodgers is also younger than Brady and more mobile, it will be easier for him to escape pressure and make plays. He will also want to get this win badly as it could be a nice cap to his career being able to have those bragging rights instead of being winless against one of the greats. Not to mention the Packers are getting even healthier for this game and coming off of a nice bye-week rest. All the signs point to the Packers winning this game and at a cheap -1, this is a no-brainer.