Chicago Bears vs Green Bay Packers Pick: NFL Week 12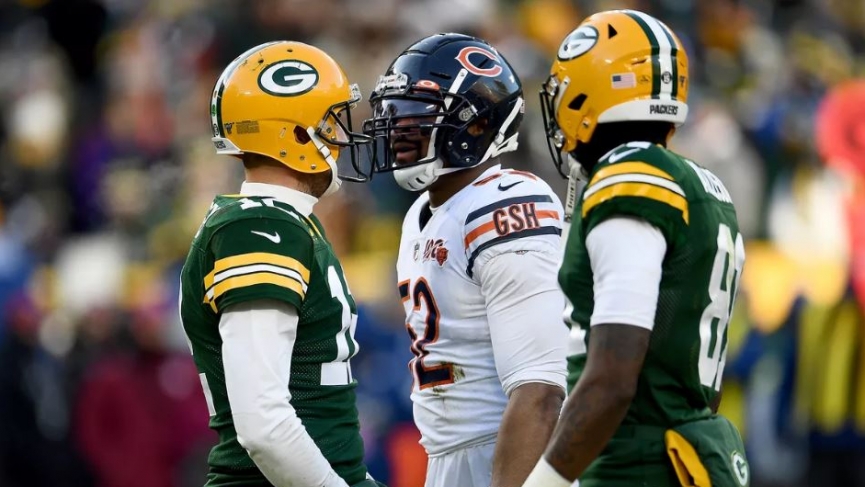 Chicago Bears vs Green Bay Packers Pick – NFL Week 12: Aaron Rodgers and the Packers come into Sunday's game against the Bears having covered 8 of their last 13 games in which they are the home favorite, covering by an average of a half-point per game. Meanwhile, the Bears have gone 3-5 in their last 8 games as a road underdog, losing by an average of 8 points per game. It's an NFC North showdown between the Packers and Bears on Sunday night football.
WEEK 12 MATCH-UP
Chicago
Green Bay
+7.5 (-110)
-7.5 (-110)
Total
Over 45 (-110)
Under 45 (-110)
Where/When
Lambeau Field
Sun. Nov 29th, 8:20 PM ET
Chicago is coming off their bye currently on a four-game losing streak after starting the season 5-1 while continuing to be plagued by an inept offense. During this losing streak: against the Rams, their only touchdown was a defensive score. They were able to move the ball okay against the Saints. Against Tennessee, they didn't score a point until the fourth quarter and against Minnesota, their only touchdown came on special teams.
Match-Up and Trends
Team
Record
ATS
O/U
Chicago
5-5
5-5
3-7
Green Bay
7-3
6-4
6-4
The biggest question for Chicago this week is who will start at quarterback. Nick Foles has a hip injury while Mitchell Trubisky is dealing with a shoulder injury. Considering Trubisky practiced Wednesday and Thursday it seems likelier that he'll play. Foles replaced Trubisky in week three, after Trubisky had underperformed, and had been the starter ever since. Trubisky did win both games as the starter this year but he beat Detroit and the New York Giants who are a combined 7-14. In those two games as a starter, Trubisky went a combined 38/64 for 432 yards. That is good for 59% completions and 6.75 yards per pass attempt which are both below league average if projected out.
Measure of Expectation
Team
ml profit
ml fade
avg. margin
avg. ats margin
Chicago 
+$40
-$277
-1.8
+1.4
Green Bay
+$139
-$281
+5
+1.4
Chicago is supposed to get starting running back David Montgomery back from injury after a one-game absence. More important however is that left tackle Charles Leno injured his toe at practice on Wednesday and is considered day-to-day. If he can't play, Chicago would be without 3/5 starting offensive lineman as they are already missing right tackle Bobby Massie and left guard James Daniels. Green Bay doesn't have a great defense but statistically, they rank almost identical to Minnesota's and Chicago showed no ability to move the football against them.
Green bay recently has underwhelmed. Four weeks ago they were upset by Minnesota as a touchdown favorite, three weeks ago they blew out a San Francisco team that was missing half their players on a Thursday night. They struggled to put away one-win Jacksonville as a two-touchdown favorite and last week they blew a two-touchdown lead to Indianapolis and lost in overtime.
Green Bay has the best first-half offense in the NFL scoring an average of 18.3 points per game. This was shown on full display last week against Indianapolis when they scored 28 first-half points. The issue was the second half when they scored just 3 points. Green Bay also does a good job of scoring red-zone touchdowns at a 73.68% clip which ranks 4th in the NFL. As has been the case throughout the year, Chicago owns the number one red-zone defense allowing touchdowns at just a 44.12% clip.
Green Bay quarterback Aaron Rodgers has been his vintage elite self ranking in the top five in most offensive categories to go along with his 29 touchdowns and 4 interceptions. He has had great success relying on his pro bowl receiver Davante Adams who leads the NFL averaging 105.9 yards per game and is tied for second with 10 touchdown catches. Adams has been limited in practice with an ankle injury but is expected to play. His presence will be needed against a Bears team that is top 10 in virtually every defensive category.
Green Bay's ability to run the football will likely depend on the availability of Chicago defensive tackle Akiem Hicks who was injured in Chicago's previous game. Chicago has faced the top 2 running backs in the NFL over the past couple of weeks in Derrick Henry and Dalvin Cook and limited both of them. They limited Henry to 68 yards on 21 attempts for a mediocre 3.2 yards per carry (YPC). Cook also had to settle for 3.2 YPC accumulating 96 yards on 30 attempts. Note however when Hicks was in the game, Cook had 19 carries for just 38 yards and a paltry 2 YPC. Compared to 11 carries for 58 yards and averaging over 5 YPC after Hicks was injured and left the game. Hicks has not yet participated in practice this week.
Chicago Bears vs Green Bay Packers Pick:
In the two games last year, with Trubisky as the starter in both, these two teams played two low scoring games with Green Bay winning both of them 10-3 and 21-13. Four of the past five meetings have had 41 points or less and all of them have been one-possession games. My lean would be Chicago +8.5 because as inept as their offense has been, they have lost one game by more than 8 points all year. Also, they have had extra time to prepare thus I expect them to throw Green Bay the entire playbook including some trick plays.
I prefer 'under' 45 as these two teams have played plenty of low scoring games recently. Chicago's offense has been inept all year and if Green Bay jumps out to a lead like they normally do, I don't trust Chicago to rally. Chicago has been one of the best 'under' teams in the NFL at 7-3 including 6-1 to the 'under' in their last 7.
Keep it locked to Odds.com for all of your NFL betting needs for Week 12. The best current odds can be found at our NFL Odds Page. Stay tuned for plenty more NFL Weekly Picks throughout the season.