Toronto Raptors vs. Boston Celtics Pick Game 6 9-9-2020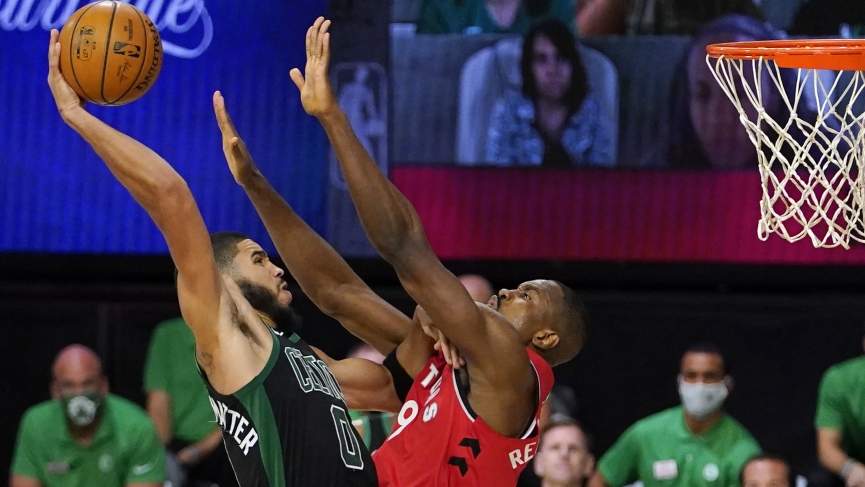 NBA Playoff Series: Toronto Raptors vs. Boston Celtics (Game 6)
Date/Time: Wed, September 9, 2020 – 6:30 PM ET
We are taking a look at my Toronto Raptors vs. Boston Celtics Pick for game 6. The Toronto Raptors had all the momentum prior to Game 5 after back-to-back victories to even up this series at 2-2 with the Boston Celtics. Toronto wasn't able to sustain that performance following up those two wins with their worst game of the series since Game 1 when they were also blown out by the Boston and trailed wire-to-wire.
Things were just as rough for the Raptors in Game 5 with the team completely suffocated by the Celtics defense from start to finish in a 111-89 loss. Toronto was a putrid 33-for-85 39% shooting as a team in Game 5 and an even worse 12-for-40 30% from the perimeter. There was nothing to be had all night long in terms of open looks at the basket for the Raptors who seemed to have the hand or body of a Celtics player in their face for the entire night.
Boston bounce back for Jaylen Brown and company
Jaylen Brown's horrific 4-for-18 shooting performance including 2-for-11 from the perimeter in Game 4 was a big part of the story in the Celtics loss in Game 4. He had a big bounce-back effort in Game 5 for Boston leading them in scoring in the victory pouring in 27 points on a 10-for-18 55% shooting performance.
Boston had an excellent offensive balance with six different Celtics players getting into double figures in points including Kemba Walker who scored 21 points on 15 FG attempts as he was a man of his word after speaking about the need for him to shoot the basketball more following Game 4. As mentioned above, the Boston Celtics defensive game was as strong as it's been in this series and maybe even at any point in the playoffs to this point as Boston completely stifled Toronto refusing to give them anything easy on offense.
Ibaka Injured
Serge Ibaka was injured in Game 5 and his ankle injury had him in a walking boot after the game leaving his status in doubt for the Toronto Raptors for Game 6 which is a must-win game for them with the Raptors facing elimination. That is significant because Marc Gasol the other primary big man for the Raptors has struggled offensively all series long. He still brings solid defense and rebounding but his offensive game has completely disappeared in the first five games of this series.
Pascal Siakam has also struggled to get consistent offense especially in the low post and those low post scoring woes could only get worse for the Raptors with the potential absence of Ibaka for Game 6 who has been their one reliable scoring source in the paint consistently in this series from their frontcourt players.
Toronto Raptors vs. Boston Celtics Pick
Boston has taken the early $$ for Game 6 with the Celtics opening up as -2 favorites. They are now -3 across the board and there is a chance we might see more money roll in on the Celtics before tipoff of Game 6 on Wednesday night especially if Serge Ibaka is ruled out for Game 6 for Toronto.
This is the biggest favorite Boston has been in this series as prior to Game 6, they had been either a favorite of 2 points or fewer or an underdog in all the previous games of this series. The more this line creeps up, the more interested I am in Toronto. The Raptors were horrendous in Game 5 but this is still a squad that has championship pedigree loaded on it and with them being the defending NBA champions.
I do not expect Toronto to allow its season to end without a serious and strong battle here in Game 6. My favorite betting opinion for this game though is to stick with what has been working throughout this series from a totals perspective and that is betting the Under.
The Under is a perfect 5-0 in this series so far. The totals have been gradually adjusted downward and this total of 210 at Fanduel for Game 6 is the smallest total of the series but it still may not be enough of an adjustment. Boston's defense stymied Toronto in Game 5 and I think the Raptors offense will continue to struggle. On the flip side, with their season on the line, I look for a massive step up effort from Toronto on the defensive end of the basketball court in this game. Not a single game in this series has had more than 207 total points scored and I expect more of the same here in Game 6.