Mavericks vs Clippers Pick – NBA Playoffs Game 5 August 25 2020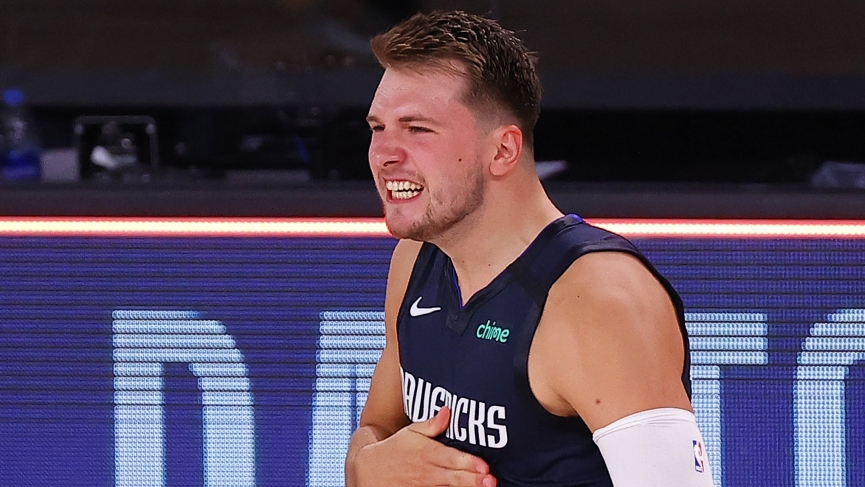 NBA Playoff Series: Dallas Mavericks vs. Los Angeles Clippers (Game 5)
Date/Time: Tuesday, August 25, 2020, 9 pm EST
Odds: +7/-7 | Moneyline +235/-286 | Total 235.5
Luka puts the "DON" in Doncic
The heroics of Luka Doncic to lead the Dallas Mavericks all the way back from a 21 point deficit in the first half of Game 4 against the Los Angeles Clippers to win in OT 135-133 with a game-winning 3-pointer at the buzzer was truly a playoff performance for the ages. Doncic played the entire game with a very sore and tender left ankle and yet still managed to turn in one of the greatest performances of his young NBA career.
He piled up 43 points to go along with 17 rebounds and 13 assists. It wasn't just the numbers or the game-winning shot or playing through a serious ankle injury that made this performance special. It was how he was willing to invite contact and how he had no problem playing a physical and aggressive style of basketball in spite of the significant injury he was plagued with throughout the game.
Luka was the star but hats off to some other Mavericks
Luka Doncic carried the way for Dallas in their stunning Game 4 OT win but we need to recognize the strong contributions made by several of his teammates in helping the Mavericks even up this series at 2-2. Tim Hardaway Jr., Seth Curry, Boban Marjanovic, and Trey Burke all scored in double figures for Dallas, and the team as a whole shot a blistering 50% from the floor against one of the Top 5 teams in the NBA in defensive efficiency. This series was being promoted as one of the great offensive teams in recent memory taking on an elite defensive team and it's been the Dallas offense that has won the battle on multiple occasions which leads me to talk about why the Clippers defense is suddenly not that dominant force it's been most of the season…
PG + PB = Problems
The LA Clippers have themselves some PG and PB problems right now. The PG problem is Paul George. He is mired in a hideous shooting slump. George is shooting just 21.3% from the floor in the last three games combined and those scoring woes continued for him in Game 4. His defense was also less than inspiring in Game 4 at times which could be a product of some loss of confidence from him at the offensive end. The other major problem the LA Clippers have right now is the PB problem. That's in reference to Patrick Beverley.
All you have to do is watch the LA Clippers play with and without him and you can clearly see how the LA defense is not nearly as good without Patrick Beverley on the floor. He is still hampered by a left calf strain that is likely to keep him out of action in Game 5 for a fourth straight game as Beverley hasn't played since Game 1 of this series. The Clippers in the last three games with no Beverley have allowed 48% shooting to the Mavericks and all three games have soared up and over the total in the process.
Mavericks vs Clippers Pick
There could be some thought that Dallas has all the momentum entering Game 5 following that miraculous OT win and an all-time great performance from Luka Doncic. However, this is a very tall order for Dallas to try to bring themselves back down to earth, recalibrate and get themselves ready for this pivotal Game 5 against what is sure to be a very focused and angry LA Clippers squad.
This game will also test the pain threshold of Doncic who is still playing on a very sore ankle that is still painful as can be to play through. This could be the game where we see him find it difficult to duplicate the monster performance he unleashed on the LA Clippers in Game 4. I have been zig-zagging throughout this series from a betting perspective and backing the team that lost the previous game. I feel compelled to stick with that strategy here in Game 5.
The LA Clippers are a really strong 22-5 SU, 21-6 ATS this season following a loss. On the flip side, Dallas has some fairly miserable ATS results this season after a SU victory registering a money-losing 17-26-1 ATS record this season following a win. I'll lay the -6.5 with the LA Clippers in this game and I also will be on the Over at 235.5 even though this number has been pushed up by 3.5 points or so from where the totals have been priced in the previous games of this series. It's definitely worth noting that the Over has cashed at a 15-6 71% clip this season in 21 games for the LA Clippers without Patrick Beverley. That is a trend worth riding in this game once again tonight. The LA defensive acumen definitely takes a hit without him and I expect more of the same here in Game 5.