Lebron James Passes Luka Doncic for NBA MVP Odds on Favorite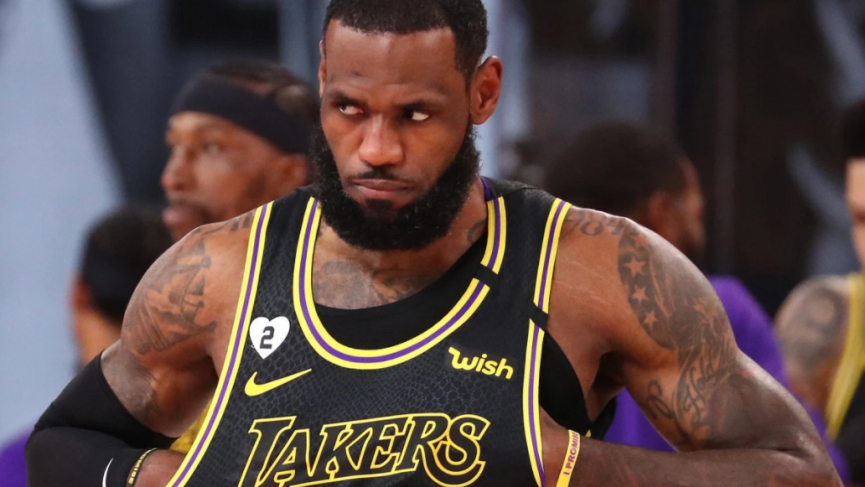 Luka Doncic MVP Odds on Climbing as Lebron Makes case for award: The Slovenian babyface, and former rookie of the year, as well as EuroLeague MVP, has the chance to add to his extensive collection of hardware next summer. The Mavericks guard is now lined at +550 to win the 2021 MVP award.
---
Top 6 Players for NBA MVP
2021 NBA MVP Odds

LeBron James +225
Nikola Jokic +450
Joel Embiid +450
Luka Doncic +800
Kevin Durant +900
Giannis Antetokounmpo +1000
Lines via Bet365, Updated 2/3/21
---
Who shouldn't win the MVP
I am against LeBron James (+400), who is entering his 18th season, and after winning the Championship in October, he has had a very short offseason. I would expect his minutes to be watched intensely. Last year he turned more into a facilitator averaging over ten assists for the first time in his career. It was also the first time since the beginning of his career that he did not finish in the top 10 in points per game, excluding the 2018-19 season where he missed significant time with an injury.
No Longer the Favorite: Luka Doncic +500
Luka Doncic had a stellar sophomore campaign averaging 28.8 points, which ranked 6th, 8.8 assists, ranked 3rd, and 9.4 rebounds. Note he was the only non-power forward or center in the top 20 in rebounds. As good as his regular season stats were, he raised his game in Dallas' opening-round playoff series against the Los Angeles Clippers. He averaged 31 points, 9.8 rebounds, and 8.7 assists. He provided a memorable game four performance when he scored 43 points, added 17 rebounds and 13 assists, and hit a step-back three at the buzzer to win the game in overtime.
Entering just his third season, he has room to improve, and note Dallas's second-best player Kristaps Porzingis will miss the start of the season; thus, Doncic will have a chance to shine. With awards such as MVP being largely narrative-based, I found it intriguing that the NBA chose Dallas to be the opponent for the defending NBA Champion Los Angeles Lakers in the primetime slot on Christmas Day. Doncic will get plenty of opportunities to make an MVP statement throughout the year. Doncic also appears to be a strong favorite because some of the other short prices don't appeal. Without a doubt, the sportsbooks got this one right, and there isn't a whole lot of value on many other candidates, who are slightly overpriced headed into the 2021 season. 
Other MVP Candidates
I am against Giannis Antetokounmpo (+650), who led the NBA in player efficiency rating while winning his second straight MVP last season. While he figures to put together strong stats again this season, I think his playoff failures will have some voters soured, and people don't like voting for the same person repeatedly, which is why Larry Bird in 1986 was the last person to win the award three straight years.
James Harden (+3300) has finished in the top three in MVP voting in each of the past four seasons, winning the award in 2018. Without knowing if he'll last the season in Houston, he's hard to trust, and I don't think he's endeared himself to many voters with his recent antics in wanting out of Houston. I don't see Kevin Durant (+1500) playing a full season coming off a severe injury. Kawhi Leonard (+2200) has been the king of load management recently; thus, I wouldn't take him to win the MVP either. If Steph Curry (+900) stays healthy, perhaps he can win MVP, but he has won it previously, has been injury-prone, and Golden State likely won't have a good enough record for him to get the recognition.
Jayson Tatum (+5000) is entering just his fourth season and took a step forward last year, scoring 23.4 points per game, which is 7.7 points more than his average the prior season. He should get a chance to play superstar with starting point guard Kemba Walker missing the start of the year and plays on a team expected to be in the eastern conference's upper echelon. He fits the profile of someone who should be a contender for MVP, but his 22-1 price isn't overly appealing when you can get a more accomplished player such as Damian Lillard at 20-1 and other young players with upside on projected good teams at much bigger prices.
Other NBA MVP Contenders:
Anthony Davis +2200: You could argue that he and LeBron will split the credit for the success the Lakers have this season, but last year Davis averaged more points and more rebounds while playing almost identical minutes. He has yet to win MVP; thus, I wouldn't be surprised if he ends up taking the feature roll. Playing in Los Angeles, he will have plenty of primetime opportunities to put up gaudy numbers and build his case. The one issue with Davis as one of the favorites is he has had some injury issues in the past.
Damian Lillard +2500: This play would be based on Portland's assessment, and I expect Portland to be much improved this year. Last year they had no interior presence, with their best big Jusuf Nurkic missing most of the year. He returned when the NBA moved into a bubble and averaged 17.6 points and 10.3 rebounds. What Portland clearly needed last year was another wing, and they acquired Robert Covington from Houston. He can shoot the three and is considered a plus defender across various metrics. Despite their issues, they managed to sneak into the playoffs and are just a year removed from going to the west final.
Last year Lillard averaged career highs with 30 points, eight assists, shooting 46.3% from the field and 40.1% from 3. In the prime of his career, I would expect Lillard to have another stellar season, and with the improvements made to this year's opening day starting lineup compared to last year's, Portland should have a much better record, which will put Lillard in the spotlight more.
Pascal Siakam +15,000: Kawhi Leonard and Danny Green left after the 2019 season, and despite their departures, the Raptors went 53-19, good enough for the second-best record in the NBA. This offseason, the Raptors lost Serge Ibaka and Marc Gasol; thus, the consensus seems to be a playoff team but not an elite team anymore. Consider, however, that the Raptors went 13-4 without Ibaka and 18-10 without Gasol. So what if they just continue winning?
Last season Siakam usage went up, and he improved his scoring from 16.9 points per game to 22.9 points per game, all while learning how to deal with the added attention he would get from defenses due to not having a player like Leonard take the focus away from him. I would expect him to take another step forward this year; thus, if the Raptors were to win another 70% of their games, he'd have to be considered for the award.
Also, the Raptors have to play their games in Florida this year; thus, the narrative of losing key players in back-to-back offseason's and not getting to play at home would be a strong one if Siakam were to take the next step and the Raptors continued to have regular-season success.
---
FAQ: 2021 NBA Odds
Who is the Odds on Favorite to Win the 2021 NBA MVP?
To start the 2020/2021 NBA season, Luka Doncic was a +375 favorite to win the 2021 MVP NBA award.