Jazz vs Nuggets Pick – 2020 NBA Playoffs – August 25, 2020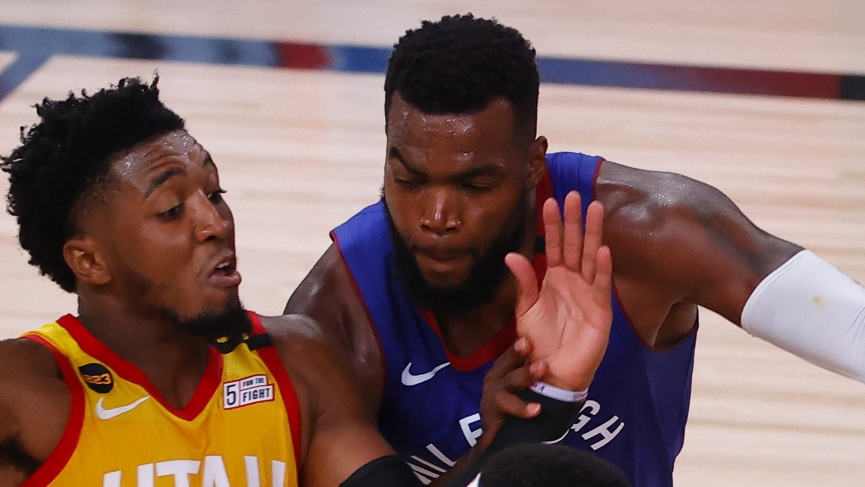 NBA Playoff Series: Utah Jazz vs. Denver Nuggets (Game 5)
Date/Time: Tuesday August 25, 2020 @ 6:30pm
Odds: -3/+3 | Moneyline -149/+128 | Total 221
These are now the "Enver Nuggets" because they are lacking the "D"
You can call the Nuggets these days the "Enver" Nuggets because there is no "D" to be found. I am referring to the letter "D" as in defense. Denver has played an absolutely atrocious brand of defensive basketball in this series against the Utah Jazz and it has been the main catalyst in their 3-1 series deficit as they enter Game 5 facing elimination.
Denver has given up a horrendous 51.6% shooting against the Utah Jazz in the first four games of this series. Nuggets head coach Michael Malone has tried various rotations and combinations to try and shore up the defensive leakage but nothing has worked. Most recently in Game 4, he inserted guard Monte Morris and forward Jerami Grant into the starting lineup and brought Michael Porter Jr. and Paul Millsap off the bench. The results were the same—abysmal once again at the defensive end of the court. Utah hit 14 of 29 from 3-point range and shot 57.5% overall in Game 4.
Overall in the series, the Jazz is connecting at 51.3% from the floor and 43.3% from the perimeter. Denver's lack of concern for playing defense and properly guarding their man at the defensive end of the floor has them trailing 3-1 in this series in spite of what has been some incredible performances at times offensively from some of their best players like Jamal Murray who has gone off in two of the first four games scoring 36 points in Game 1 and a whopping 50 point performance in Game 4 despite the Nuggets coming up short and losing that game. The defense might be helped if the Nuggets' best perimeter defender, guard Gary Harris, can return from injury and there is a chance he might be able to finally return for Denver in Game 5 on Tuesday night although that is still uncertain.
Nothing but good tunes from this Jazz band
The Utah Jazz deserves every bit the credit if not more than the Denver Nuggets deserve blame for why this series is currently 3-1 in favor of Utah. The Jazz has played some defense in this series unlike their opponent and many more supporting players have stepped up to help their best player Donovan Mitchell. Jordan Clarkson, Rudy Gobert, and point guard Mike Conley who has now been back for two straight games have all done their part to chip in with offensive production and help out Mitchell who has been phenomenal in this series.
Mitchell is averaging 39.5 points per game in this series including a pair of 50+ point performances. Gobert is off back-to-back double performances and has certainly held his own in the low post against Nikola Jokic for the Nuggets. The Jazz has gotten more punch and impact from their bench as well in this series compared to the Nuggets which has also made a difference for them so far in this series. It isn't all good news for Utah though, particularly for Jazz bettors. Utah backers were robbed of a winning ticket in Game 4 as a last-second 3-pointer by Jamal Murray allowed Denver +3 to get the $$ in the 129-127 Jazz win.
Denver ready to fight to stay alive
Here are the words from Denver head coach Michael Malone after the Game 4 loss insisting this team has another massive effort in them and will be ready to play here in Game 5: "We're not going to roll over, we're going to fight. And I was really encouraged after the game, after a tough loss, down 3-1. There's no quit in our team. Those guys are fired up. They're ready to get back out there and play Game 5 and try to stretch and extend this series." The question now becomes does the mentality and mindset of the players match what the coach is saying.
Jazz vs Nuggets pick
I have overrated Denver entering this series as I thought they would win this series but instead, they find themselves facing elimination and trailing 3-1. Do the Nuggets have it in them to play just as intense and with a sense of urgency as they did in Game 4? Yes, they lost Game 4 straight up (although covered ATS) but the effort was much better.
The biggest problem for Denver remains their aforementioned defensive struggles which do not seem to be improving at all. Denver is hoping a potential return of Gary Harris can help them at that end of the court but Harris return is not a certainty. I lean to Denver +3 if I had to pick a side but my stronger betting opinion for this game is the Over 221. It's worth noting Utah is 8-2 to the Over in their last 10 games and Denver is 21-7-1 to the Over in their last 29 games. Expect more of the same here.