Houston Rockets vs OKC Thunder Pick – NBA Playoff Pick Game 6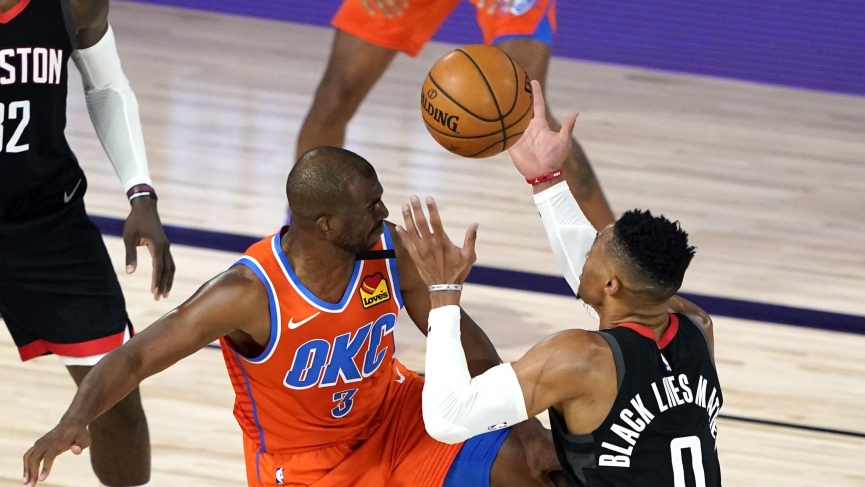 NBA Playoff Series: Houston Rockets vs. Oklahoma City Thunder (Game 6)
Date/Time: Monday, August 31, 2020 9pm ET 
Odds: Rockets -5.5/-110 Thunder +5.5/-110 | Moneyline -240/+190 | Total 225.5
Rocket Fuel Ignited
The Houston Rockets revved up their engine in a big way in Game 5 delivering a dominant and thorough beatdown 114-80 over the Oklahoma City Thunder to move within a game of closing out this first-round series. Houston adjusted their defensive focus by employing a strategy that invited Luguentz Dort of the Oklahoma City Thunder to take a bunch of completely uncontested shots in Game 5.
Dort took the bait and ended up jacking up far too many shots especially early in the game and essentially shot his team out of the game very early. He is a strong defender especially along the perimeter and one of the best that the Thunder have but he fell into the trap of trying to think he was a great offensive player and capable mid to long-range shooter. He isn't and yet kept on shooting and the end result was a disastrous and awful 3-for-16 shooting effort and 0-for-9 from the perimeter for Dort.
The Houston defensive plan worked. On the other side of the basketball, the Rockets offensively really broke down OKC's defense for the first time in a couple of games, and no doubt the return of Russell Westbrook playing his first game of the series played a role in that. His ability to run the offense and facilitate made a key difference and for the first time since Game 2, it looked like Houston's offense was looking a lot more like how it normally does when they are on their game.
The spacing on the floor was good and the 3 ball was starting to go down for the Rockets and when that happens. They got 20+ points from James Harden, Eric Gordon, and Robert Covington and yet barely got much offensively in terms of scoring at all from Russell Westbrook who played on a minute restriction in Game 5. I would expect this Rockets team at that end of the floor to be even better and more in sync here in Game 6 and the fact Westbrook now has a game under his belt should lead to even better things from him in this contest.
"Thunder"-struck
Oklahoma City was truly "Thunderstruck" by some horrendous shooting in Game 5 and one of the worst offensive games any team has played so far here in the NBA Playoffs. There is no way to paint a pretty picture of the brutal night it was for OKC at that offensive end of the basketball court in Game 5. The Thunder as a team shot a terrible 29-for-92 and just 31.5% from the floor. They were even worse from the perimeter as Oklahoma City connected at just 7-for-46 and a meager 15% from the beyond the arc in a borderline embarrassing display of perimeter shooting.
It's difficult for any team to shoot the ball worse than Oklahoma City did in Game 5 and quite frankly, there is absolutely nowhere to go but up in this category for the Thunder as they enter Game 6. The good news is that Oklahoma City has shown they can bounce back from a very bad shooting night. After their lone previous sub-100 point game of the series in Game 2, the Thunder responded with 119 points in Game 3 on and shot 45% as a team. It's surely worth noting that Houston is not this incredible, elite defensive team all of a sudden and I wouldn't expect the likes of Danilo Gallinari and Shai Gilgeous-Alexander to combine for just 5 points like they did in Game 5.
Houston Rockets vs OKC Thunder pick
Game 5 had just 194 points scored but I expect a much different story here. Houston scored 114 of those points in Game 5 but they still only shot 43% as a team which is alright but not great. We've seen the Houston Rockets get into the high 40's and 50's in shooting percentage many times in the past when they are on their game and I think there is still a lot of room for improvement in that regard for Game 6 from them.
On the flip side, Oklahoma City will shoot the ball much better as a team. They have to and they will because it can't get worse from them than what we saw them do in Game 5 and I expect better games offensively in particular from CP3, Shai Gilgeous-Alexander, Danilo Gallinari, and Dennis Schroeder. The Over is 4-1 in Oklahoma City's last five games after a SU loss and the Over is a very strong 20-8 71% in the last 28 games for the Thunder when they are coming off an ATS loss. I expect those trends to continue here and look for a much higher scoring affair sending this game Over the total of 226.