Houston Rockets vs Los Angeles Lakers Pick – Game 5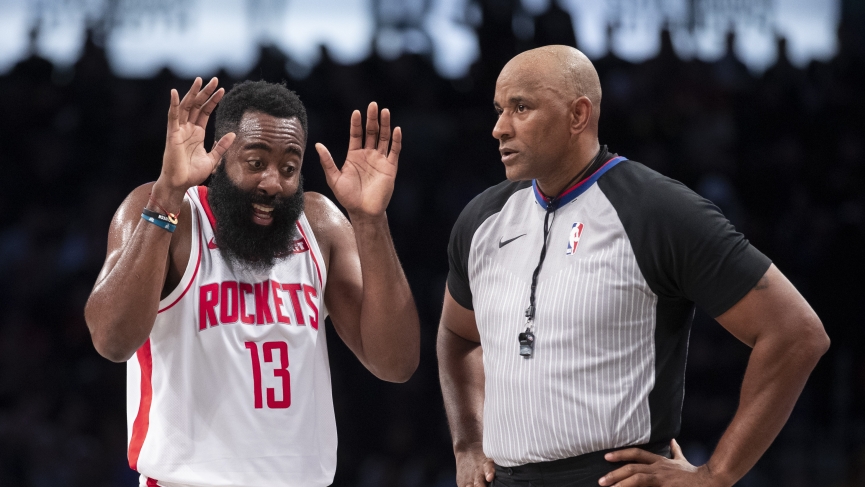 OddsHQ's Houston Rockets vs Los Angeles Lakers Pick for Game 5: The small ball experiment in Houston may have reached a breaking point, as the Rockets face elimination on Saturday.

| | | |
| --- | --- | --- |
| NBA Betting | Los Angeles Lakers | Houston Rockets |
| Spread | -6 (-110) | +6.5 (-106) |
| Total | Over 214.5 (-110) | Under 216.5 (-110) |
| Where/When | The Arena – FL | 8:00 PM EST |
"You've Gotta Fight For Your Right"
Those are the words of a famous Beastie Boys hit from the 1980s and they apply to the Houston Rockets here in Game 5 as they face elimination, in a game that requires just as much of a mental handicap as a physical. The Rockets have to fight for their right to stay in this series. However, "fight" is the exact thing that was severely lacking from Houston's performance in Game 4. It was a stunning lack of urgency for the entire Rockets team. Which got down by double digits early in the first half and never recovered. This begs the question, do the Rockets truly have what it takes to extend this series beyond Game 5 on Saturday night.
In the battle of Big vs. Small: Big always wins.
The LA Lakers were thought to be holding a major edge in the paint and low post area. This was thanks to the significant size, length, and height advantage the Lakers have over the Rockets. It finally played out that way in dominating fashion in Game 4. The Lakers whipped the Rockets to the tune of 62-24 in points in the paint in Game 4, with a massive +26 rebounding margin. It was complete and utter physical dominance inside by the LA Lakers. Unfortunately for head coach Mike D'Antoni, it is difficult to find solutions to this problem. Simply because the Rockets just don't have anywhere close to the same level of size and muscle in the low post that the Lakers do. It was a matchup advantage for LA in Game 4 and that should continue to be throughout this series.
Addicted to the small ball.
As for the Rockets, their style of play usually never changes. They've always been a team that is looking for a wide-open 3 point shot. Passing up a solid inside or mid-range shot in order to get a high quality 3 point attempt. Houston has played that way for years. Shooting tons of 3's and it's not likely a style of play that Mike D'Antoni and the Rockets will be willing to change, even if they are able to. I expect to see Houston try to play the same customary brand of basketball they normally do, and if that is the case, I don't see them having much more success than they've had in the last three games of this series. All of which, were wins and covers by the Lakers. LA struggled in Game 1, but the layoff after the Portland series played a role in the Lakers playing so poorly in that game. However, since then, the Lakers have figured out the Rockets. While Houston has failed to adequately adjust and change up how they play in any significant fashion.

Rockets have been a victim of 'House' arrest 
The Rockets have been hurt by the ongoing Danuel House situation with him being booted from the bubble in Orlando for a violation of COVID-19 health protocols. It's an unnecessary distraction for the team and it likely caused some fervor and anger among his teammates. You have Houston struggling on the court against the LA Lakers and some turmoil off it. Not a good combination to deal with just prior to playing a game in order to try and avoid elimination.
Houston Rockets vs. Los Angeles Lakers Pick
Often times in the NBA Playoffs, when a team is done they are done. Houston looks done to me. I cashed a ticket with the LA Lakers in Game 4 on Thursday night. I recommended LA as the side in my article for that game here, and I'm coming right back with another wager on the LA Lakers today. This quote from LeBron James speaks volumes about where his mindset is right now, after the 110-100 win in Game 4: "Obviously, we've got to be better. We got to close out games the right way." Even after the win, there was no complacency in LeBron James, and I expect that to filter down to the rest of this Lakers team, which has now gone 3-0 SU and ATS in the last three games of this series. I like the LA Lakers to punch their ticket to the Western Conference Finals with another win and cover. Currently, the best odds available on the Lakers is at -6 (-110) via DraftKings