Nuggets look to make NBA history in Game 7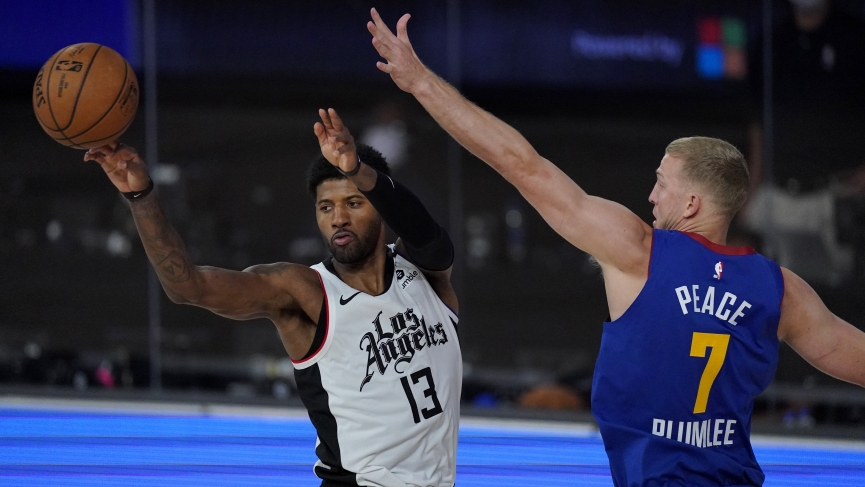 OddsHQ's Denver Nuggets vs LA Clippers Pick for Game 7: The Denver Nuggets will look to make NBA history, as the first team to come back from a 1-3 deficit in back to back playoff series. The Nuggets are +7.5 point underdogs to the Clippers in the pivotal deciding game.

| | | |
| --- | --- | --- |
| NBA Betting | LA Clippers | Denver Nuggets |
| Best Odds | -7.5 (-105) | +7.5 (-109) |
| Total | Over 207.5 (-110) | Under 208 (-110) |
| Where/When | The Arena, FL | 9:00 PM EST |
The Nuggets have been playing loose and free and can play even recklessly at times tonight because they were supposed to lose in the first round. Before we go on make the effort to always check the Odds page to ensure you are getting the best price for all your bets. 
Game 7 is Just Another Game
Denver center, and superstar Nikola Jokic stated after their come from behind win that "To us, Game 7 is just another game." That simple statement is completely accurate with the Nuggets having the confidence that they have what it takes to defeat the Clippers. Jokic had 34 pints, 14 boards, and seven assists in their 111-98 win that featured 11 straight defensive stops at one point in the second half. So, I did a simple query of my vast NBA database and learned that the Nuggets are 7-3 straight-up (SU) and 8-2 against-the-spread (ATS) in games following one in which Jokic scored 25 or more points and had at least 10 boards in a win installed as an underdog. 
The Clippers Have Never Been to the West Finals
The Clippers were founded in 1970 and played as the Buffalo Braves and then moved to San Diego in 1978. Team owner Irv Levin sold the franchise to real estate developer David Sterling for $12.5 million. Sterling moved the team to Los Angeles in 1984 and then was forced to sell the franchise to former Microsoft founder Steve Balmer, who finally brought winning ways to the franchise for the first time. Still, the Clippers have never advanced to the Western Conference Finals sporting an 0-7 record in previous chances. 
Will Paul George Have Another Monster Game?
The Clippers have strong support in winning Game 7 from the fact that they are 10-1 SU and 8-3 ATS for 73% winning bets following a game in which Paul George had 30 or more points; 3-0 ATS in the next game if coming off a loss installed as a favorite. Moreover, Clippers are 6-0 SU and 6-0 ATS following game in which Paul George had a plus-minus rating of -10 or worse. So, you can see how team and player trends can many times work against one another when handicapping a game, but there is far more analysis yet to be seen.
What About Teams that Lost Game 6?
Not too much to sink our teeth into here, but it is an excellent question. Teams that were 3-1 and forced into a game 7 are 0-4 SU and ATS since 2014. The last series in which this occurred was the Nuggets coming back to defeat the Utah Jazz in Round 1.  
A 75% Betting System Supports the Nuggets
No team in NBA history has won back-to-back series are being down in the series 3-1. This NBA betting system has earned a 20-7-1 ATS record for 75% winning bets over the last five seasons and instructs us to play on teams that were losing at the half by 5 or more points in each of their last three games.  In playoff games, this system has earned a 12-5-1 ATS record for 71% winning bets since 2013. 
Denver trailed by 16 points at the half in Game 6 and playoff teams, who then came from behind to win those games are 14-9 ATS for 61% in the next game. Teams that had at least a 16-point lead in a closeout playoff game are 1-4 ATS with the 'UNDER' going a perfect 5-0 in the next playoffs game. Now we are getting somewhere with the analysis. 
Denver Nuggets vs LA Clippers Pick – Game 7
The machine learning tools project that the Nuggets will have a higher shooting percentage from the field than the Clippers, will shoot at least 39% from beyond the arc, and make at least 12 shots from long range. Since 1995, the Clippers are a remarkable 113-9 SU for 93% wins and 105-14-3 ATS for 88% winning bets when they have met or exceeded these performance measures. The Clippers also sport a 46-4 SU and 40-8-2 ATS for 83% winning bets since 2017. Moreover, teams that have met or exceeded these performance measures in Games 6 or 7 are 9-3 SU for 75% wins and 10-2 ATS for 83% winning bets. Take the Nuggets plus the points and for them to be the first-ever NBA team to win back-to-back playoff series after trailing 3-1 in each of them.
Best Odds on Nuggets currently +7.5 (-109) via BetRivers