76ers vs. Celtics Pick – NBA Playoffs Game 2 August 19, 2020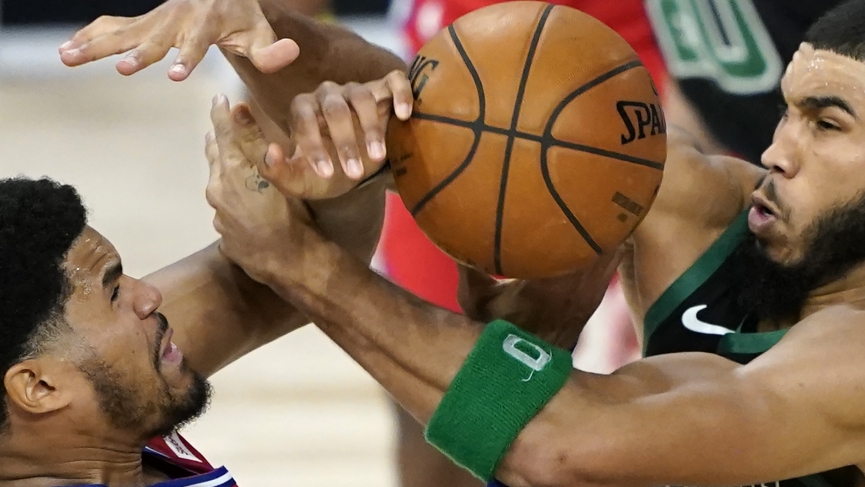 NBA Playoff Series: Philadelphia 76ers vs. Boston Celtics Game 2
Time: 6:30 pm EST
Odds: -172/-205 Total +/- 251 at Fanduel Sportsbook
We are about to get into my 76ers vs. Celtics pick for game 2 of this NBA playoffs series. The Boston Celtics showed why they could be very dangerous in this year's NBA Playoffs. The Celtics showed how many great shooters and wing players they have and also what great defense they are capable of playing at crunch time as they put away the Philadelphia 76ers in a 109-101 victory in Game 1 of this series.
Embiid Comes Up Empty
The Celtics did a fantastic job guarding Joel Embiid throughout the game as well as they rotated several players during the game to try and get the ball out of his hands and sure enough, the strategy employed by head coach Brad Stevens worked as Embiid started the game strongly but ended up with only 15 points in the last 3+ quarters of the game. Embiid has the talent and skillset to be a superstar in the NBA but he has been ridiculed and criticized for not elevating his game and stepping up at playoff time. He failed once again to do so in Game 1 although a lot of credit needs to go to the very good and well prepared Celtics defense. 
Getting on without Gordon
Gordon Hayward has endured an injury-plagued tenure with the Boston Celtics and another injury was added to the list in Game 1 when Hayward left the game with a right ankle sprain and he has already been ruled out for the rest of this series and possibly beyond as well. That's the bad news.
The good news for Boston is that they have been able to respond and still play well as a unit without Hayward and the results bear that out. The Celtics are 13-5 SU, 11-6-1 ATS in 18 games without him this season. Boston has a ton of quality player options to fill that position. Marcus Smart is likely the top candidate to replace Hayward but the Celtics also have some other solid options to go to such as Romeo Langford, Grant Williams, and Semi Ojeleye among them.
Boston has been forced to play a lot of basketball without Gordon Hayward so this shouldn't be an entirely new or different experience for them adjusting their rotations and finding ways to play well on the court without him and as the track record, this season alone indicates, Boston didn't have much difficulty still winning games and covering point spreads without Hayward on the floor.
Sixers treating the basketball like a hand grenade…
…is one of my favorite terms to describe a team that simply can't avoid committing turnovers and that has been a consistent problem for the Philadelphia 76ers. Philly had 18 turnovers in the Game 1 loss compared to just 7 turnovers by Boston. Turning the basketball over has been a sore spot for the entire season for the 76ers it was a detriment to their chances in Game 1 of this series. Philadelphia outrebounded Boston and shot the ball close to even with the Celtics but the turnovers were really a turning point in the game and created far too many empty possessions for Philadelphia. That can't happen especially against a very good offensive team and transition team like Boston especially with the 76ers struggling at the defensive end for the majority of the restart here in Orlando.
76ers vs Celtics pick
I cashed a ticket with the Boston Celtics -5.5 in Game 1 of this series and I have no reservations of backing the Celtics again here in Game 2 even without the services of Gordon Hayward in this game. I noted the solid 13-5 SU, 11-6-1 ATS record for the Celtics without Hayward this season and we often see NBA teams step up collectively and bring a real concerted effort and performance from top to bottom in that first game after a key player gets injured.
Philadelphia has too many flaws and outside of Joel Embiid's advantage in the low post over an average Celtics frontcourt, I think Boston has the better talent and better player at every other position on the floor right now along with a massive coaching edge for Celtics head coach Brad Stevens over Brett Brown who continues to underwhelm for the 76ers with many of his in-game adjustments and how he handles his player rotations during the course of the game. We are getting a better number on Boston here in Game 2 because of the Hayward injury only having to lay -4.5 points this time around. I'm taking Boston here and laying the points fully expecting the Celtics to go up 2-0 in this series.