Twins vs. Eagles Picks for Tuesday May 25, 2020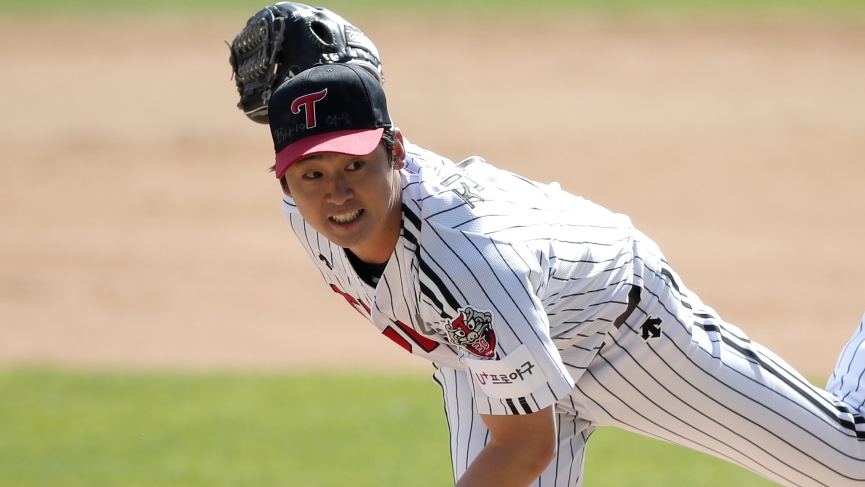 Will the Eagles finally get things rolling? Ace Christopher Bell makes his anticipated return to the KBO, and with his above par numbers last year, I think he's poised for an ideal season debut. My money will be on the FG Under 10.5 at your favorite sportsbook on tonight's pitcher's duel.
LG Twins vs. Hanwha Eagles at Daejeon Hanbat Stadium
Tonight's matchup will see the return of highly touted Chad Bellfor the Eagles. Bell finished last year off with a 6-1 start, while maintaining a 3.08 ERA, and a 1.14 WHIP. He was doing everything right at the tail end of the season, despite the 58-86 record.
Hanwha was not desperate for starting pitching, rather an offensive production was left to be desired. Things have been no different this year, Hanwha is almost dead last in the league, with a .255 team batting average, and only 66 RBI's in 17 games. On-base percentage (.318), and runners in scoring position (.263), are just a few examples of Hanwha still lack to cash in when it's needed the most.
On a positive note, Daejeon Hanbat stadium holds the 2nd largest amount of fans in the league. This mas made things extremely tough for teams to hit home runs, kind of like the Tropicana Dome in Tampa Bay, on a much larger scale. Hanwha at home, only manufactured 2 runs in their six home games this season, yikes. Shortstops (Jin-oh, and Seok-ha) still sit on the 10 day IL.
LG goes up against the Twins who are 2nd in the league
Sitting 2nd in the league with an 11-6 record, the LG Twins are coming off a massive series victory, when they not once, but twice came back in the second half versus KT Wiz. After flying so high, and faced the weakest second half WHIP bullpen by a landslide, the Twins looking to turn this snooze fest around, when they travel to Daejeon home of the Eagles.
LG is a tough team to gage, and for me it's when the fireworks will come out on display. We clearly see they've had better numbers at home, it been on the road where LG has been held to zero runs in 3 of their last 6 second-half games. The dimension in Hanwha leaves me the idea to think LG is not the same second-half hitting team on the road.
Looking at some of LG's offensive numbers this year, there's a considerable more amount of RBI'S for the Twins compared to the Eagles with 66. difference of 26 runs in the same amount of games played. If we want this game to stay under, we'll have to consider the runners in scoring position angle (RISP). LG dominates, sitting them 4th with a .309, much better than the Eagles at .263, placing them 8th in the KBO.
Tonight's Starting Pitchers
Let's take a closer look at tonight's starting pitchers for the Eagles, lefty Chad Bell. His best quality looks to be the distance he can give you. Bell averaged in his last 10 starts an average 6.1 innings pitched while holding batters to 5.1 hits a game. Follow that up with 4.8 strikeouts, and 1.9 base on balls, he was absolutely rolling. One area of concern for Bell you could say would be his early command.
This will be his first game back since being in quarantine with his wife and family. Bell started at home his numbers improved a decent amount compared to when he had started on the road. To conclude, a large part why I trust Bell in his season opener is the fact LG dumped everything and the kitchen sink to comeback against KT over the weekend. You must not forget, LG has been shutout 50% of the time when playing in the second half of games on the road. It's a small sample size, but we'll be taking those measures into close consideration.
Starting on the mound for the Twins will be Tyler Wilson, making his 4th start of the season. Even with a 0-2 record, Wilson has kept his WHIP to 1.27. His ERA on the other hand, some say has staggered, reaching 5.71, why he is winless on the year. It took quite the turn when they went up against the league leading NC Dinos. If you give him the benefit of the doubt in his first game, he followed it up with 13 strikeouts, and 3 base on balls in 2 starts. His numbers are starting to live up to expectations, where Wilson holds a career 23-11 record in the KBO.
There is no better spot to drop your ERA when you face a Hanwha team on the road. We know all Wilson & Bell will be good for an average of 6 innings, and when you have bullpens that post a 1.22 & a 1.39 second half WHIP, you're asking a lot for teams that struggle in the second half of games.
Tonight's KBO Pick: Full Game Under 9 -110