Nationals vs Mets Pick and Today's MLB Best Bets August 11, 2020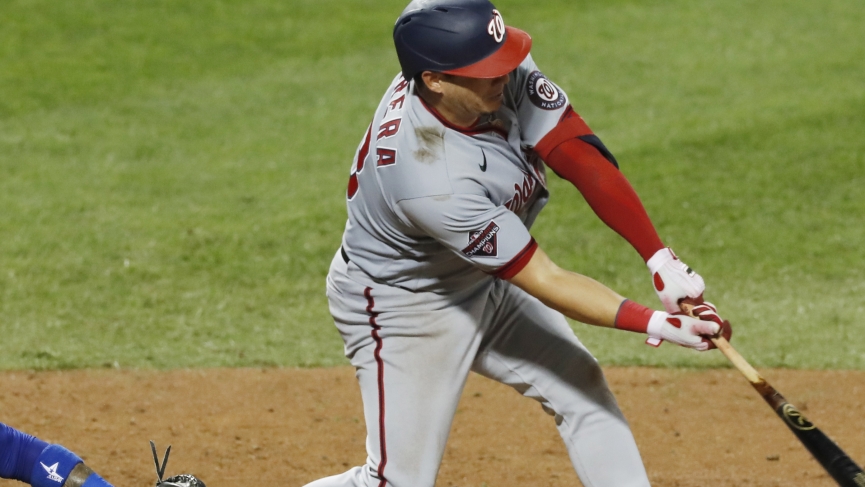 I've had a rough two days of MLB betting, going 2-3 last Wednesday and Thursday, but I'm still up overall for 2020 in my baseball odds picks. Let's get into my Nationals vs Mets pick and today's MLB best bets. 
2020 Total: 16-12 (57% win rate), including 12-5 (71%) on Run Lines
+30.38 units in wallet
(Note: All MLB odds and lines current as of Tuesday, 9 a.m. ET.)
Washington Nationals at New York Mets Pick
Probables: RHP Max Scherzer (0-1, 3.29 ERA) at RHP Rick Porcello (1-1, 6.92 ERA)
➕ 5 units on Nationals' Moneyline (-149) at BetMGM & DraftKings
Lock Favorite for Tuesday, Aug. 11
Scherzer returns to the mound after exiting his last start with a balky hamstring. In fact, it'll be a rematch with Porcello, who shined against the Nats in that outing last Wednesday after Scherzer departed. I'll bounce the pendulum in the direction of the returning pitcher, considering his backing Nats offense leads the league with a .867 OPS on the road.  
Sleepers To Pick for Tuesday, Aug. 11
Arizona Diamondbacks at Colorado Rockies Pick
Probables: RHP Zac Gallen (0-0, 2.81 ERA) at LHP Kyle Freeland  (2-0, 2.41 ERA)
➕ 3 units on OVER 11.5 (+101) at BetAmerica & ResortsCasino.com
This is a surprising split for a Coors Field game, though the stretched-out Over/Under explains it. This one is close, but I like the profitability in books that are overestimating the pitchers involved.
While Gallen's 23.1% home-run rate on fly balls is bloated, a trip to Coors Field is not going to solve that problem. As for Freeland, the groundball specialist (54.9% induced this year) has a 2.13 home ERA for this small season (12 2/3 innings for him in Denver), but his career mark is 4.22.
Plus, both bullpens are shaky. And, being on brand, the Rockies' .368 weighted on-base average in their home stadium (wOBA) ranks second, per Fangraphs.
Chicago White Sox at Detroit Tigers Pick
Probables: LHP Gio Gonzalez (0-1, 7.71 ERA) at LHP Tyler Alexander (1-0, 1.17 ERA)
➕ 5 units on OVER 9.5 (+102) at DraftKings
Getting a double-up line on two pitchers of this quality is a steal. Don't let the books trick you into fearing Comerica Park for scoring. With a lot of heavy favorites squashing much profit potential on Tuesday's board, this play looks ready to buck the analysts. 
Pushing their club to a surprising first-place run out of the gate, the Tigers' bats led the league with a .407 wOBA against left-handed pitchers through Sunday. The sticks have woken up this year with underrated slugger C.J. Cron (.894 OPS) and breakout teaser JaCoby Jones (.333/.391/.786 with 5 HR) complementing a resurgent Miguel Cabrera (4 HR in 49 AB). Gonzalez also has had control issues nearly for his entire career (3.78 career BB/9).
Meanwhile, Alexander got a lot of pub for recently striking out nine batters in a row, though while his 13 strikeouts in seven innings have been impressive, but he's left 100 percent of runners he's put on base so far. That's … bound to drop, which in turn will raise his ERA. 
Plus, the White Sox are one of the 10 best offenses versus lefties since the start of 2019 with a 109 wRC+ (weighted runs created plus). Alexander will deal with a tough ChiSox lineup that hasn't even gotten the best out of Eloy Jimenez yet this season.  
Kansas City Royals at Cincinnati Reds Pick
Probables: LHP Kris Bubic (0-2, 3.60 ERA) at RHP Luis Castillo (0-2, 4.76 ERA)
➕ 5 units on Reds' Run Line -1.5 (+110) at BetMGM
The books are giving the Reds' run line a little profitability, partially by underestimating Castillo, given his underwhelming start to the season. Castillo has been done in so far by his .415 BABIP allowed while excelling nearly across the board with skills indicators (13.76 K/9, 3.18 BB/9, 0.53 HR/9, 66.4 LOB%). Expect him to shine at home, where he's defied Great American Ball Park's hitter-friendly reputation with a 3.27 ERA
Conversely, the aggressive environment will be a reality check for the 22-year-old Bubic. 
Chicago Cubs at Cleveland Indians Pick
Probables: LHP Jon Lester (1-0, 0.82 ERA) at RHP Adam Plutko (1-0, 2.57)
➕ 3 units on Cubs' Moneyline (+128) at FanDuel
Make this bet as quickly as possible if it's still up there — and look for any positive swing in the direction of the Cubs. 
An unfortunate reality of COVID-19 in 2020 MLB action is that smart bettors could take action when the league undergoes a significant change. Previously scheduled Indians starter Mike Clevinger, who's toyed with Cy Young form in his young career, will be quarantined after breaking quarantine protocols. 
Since the start of the 2019 season, the Cubs rank tied for sixth with a 105 wRC+ against righty pitchers, and they'll be happy to face the much more hittable Plutko, who isn't a bum but presents a significant downgrade in Cleveland's outlook from when Clevinger was slated to go.