Milwaukee Brewers vs Cincinnati Reds Pick – 9/23/20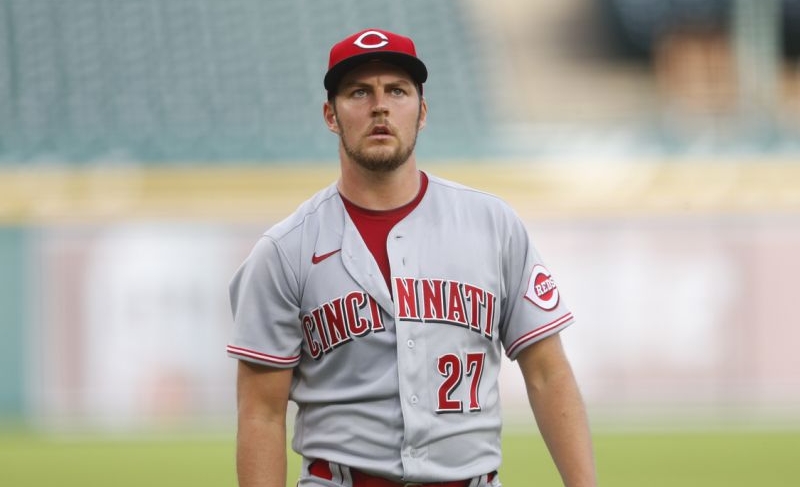 Odds.com's Milwaukee Brewers vs Cincinnati Reds Pick for 9/23/20: The Cincinnati Reds are in a playoff race this week and are looking to do early damage against the Brewers on Wednesday night. The Reds are half a game back of the final playoff spot in the National League, and will likely approach tonight as a 'playoff game' scenario.
| | | |
| --- | --- | --- |
| MLB Betting | Milwaukee Brewers | Cincinnati Reds |
| Best Odds | -162 | +150 |
| Total | Over 8.5 (-102) | Under 8.5 (-103) |
| Where/When | Great American Ballpark | 6:30 PM EST |
The National League is a cluster jam.
Two teams tonight will battle it out for one of the final spots in the playoff picture. Milwaukee and Cinicannti have won eight of their last ten, can the Reds make it 15-11 at home, while the Brewers try and make it 7-7 as a road dog. Look for the starting pitching to be the difference-maker tonight. Trevor Bauer will be on the mound for Cincinnati, even when Bauer has a bad game it better than most in the league, while Milwaukee counters with a weak right-handed arm Adrain Houser.
Starting Pitching:
Adrain Houser has not been a bright spot for the Brewers rotation. He's 1-2 on the road posting a .235 batting average, and .704 OPS. His numbers are actually not that bad on the road, but if we switch to this current month, Houser is regressing. Now 0-2 rocking a .293 batting average, .995 OPS, Houser's alarm bells are ringing louder than ever. His analytical charts show a very low whiff rate, this tells you he is not fooling anyone at the plate, and his expected batting average/slugging percentage is skyrocketing in the wrong direction. Houser has awful credentials against this Reds squad, his batting average is .474 while the OPS is insanely high at 1.34. Nothing Houser brings to the plate should give the Reds issues, especially when it's your season on the line.
Trevor Bauer was brought over by the Reds for this exact reason. Bauer will be looked at tonight to get the Reds that much-needed win to get them closer to the 8th or 7th seed in the playoffs. Bauer is losing his starts because of the lack of run support the Reds give him on a nightly basis. Things will be different this time when the Reds offense tee off on a guy who's struggled mightily against the Reds lineup. Bauers runners in scoring position is absolutely eye-opening, Bauer has a .067 batting average and just .283 OPS, compare that to Houser, who has an OPS above 1.00 when faced with the Reds. The only way I see us losing this bet is if Bauer gives up a run early, good news Bauer has a batting average of .147 in the 1st and 2nd innings, while Houser posts a .316 batting average in the first two innings. All signs lead to the Reds jumping all over Houser and the Brewers, similar to last night with Gray.
Offensive Production:
Milwaukee has nearly a complete lineup to start their crucial series versus the Reds. Ben Gamel is out for the remainder of the year with a quad injury, while Avisail Garcia has been lights out since his return from the IL. Garcia is hitting .283 in September and is 9 for 34 with two home runs off Bauer in his career, Omar Narvaez is 4 for 17, while Jace Peterson is 2 for 3 with two home runs off Bauer. Milwaukee is trying their best to make a late push, winning eight of their past ten. If they can somehow touch the great Trevour Bauer, this team might be destined for the playoffs. Milwaukee has the slight edge on offense, but it is the Reds starting pitching that will be the difference-maker between making the playoffs and missing the playoffs. Houser is not their guy the look to for wins, Woodruff and Burnes are the Brewers go to pitchers.
Cincinnati was picked by many to win this NL Central, now they are on the outside looking in after falling last night to the Brewers late. As we've been stating Houser has major problems when he pitches to the Reds. Though it is a small sample size four guys on the Reds have an average over .333, with a combined five home runs. Good pitching teams like the San Diego and LA Dodgers will cause fits for a weak-hitting Reds offense, guys like Houser do not have the pitching arsenal to stifle you as a top pitcher would. Trevor Bauer on the mound, and your playoff hopes on the line, the time is now for the Reds to jump all over Houser and the Brewers.
Players To Watch:
Brewers – Avisail Garcia is having himself a memorable September, batting .283 this hard-hitting righty has seen plenty of Bauer in his career, reaching base nine out of 34 attempts. A definite player to watch in tonights crucial NL Central showdown.
Reds – Pay close attention to Eugene Suarez, he's been lightning hot in September batting .241 with six home runs. Lifetime against Houser Suarez is 4/9 with two home runs. Houser simply does not enjoy pitching to these Reds.
Milwaukee Brewers vs Cincinnati Reds Pick
Best Bet: Reds Score 1st +110 via Bet365