Miami Marlins vs Chicago Cubs Series Prediction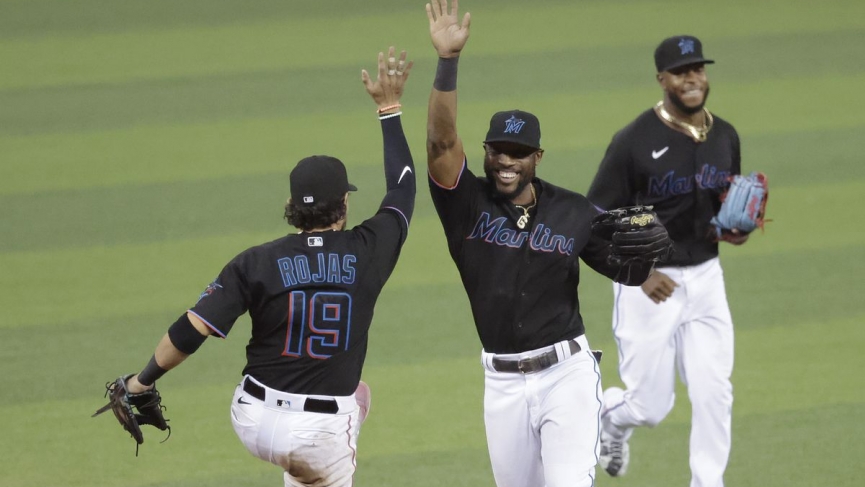 Odds.com's Miami Marlins vs Chicago Cubs Series Prediction – NL Wild Card: The Miami Marlins were the most profitable road team in baseball in 2020. With just a 16-14 road record, the Marlins profited their backers +11.63u profit as the visiting team, and will look to continue to smash expectations on the road when they head to Wrigley Field for Game 2 of their NL Wild Card series vs the Chicago Cubs.

| | | |
| --- | --- | --- |
| (MIA Leads Series 1-0) | Miami Marlins  | Chicago Cubs |
| Series Odds | -200 | +170 |
| Game 2 Odds | +175 | -188 |
| Where/When | Wrigley Field | Oct 2nd,  2:08 PM EST |
It's going to take more than a COVID outbreak to stop these Miami Marlins. No one thought this young core could make it this far but here we are. Miami's pitching should do just enough to hold a very frail hitting Cubs team. Chicago will counter with two of the best arms in the NL, Kyle Hendricks, and Yu Darvish. These two pitchers have been lights-out, but so have the Miami bats. The dogs will be barking in this series, the Marlins are on a mission this year, while the Cubs are not the Cubs of the past.
Cubbies Chasing a Championship
The Cubs have been blessed with two solid pitchers in 2020. Kyle Hendricks will get the nod in game one for the Cubs where he's held his opponents to just nine runs in 43 innings in September. Hendricks has enjoyed pitching considerably more at home than away from Wrigley, his batting average drops from .287 on the road,  to .195 at home. The bad news for Hendricks is his numbers are awful with runners in scoring position, .303 batting average will not get it done against a Marlins team who sits 10th in the league with RISP away from home. To make matters worse for Hendricks, his strikeouts come against left-handed batters, he only has 24 strikeouts versus right-handed batters.
Miami has a number of right-handed bats who hit for base hits, not something you want if you're backing Hendricks. Yu Darvish will be a very tough out for Miami, unlike Hendricks his batting average is .211 against righties and .211 against lefties. Darvish has allowed 11 runs in the month of September, that's considerably higher than any of his previous months before. With that being said, Darvish will be the toughest pitcher Miami faces this series. I expect a full three-game-set, which means the Cubs will have to rely on old Jon Lester. Lester gave up 19 runs to finish off the month and has 28 runs allowed to right-handed batters. This was not the team Lester wanted to see, the whole Chicago Cubs for that matter.
Cubs Probable Starters:
| | | | | | | | |
| --- | --- | --- | --- | --- | --- | --- | --- |
| Pitcher | Inning | xBA | xSLG | Barrel % | Hard Hit % | OZ Swing % | Whiff % |
| Hendricks (R) | 81 | .239 | .266 | 4.5 | 31.8 | 31.8 | 25 |
| Darvish (R)  | 76 | .228 | .259 | 6.4 | 34.2 | 30.1 | 32.2 |
| Lester (L) | 61 | .280 | .348 | 12.3 | 38.9 | 25.9 | 18.2 |
More Marlins Magic Needed for Wild Card Miracle
Miami will focus their pitching on Sixto Sanchez, Sandy Alcantara, and Pablo Lopez to get them through the first round of elimination. Their pitching is not too far off from Hendricks and Darvish, though Sanchez has only played seven games since the middle of August, he's proven just as tough to hit. September has been a rough month for Sanchez, but with the few days off I expect to see a rejuvenated Sixto Sanchez. Chicago has never seen Sanchez and has the stuff to put away this weak Cubs lineup. Sandy Alcantara will be a go-to arm this series for the Marlins rotation, he's been lights out in September allowing only a .174 batting average, and six runs. Alcantara will be in tough game two against Darvish, but with his current form this month, he'll have a much easier team against the Cubs lineup than Darvish will be faced with.
The rubber match will see young Pablo Lopez. Lopez was touched against the Braves for seven runs, inflating all his statistics to a degree that makes it tough to get back in just a 60 game season. Lopez has found something since that bad outing, he's given a solid .202 batting average, with 27 strikeouts in September. I would be backing Lopez over Lester in a heartbeat if we get to that point. Look for the Marlins pitching to cause just enough distractions to confuse this stagnant Cubs offense.
Marlins Probable Starters:
| | | | | | | | |
| --- | --- | --- | --- | --- | --- | --- | --- |
| Pitcher | Inning | xBA | xSLG | Barrel % | Hard Hit % | OZ Swing % | Whiff % |
| Sanchez (R) | 39 | .214 | .262 | 5.4 | 38.4 | 34.5 | 24.9 |
| Alcantara (R) | 42 | .243 | .297 | 6.0 | 38.5 | 28.1 | 24.1 |
| Lopez (R) | 57 | .220 | .270 | 4.3 | 32.3 | 31.8 | 26.5 |
Offensive Production:
Chicago sits at the bottom half of the league in almost every crucial offensive category we like to focus on. Within the month of September Chicago sit 24th in batting average, 29th in slugging, and 22nd in wOBA. The one area in the Marlins game that is very weak is their bullpen. Bad news for the Cubs, they are dead last after the sixth inning in batting average, slugging percentage, iso power, and wOBA.
I am not inclined to believe this Cubs team will simply turn the switch, even though they hold a 17-14 home record. Miami does not possess gas pitchers in any of the three games in this series, while the Cubs will have to keep up with a young Marlins team smashing the cover of the baseball. Miami had to win their way into the season, while the Cubs were able to relax after their huge lead at the end of August. Unless Chicago shows us something they haven't all year, the advantage lies with the Marlins rotation and their bullpen.
Miami is a middle of the pack team on the year, but a top 10 squad since the start of September. Led by their huge acquisition at the deadline, Starling Marte has four home runs since coming over from the DBacks. Miami is used to being underdogs, recording a 16-14 record as a dog on the road, and a remarkable 22-8 on the RL away from home. Miami is never out of games with their hot bats, while the Cubs have shown nothing relying heavily on (OF) Jason Heyward. You have to go digging to find a bright spot in this Cubs offense, I want the team who's lost by two or more only 8 times all year when on the road. Watch out for Miami, they have all the makings to be the dog of the Wild Card.
Miami Marlins vs Chicago Cubs Series Prediction
Chicago has been plunging at the plate, their pitching on the hill has been superb. They sit in the top sector in batting average, WHIP, and xFIP, while the Marlins are in the mid-twenties in all of the same categories. One area the Malins can reveal would be when they have runners on base. Chicago's bullpen allows a .333 batting average which sits them 26th in the majors on the month. Miami will need all the run production they can buy when they turn it over to their mediocre bullpen at best. My bet would the Marlins bats surge while the pitching only takes the Cubs so far. My best bet lies within the Miami Marlins as they get their first post-season series win since their World Series victory against the New York Yankees.
The odds on Miami to Win the Series is at +155 (via Bet365)