Lions vs Wyverns | Saturday June 6th, 2020
4 am EST. After both respected clubs finished May and led into early June with consecutive victories, it's probably time for some regression to follow. With key players out of both lineups, I'll be backing the F5 Under 5, as two well-rounded pitchers take the mound.
Samsung Lions vs SK Wyverns
Samsung Lions enter tonight's game in 7th place, with a record of 12-16. The problem for the Lions has been the lack of consistent pitching, and It doesn't end there. Samsung sits 6th in the league with 132 RBI's, and post a weak batting average of .247. Samsung was all over the place last week. Some games they scored 5 runs over the total and others were below the number. When we take a look at tonight's pitching duel, we come across two pitchers who keep their walks to a minimum and eat up innings for their clubs.
For starters, each pitcher holds the 2nd lowest WHIP on their respected teams, which means you will not give up many runners on base. Samsung has been riddled with injuries all year, and just when they thought things were returning back to normal, 3rd baseman and RBI leader Lee Won-seok went down with a wrist injury Thursday night at LG. This is bad news for a team that already struggles to put runs on the board. As much as I want to take Samsung here, the holes in the Lions lineup have me a little shy to pull the trigger.
Choi Chae-heung, for the Samsung Lions, will get his 6th start of the year. Thus far he's posted a 3-1 record, with a 3.21 ERA, and a 1.25 WHIP. Chase-heung is coming off his first loss of the year against the powerhouse NC Dinos. Now going back on the road where Chae-heung is 2-0 on the year, look for him to regain his confidence that led the team to 4 wins on the year. He averages 6.5 innings on the road, with 4.5 hits allowed, and 2.5 strikeouts a game. I would say Chae-heung is a better road pitcher than at home. Last time he faced this Wyverns team was back in September where he went 6 innings posting a 1.50 ERA. With a bounce-back spot in mind for Chae-hueng, tonight looks to be the rebound he's been waiting for.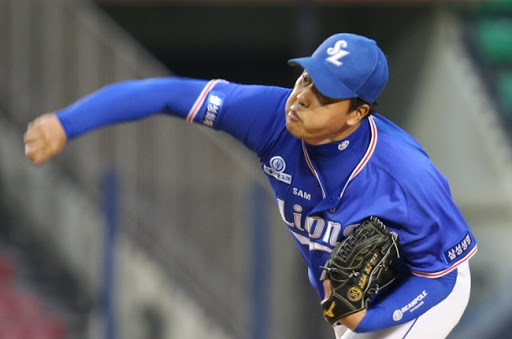 SK Wyverns couldn't get out of their own way early in the season, losing games in the worst fashion. That's decimating for a club who won the KBO championship just 2 years ago. Those days seem long ago, now 9th in the KBO with a record of 9-18. SK has felt the injury bug, losing top pitcher Nick Kingham and now Dong-Min-han, a key contributor to the Wyverns offense. SK's been the better hitting team, but my only concern is the lack of production in the past two weeks. Since winning 50 % of their games in the past two weeks, they held a record of 2-15. The Wyverns will feel the loss of slugger Min-han shortly when Chae-heung comes to the mound with revenge on his mind.
One bright spot for a team that couldn't' hit water if they fell out of a boat, is Park Jong-hoon. Since Nick Kingham suffered an elbow injury in week 2, Jong-hoon has become the ace. With a 2-0 start,  3.54 ER, and a 1.29 WHIP, he's held his own against some heavy-hitting teams. Remember, these two pitchers do not allow many hits or walks per game, and with two major offensive parts missing, Jong-hoon and Buchanan seem poised for another solid outing. My only concern would be, Jong-hoon's two road starts were versus Hanwha, and we all know how inefficient they have been. With that being said, Jong-goon has played superior road teams(Doosan, LG, KT), and has held these opponents to no more than 3 runs a game. If your pitcher has more strikeouts than hits, you know he's doing something right, and Jong-hoon fits this bill.
| | | | | | |
| --- | --- | --- | --- | --- | --- |
| | Record | ERA | WHIP | Gamer Score | |
| Chae-heung | 3-1 | 3.21 | 1.25 | 53.4 | |
| Jong-hoon | 2-0 | 3.54 | 1.29 | 49.0 | |
If you're trying to figure out who will win this game, you'll want to be cautious. SK has won 6 of their last 8, while Samsung has won 6 of their last 9. It comes down to the fact we have two aces on the mound, and two ball clubs who have recently lost a major piece on offense. This gives me a reason to believe both sides will see a regression in the next few weeks, which probably starts tonight. All things work out as planned, I expect a 1-1 score after five innings, and the full game under to also be in play.
Tonight's KBO Pick: F5 Under 5 -115