KBO Predictions for Saturday June 20, 2020
Get ready for some KBO predictions for tomorrow's matchups. I expect fireworks when Adrian Sampson (Lotte) and Hyeong-jun So (KT) take the mound. Both starters have ERA's over 6, we'll be backing KT Wiz F5 ML. Our second game tonight will see Tae-in Won (Samsung) and Ki-young Im (Kia). These guys are lights out, while one is contending for tops in the KBO. My money will be on the F5 Under 5
Lotte Giants vs KT Wiz at (4am EST) Suwon KT Wiz Park
KT Wiz will return after a lengthy 6 game road trip, they struggled early on but managed to turn things around for winning three of three against SK Wyverns. Now they get a Lotte team who are playing much better than I was expecting, after losing 2 starting players from the lineup. Lotte started June off by getting swept by the hands of the Kia Tigers. They followed it up by taking all three against KT, with the total's all staying under. Lotte made some ground up in the standing, winning five of their next 9 games.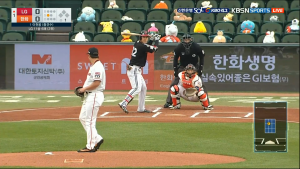 I'm expecting fireworks tonight as Adrian Sampson (1-3), 7.78 ERA, 0.369 opponent batting averages, tries for his second win of the year. Sampson has played three games in June with a total of 28 hits allowed, 12 strikeouts, and 5 walks. His only win in that stretch was against Hanwha, who are the bottom feeders of the KBO. Even though Sampson was able to lead his team to victory, he gave up 9 hits, while only striking out 3. If Sampson was any good, he would have beaten up on Hanwha, who was missing near half their lineup to the minors. 
KT Wiz has been an up and down team all season, you want to ride this team when they win, and fade them when they're ice cold as the Rockies. If we take a look at how their form is currently it's HOT. They snuck out a 9-8 win last night in extra's over Lotte, keeping their win streak alive and well. Tonight KT will showcase the ever so talented Hyeong-jun So. He's been much better than what his counterpart Sampson has done thus far. So is 1-2 in the month of June his lone win was against Doosan Bears, one of the top hitting teams in the KBO. So had a 0.00 ERA, allowing two hits, while striking out two. 
| | | | | |
| --- | --- | --- | --- | --- |
| | Home/Road ERA | Home/Road Opp. Batting Avg. | Vs Left Handed Hitters | Vs Right-Handed Hitters |
| Hyeong-jun So | 11.17 | 0.432 | 0.385 | 0.356 |
| Adrian Sampson | 5.65 | 0.289 | 0.268 | 0.329 |
Both Sampson and So are yet to face each other this year, yet one pitcher has shown he can take on a healthy hard hitting lineup, while the other (Sampson), struggles to win even versus the weakest of opponents. Tonight Sampson will be tested yet again, when KT looks to move their win streak to five, and give themselves a chance come playoff time. My money will be backing Hyeong-jun So and the KT Wiz F5 -115.
Tonight's KBO Best Bet: KT Wiz F5 +105
Samsung Lions vs Kia Tigers (4 am EST) at Gwangju Kia Champions Field
This will be our pitchers duel of the night. Tae-in Won is considered to be in the top 10 when in the KBO, he is 4-1 on the year with an impressive 2.30 ERA, and a 0.253 opponent batting average. He faced this same Kia team in week one of the season and came out with the win. Since it was the first game of the year, I was not expecting Won to be at his best, though he held Kia to six hits in five innings.
His road record is even better than his overall stats, 2-0, with a 2.25 ERA, and an eye-popping 0.213 opponent batting average. Won is 2-1 in June losing at home to Kiwoom 5-3 back on the 8th, he had some walk issues that came and had his ERA almost in the fives. Despite that one bad performance from Won, he's been lights out, just coming off a 12-0 win over KT.  
Kia will have their 5th rational starter tonight Ki-young Im. Im has been on fire in June, similar to Won of Samsung. He is 2-1, with his lone loss at Doosan back on the 6th of June. He had a solid outing, he allowed only 7 hits in almost six innings, while giving up no base on balls, taking Doosan head-on. Im is currently 3-3 on the year and has a 2.82 ERA, and 0.262 opponent batting average. Im is actually better at home, where he has a 2.04 ERA, and a 0.254 opponent batting average.  Expect Im to have some revenge on his mind, after losing his first matchup at Samsung.
| | | | |
| --- | --- | --- | --- |
| | RISP | XBH/H | On Base % |
| Samsung Lions | 0.287 | 0.326 | 0.327 |
| Kia Tigers | 0.269 | 0.290 | 0.351 |
My overall thoughts tonight would be, can either team hit one of these pitchers. I don't think so, as both teams sit at 0.253 and 0.275 batting average, and 0.721, 0.765 OPS. Those numbers are not enough to scare me off the F5 under. We have two of the best bullpens in the league to follow it up. I can see you backing the full game under, but money cold hard cash will be on the first five under 5
Tonight's KBO Best Bet: F5 Under 5 -120