Cincinnati Reds vs Minnesota Twins Pick – 9/25/20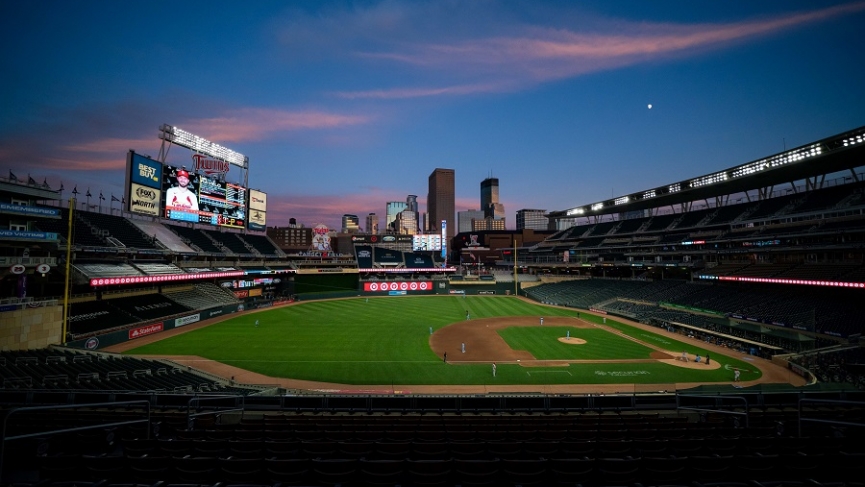 Odds.com's Cincinnati Reds vs Minnesota Twins Pick for 9/25/20: The Twins at home, and the Reds on the road, are a combined 29-20-3 to the F5 Under this year. The two teams meet tonight at Target Field, as the playoff races heat up into the final weekend of the regular season. 
| | | |
| --- | --- | --- |
| MLB Betting | Cincinnati Reds | Minnesota Twins |
| Best Odds | +130 | -138 |
| Total | Over 8.5 (-105) | Under 8.5 (-109) |
| Where/When | Target Field | 8:10 PM EST |
Playoff Races Heating Up
The playoff race heats up tonight when these two teams take the field, Tyler Mahle will get the start for the Reds who are inching ever so close to locking up their first postseason bid in years. Their task is not an easy one, the Twins are too looking to lock up a top seed and will not be taking things lightly. Minnesota will trust Jose Berrios to get them that much closer to locking up top spot in the NL Central. Expect a tight series, both teams are combined 16-38 to the under.
Starting Pitching:
Tyler Mahle has enjoyed the shortened season, dropping his ERA and WHIP by serval points. Mahle is an inning eater, averaging at least five innings a start. Despite Mahle allowing three runs in each of his three starts on the road, Mahle has held opponents to a 0.245 batting average. His walk rate is a tad high on the year, but Mahle has dialed things back and dropped his WHIP from 1.50 to 1.07 in September. This bodes very well for our first five under, Minnesota have an exceptional record at home, though they lead the league in unders at home. This should tell you both batters and pitchers for the Twins enjoy the riches at home. Mahle will need to beware of Eddie Rosario, he's yet to face Mahle in his career, but has been cracking the ball in September. With Mahle's high WHIF, and low batting average it's hard to make a case for the Twins offense. Mahle has been sneaky good under the Reds three-headed monster rotation. Look for Mahle to show he belongs in the postseason.
Jose Berrios has been on a mission in 2020. Berrios is holding opponents to a sub .300 slugging percentage, which tells you he does not give up home runs. His WHIP is almost 1.00 both at home and in September while holding opponents under 3.00 ERA both at home and in the month of September. Berrios has been scary good in September, in four games he's allowed only five runs, one home run, six bases on balls, and 22 strikeouts. He even keeps his RISP in check averaging just 17 percent, expect a dip in totals now that we have the ace's on the mound. Nick Castellanos is 5-13 off Berrios with one home run, other than his hot bat, the Reds have little to work with. Both teams are unlikely to see each other on regular basis, look for both pitchers to have the edge early in this one.
Offensive Production:
A healthy Cincinnati squad needs to show they want to make the playoffs. Their pitching in certainly not an issue, its going to be hitting against quality pitching. YOu have the cream of the crop now, and the Reds could barely hit on the road during the regular season, averaging 20 percent, and RISP only 22 percent. Cincinnati hit for power despite not getting on base much, their SLG and OPS is almost the same as Minnesota, despite having a considerably higher batting average than the Reds. The Reds have all the tiebreakers, they just need to show they want to be there. If the bats for the Reds wake up, Cincinnati can make a deep charge this postseason.
Minnesota Twins sit 3rd in the majors with a 35-22 record, and first at home 23-5. Right away this tells you Cincinnati will need to will their way to victory. Fourty-year-old Nelson Cruz is currently Day-To-Day, he's missed the last five games with a nagging knee injury. Since the Twins went on a bit slide last week, the boys from Minnesota have turned things around winning their last four games. This Twins team still has everything to play for, with the Chicago White Sox's and the Cleveland Indians right on their tail. Expect a slow start, both teams are not too familiar with each pitcher, giving us just enough time to get out of the first inning under four runs.
Players To Watch:
Reds –  Joey Votto stands out as our player to watch. He's batting .273 in his past seven games while collecting four RBIs on six hits, he too homered twice in that span.  Here's the downside for Votto, although he's been in a nice groove, he's been at home for all of these games, Votto hits just .108 on the road. This is just one fo the reasons why they sit a the bottom of the lists in batting average and other run-specific stats.
Twins –  With three home runs, seven RBIs, and eight hits, Eddie Rosario is our guy to watch. Rosario has collected not just hits but RBIs, in his past four games. He has nearly half of his home runs in the month of September and enjoys the riches of hitting at home. His batting average jumps from a .233 on the road, to .281 at home. This is clearly the guy Mahle will need to pay close attention to.
Cincinnati Reds vs Minnesota Twins Pick
Pull that trigger on the First Five Under 4.5 (+102), available at your local FanDuel Sportsbook.