Woodbine Pick and 2 Saratoga Best Bets August 15, 2020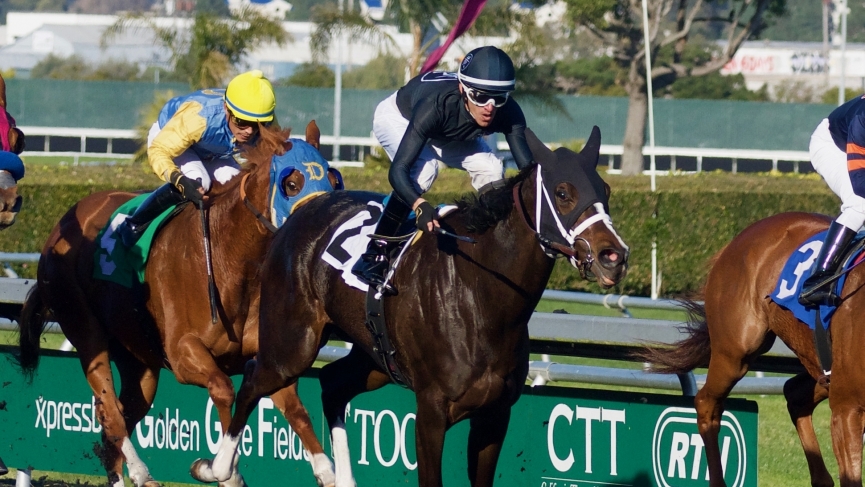 Today's horse betting includes a Woodbine pick and 2 Saratoga Best Bets but first we take a look at yesterday at Saratoga, Feel Glorious used a perfect trip to run down Chaleur in the Perfect Sting. Today the focus will be on the two stakes at Saratoga and a big day at Woodbine with the rich Woodbine Oaks for Canadian bred three-year-old fillies being the main event.
The Woodbine undercard includes multiple graded stakes races and the restricted Plate Trial. Think Clayton will win the Plate Trial at a minuscule price in his final Queen's Plate prep. Fan-favorite Pink Lloyd found seven rivals to take him on in the grade three Bold Venture. White Flag who ships in from New York is an intriguing alternative as his best races gives him a chance but he is unproven on synthetic. Instead of trying to beat Pink Lloyd with White Flag, would rather try to beat White Flag and Olympic Runner with Malibu Secret to complete the exactor. Let's look at some races:
Saratoga 8th: Colonel Liam made a strong impression on turf 5:07 pm Et
The Saratoga 8th is the Saratoga Derby Invitational for three-year-olds going 1 3/16 miles on turf. Morning line favorite Decorated Invader has done nothing wrong this year in winning all of his starts. His last race however at his longest distance to date was not as simple as it should have been and I wonder if he wants today's added distance. In that last race Get Smokin, who also runs today, went off by himself and opened up several lengths on the field while trying his longest distance to date and thought Decorated Invader had to work really hard to get past. When you consider his talented stablemate, a couple of shippers from Kentucky as well as a pair of horses from the Todd Pletcher barn, this race rates significantly tougher than Decorated Invader's last couple of races.
Decorated Invader's stablemate Gufo has some appeal as he has always indicated that distance won't hurt him. If you want a stone-cold closer, he's the choice and my alternative but this race is tougher.
The horse I prefer is Colonel Liam (7/2 ML). Last time in his turf debut he was facing older horses and note that every horse in that race was older. While he lacked seasoning against that experienced group, he was a dominant winner. Just his fourth lifetime start and if turf is really what he wanted all along, see no reason why he can't double up in this spot.
Saratoga 9th: Spice is Nice talented enough to win Alabama 5:43 pm Et
The Saratoga 9th is the grade one Alabama for three-year-old fillies going 1 ¼ mile on dirt. Swiss Skydiver will be your favorite after winning three straight graded stakes and finishing second to Art Collector against the boys in the Blue Grass last time. While that wasn't a bad loss as Art Collector will be a top-three choice in next month's Kentucky Derby, Swiss Skydiver seemed to have nothing in deep stretch in her first attempt at 1 1/8 miles and I wonder if she really wants to go 1 1/4 miles as her pedigree suggests she doesn't.
Wanted to like Harvey's Lil Goil as her win in the Busanda was flashy in the winter but she showed marked improvement on turf last time when out finishing favorite Crystal Cliffs despite having a more difficult trip. Have to wonder if turf is just her best surface. If you want a closer, I prefer Envoutante to Bonny South on both talent and the fact that Envoutante outran her last time. The concern for both however is that this race may not set up for them.
The horse I want is Spice is Nice (3-1 ML) who was the easiest of winners in her debut. She was put in a difficult spot in her second career start when running in a graded stake and stretching out while lacking plenty of seasoning. She then tried the Gulfstream Park Oaks where Swiss Skydiver was allowed to get away with a half-mile in 49 seconds and Spice Is Nice got the wrong trip being kept multiple lengths off the pace. Last time Spice is Nice returned to form while never asked for her best and at this extended distance, I trust her pedigree more than the favorite.
Woodbine 10th: Justleaveitalone brings strong synthetic form 5:57 pm Et
The Woodbine 10th is the restricted Woodbine Oaks for Canadian bred three-year-old fillies going 1 1/8 miles on synthetic. Your morning line favorite is Lasting Union who will make her synthetic debut. She recently found success when being ridden more aggressively in races at Laurel and Delaware. Outside of being a question mark on synthetic, she also has to get a longer distance and has other early speed to contend with in the likes of Pilot Episode, Mizzen Beau Infinite Patience, and rabbit Bayou Belle thus I'm against her.
I'm against Curlin's Voyage who will take money based on her connections. She has run four times sprinting and routing and I simply prefer her sprint races.
Merveilleux is one alternative and she has danced several dances with Curlin's Voyage. Do prefer that she has been committed to route racing. More was expected from her last time in what may have been the worst performance of her career. Note that her connections also enter Bayou Belle who is expected to be a rabbit to assist Merveilleux's late closing abilities. She adds blinkers, is a logical closer, and my alternative.
The horse I prefer is Justleaveitalone (8-1 ML) whose connections supplemented her into this race for $12,500. Yes, she just broke her maiden two weeks ago but her form is solid when you pick it apart. She debuted in a stake at Woodbine last year and finished second. She then didn't run for six months, when she reappeared at Gulfstream and tried both dirt and turf while in the U.S.
For the most part all of those performances were poor except for a second-place effort at today's distance. She tried Stakes Company again despite still being a maiden two starts ago in her return to Woodbine and lost by a head at 65-1 to Curlin's Voyage. Last time in her maiden win she beat older horses and won at today's distance. Note she is the only horse proven at today's distance and if you ignore all her non-synthetic races, you're left with the maiden win and two-second place efforts in stakes. She looks like a strong contender.