Pony Picks: Churchill, Santa Anita and Woodbine plays for 9/25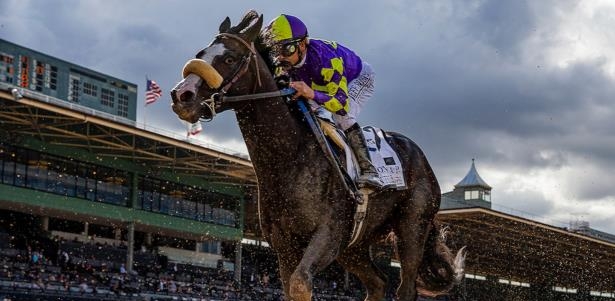 Odds.com's Horse Racing Picks for Sept. 25th: Santa Anita starts its fall meet after the Bobcat Fire delayed it and they have a pair of stakes to lead the way. In the 'Eddie D.; I have no argument against morning-line favorite Wildman Jack who has been in the wrong races recently and gets backs to the Santa Anita turf which he should appreciate. Let's look at some races:
Churchill Downs 3rd: Sweet Willemina should improve 1:43 pm Et
The Churchill Downs 3rd is a $10,000 maiden claimer for fillies and mares three-year-olds and up going 1 1/16 miles on dirt. I am against Paddy Kaye's Wild as she is going to take money because of her turf form and I'm not interested in finding out if she can run on dirt. Note her one dirt race was an off turf race where she finished third in a four-horse field.
Some will gravitate to Not a Needy Gal on the stretch out and the idea that she can wire this field. Note she has been a long shot in both of her races and I don't think you'll get a fair price to find out how she'll handle the added distance.
Rhythm Tree is the morning line favorite because she drops in class and her lone try at today's distance at Churchill would make her competitive. Of course, the operative word is competitive and not standout. I also don't like that this dropin class comes immediately after her worst performance to date.
The horse I prefer is Sweet Willemina (6-1 ML) who runs at her lowest evaluation to date. Ignore the turf race at Indiana last out though that race will probably serve a purpose as it was her first time routing. Getting to route again, with some tactical speed at a fair price against a mediocre field makes her worth considering.
Woodbine 3rd: Give One More Drift one more chance 2:16 pm Et
The Woodbine 3rd is a $10,000 claimer for three-year-olds and up that have not won two races going 1 1/8 miles on synthetic. I am against Denmark who needed to drop to the lowest evaluation available at Woodbine to break his maiden last time. While it was an easy win, he doubles the evaluation for his first start against winners thus he's a play against.
Seguimi is the morning line favorite because he is plummeting in class. Perhaps he can win but he has not been competitive in any of his races this year and it's not like he was 50-1 in those contests. When he was running competitive races last year, he had a tendency to settle for minor awards with four straight seconds and back to back losses by a head. The drop in class certainly gives him a chance but I don't trust him.
Ice Blue and One More Drift come out of the same race at this level and I prefer One More Drift (10-1 ML) who will be the much bigger price. In that last race, Ice Blue beat One More Drift by just half a length but consider that was the first time One More Drift had tried a route. With that experience under his belt, expect One More Drift to be even better today and turn the tables on Ice Blue. Prefer the likely value and upside One More Drift presents with limited route attempts and he should improve getting to route again.
Santa Anita 6th: Hang a Star turns back, meets easier group 6:12pm Et
The Santa Anita 6th is the grade three Chillingworth for fillies and mares three-year-olds and up going 6 ½ furlongs on dirt. Perhaps morning-line favorite Qahira will get an easy lead as she did last time and will wire this field again but between her stablemate Message and Amuse there appears to be enough early speed to keep her honest. From a Beyer speed figure perspective, Qahira's last race would give her a strong chance but it wouldn't make her a standout and it was off a perfect trip. I'm not curious in finding out what happens if she doesn't get a perfect trip as the favorite and note her two worst performances to date have come at Santa Anita.
Amuse will probably enjoy not seeing Sneaking Out in this race a horse she has lost to in her last two dirt tries. While she ran well in those races she was a long shot and now she will be a short price despite needing to run as good a race if not better than what she has been running to win.
The horse I want is Hang a Star (4-1 ML) who comes out of the same race as Message where Message won. In that race Hang a Star had a little bit of trouble early when having to check but more importantly it cost her position which likely impacted her later in the race. Her three races prior all came in graded stakes and while this race is a grade three it did not come up as tough as some of the other races she has run in recently. She should enjoy cutting back in distance as all her best races have been sprinting.