Horse Racing Predictions for Today June 27, 2020

Let's kick off our horse racing predictions today at Churchill Downs's closing day which has 4 graded stakes including a pair of Breeders' Cup win and you're in races. Belmont also has 4 graded stakes including the grade one Just A Game. Woodbine has the grade two Nassau and Thistledown has the grade three Ohio Derby in what is a stakes packed Saturday. Let's look at some races.
Thistledown 8th (4:22 pm Et): Established-ing Command in Ohio Derby
The Ohio Derby is a grade 3 event going 1 1/8 miles on dirt for 3-year-olds. I'm not enamored with any of the choices on the morning line. I'm against Rowdy Yates who is coming off a layoff after competing in Saudi Arabia. His previous form prior was okay against overmatched competition at Sunland and Remington Park. He simply doesn't appeal. I'm also against Lebda who may be the pacesetter but expect that pace to be contested. Also, he needs to improve from a speed figure perspective and is coming off a layoff.
Breeders' Cup Juvenile winner Storm the Court will beat me as I haven't seen him take a step forward as a 3-year-old. Note he won the Juvenile on the front end and I just don't see any way he is setting the pace. Yes, he has been facing better horses this year in the likes of Nadal, Authentic, and Honor A.P but still would've preferred to see him be more competitive in those races. Note that Nadal beat him by 2 lengths going 7 furlongs but when they went today's 1 1/8 miles, the difference was 12 lengths.
Feel as though Sprawl is a strong contender off his allowance win at Churchill last time against older horses. Note the 2nd and 3rd place finishers came back to validate that performance at Churchill yesterday by running 1st and 3rd in an allowance. He should get an honest pace, seems to be improving, and is a strong contender.
My top pick is Established (30-1 ML). I know he is still a maiden and has not gone 2 turns but his last against Per Capita, an older horse was very strong where he finished 2nd and was over 7 lengths clear of the 3rd place finisher. For that effort, he earned a field best 92 Beyer and if he were to repeat that figure, it could put him in the winner's circle. Note that Per Capita had already won a race at Gulfstream but was still a maiden because of a disqualification.
Outside of Storm the Court who has been in difficult graded stakes races, I can't find a stronger reference than Established has in Per Capita. Established has every right to move forward in his third career start and second time going a route. He has enough early speed and a long enough run-up into the first turn that post 12 doesn't concern me. On talent, he belongs.
Churchill 9th (5:15 pm Et): Serengeti Empress has a tactical advantage
The Churchill 9th is the Fleur De Lis Handicap for four-year-olds and up going 1 1/8 miles on dirt. Midnight Bisou is going to be your favorite as your older filly and mare champion and her one start this year she finished 2nd against the boys in the rich Saudi Cup. Now in that race, the pace was quick and she saved all the ground, rallying up the rail from last. It was a good performance, not a great one. I want to see how she comes back from that race and at odds on I'm against her.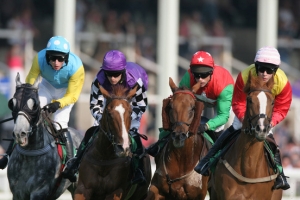 Serengeti Empress (2-1 ML) is my play as she appears to have a tactical advantage on the lead and a recency edge over Midnight Bisou. She has never performed well without the lead so throw out her last where she had a difficult post and a wicked pace to contest with. Yes, Midnight Bisou finished in front of her in the Breeders' Cup Distaff but that was Serengeti Empress' first try against older horses. She comes back to the scene and distance of her biggest win in the Kentucky Oaks and with slight improvement as a 4-year-old, she can turn the tables on Midnight Bisou.
Churchill 10th (5:47 pm Et): By My Standards the now horse
The Churchill 10th is the meet feature the grade two Stephen Foster stakes for four-year-olds and up going 1 1/8 miles on dirt. Tom's d'Etat is going to be your favorite. He's won 3 straight, he's a grade one winner and consistently produces Beyer's in the low to mid 100's. He is also likely to get a good trip because he is very versatile. 3 starts ago he was contesting the pace and last time he was sitting 7 lengths off it. All that said, think we know what his ceiling is and while it's very good, the horse to his outside By My Standards may have a higher one. Also due to commitments in New York regular rider, Joel Rosario will not be riding Tom's d'Etat.
By My Standards (5/2 ML) is my play and no, losing jockey Gabriel Saez who is serving a 30-day suspension does not concern me as replacement Corey Lanerie is very capable. Ever since By My Standards broke his maiden, he has won 5 of 6 with the only loss being in the grade one Kentucky Derby.
He is a perfect 3 for 3 at today's distance and 3 for 3 overall this year despite not being favored in either of his last two races. Love that he was always treated like the best horse in the race. Also, he has widened his lead from the stretch to the wire in all of his starts this year leaving no doubt to his talent. With only nine career races and Beyer's that continue to ascend, I'll take By My Standards to deliver his biggest performance to date.