Horse Racing Predictions For Today July 8, 2020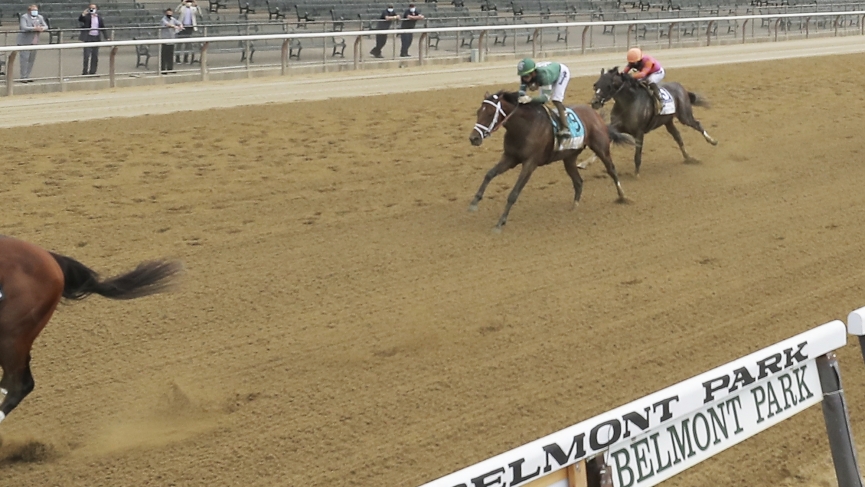 A Wednesday that feels like a Saturday with the return of Keeneland and a stakes laden program at Indiana Grand with the feature, the grade three Indiana Derby offering a few Kentucky Derby qualifying points. Let's look at some horse racing predictions for today:
Indiana 3rd: Undercover Lover can rally 3:24 pm Et
The Indiana third is an allowance optional claimer for three-year-olds and up going six furlongs on dirt. I'm Corfu is your morning line favourite and he rates a strong chance after running well in recent efforts at Churchill and Oaklwan despite being caught in some strong early speed duals. The issue is with Elzabe's On Board, Courting a Kiss and others in this field he figures to get caught in another contested pace and as potentially the favourite he's not appealing for a winning wager.
Intimidation is a logical closer but he is leaving the disgraced Jason Servis barn, his lone win came in an off turf event and he was the beaten favourite in his two other starts.
The horse I want is Undercover Lover (8-1 ML) who is the other logical closer. Last time, off an 11-week layoff he was in a race that lacked pace and the pacesetter, Petrov wired the field. Petrov came back to win again in an allowance at Ellis Park to validate the race. With a stronger early pace expected, Undercover Lover can rally and note he was victorious in his lone previous start at Indiana.
Keeneland 6th: Cavalry Charge can double up 3:51 pm Et
The Keeneland 6th is a one-mile allowance on turf for three-year-olds and up. Both morning-line favourites Greyes Creek and Andesite can win but this field is very competitive and Andesite is coming off an eight-month layoff. Prefer Greyes Creek of the two as he looked good breaking his maiden last out and has done little wrong in his two turf events. The issue is he'll likely be overbet, as he's been favoured in four of five races for powerful connections.
Elusive Ruler is one alternative as he has shown marked improvement when getting on turf. Only knock on him is that this will be his first time facing older horses.
Cavalry Charge (10-1 ML) is my play. Yes, he just broke his maiden but consider it was only his second time routing and first time on turf. He always seemed comfortable in that turf win and note while he set the pace throughout the second and third place finishers came from far back. He has enough speed to cross over from an outside post to get a good early position and should be a fair price to find out if he's good enough.
Indiana 11th: Earner can class up 7:45 pm Et
The Indiana 11th is the grade three Indiana Derby for three-year-olds going 1 1/8 miles on dirt. I'm against morning-line favourite Winning Impression who ran okay in the Arkansas Derby the last time he was seen but he doesn't have any races that makes him a standout. He is coming off the longest layoff of his career while dealing with an outside post.
Taishan at his best can win this race but like Winning Impression, he hasn't been seen since the Arkansas Derby where he performed terribly. Also, his best race came when he was allowed to set a moderate pace, in an allowance race, on a sloppy track at Oaklawn but this race is tougher and I don't think he gets the lead with Juggernaut competing in this race.
Major Fed will take plenty of money and he has had some excuses recently. In the grade two Louisiana Derby, he didn't break and then rallied while being wide in a race where the pace held together. Last time in the grade three Matt Winn he tried a speed approach but was not quick enough to clear from the outermost post leaving him very wide on the first turn and wide throughout. If he gets a better trip, he can factor in the outcome but the price likely too short to find out if he's good enough.
Not against Shared Sense who last time finished second to Art Collector and he figures to be one of the favourites in the Blue Grass at Keeneland this weekend. His dirt form on a fast race track is strong and it's encouraging to see jockey Florent Geroux choose him over Extraordinary. If I were nitpicking, the second to Art Collector was in a four-horse field and his two wins were by a nose and a disqualification.
The horse I want is Earner (8-1 ML) who competed in the same allowance as Extraordinary last time. Earner beat that rival finishing third and think he'll benefit from that fitness test getting to compete at the same distance today. The winner of that race Man in the Can was the favourite and had previously proven his class against older horses in a stake at Oaklawn. The second-place finisher, Dean Martini came back to upset the Ohio Derby 11 days ago. With a good post and the ability to be tactical, Earner can win the Indiana Derby.