Horse Racing Predictions for Saturday June 20, 2020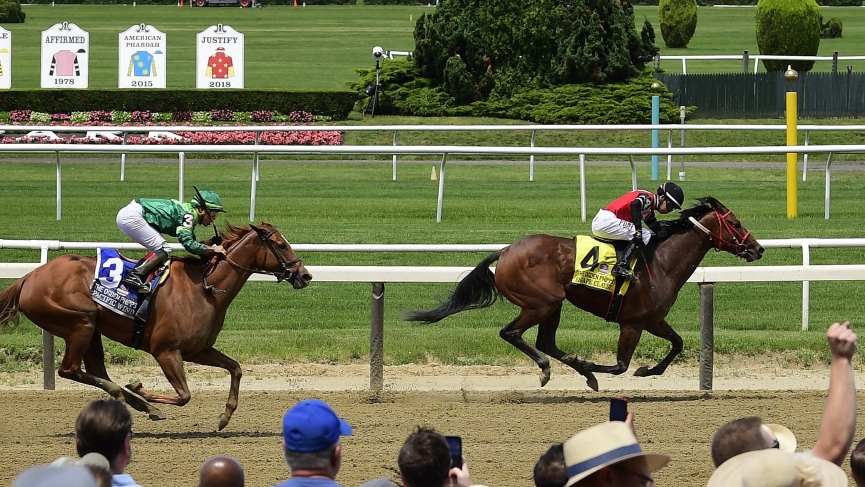 Today's horse racing predictions starts at Belmont Stakes and it features 6 graded stakes including 4-grade ones. The quality is deep and it figures to be a great day. Churchill Downs has a pair of stake races and Santa Anita has 4 stake events so there is plenty of action to keep you entertained. Let's look at a pair of the Belmont undercard races as well as one of the Churchill stakes:
Belmont 2nd (12:25 pm Et): Meru in the Woody Stephens
The grade one Woody Stephens is a 7-furlong sprint on dirt for 3-year-olds. No Parole has won all the starts where he was able to take the lead including his 3 sprints. This, however, is a massive class test as his first 3 wins came in state restricted events in Louisiana and the other last out, the 2nd place finisher American Butterfly would probably be the longest shot on the board here. Also, he is no lock to get the lead here with Echo Town in this race.
Echo Town is your morning line favourite and will probably be a pace presence. His last race was strong as he was under pressure throughout and still found enough to hold off the closers. He has, however, run all his races at 6 furlongs and for this test, he'll have to get 7 furlongs all while being under pressure throughout or keeping No Parole honest. Putting away No Parole will be more difficult for Echo Town than putting away the speed horses from his last while once again having to deal with Meru in the late stages. 
The horse I want is Meru (5/2 ML) who ran well against Echo Town despite the fact he was coming off a layoff and Echo Town had recency. Meru broke outward and was chasing the pace in the 4 path, was interfered with in deep stretch and still came with a late rally. He stayed on well in the Nashua going a mile so 7 furlongs appears to be within his capabilities. Projects to sit a stalking trip behind the speed and should be sharper today 2nd off the layoff.
Churchill 6th(3:25 pm Et): Summer to Remember the new face
The Churchill 6th is the Audubon for 3-year-olds going 1 1/8 miles on turf. Several of these horses are coming out of the War Chant which was run earlier in the Churchill Downs meet. In that race, the winner pressed a strong pace, opened up a big lead in the stretch and had enough to hold off the closers. The race flow however favoured closers thanks to that strong pace and many from the back of the pack including the 2nd and 3rd place finishers, who are both in this race, were able to rally.
Field Pass who finished 3rd in the War Chant is your morning line favourite as he broke slowly in that race but because of the strong pace, the slow break felt like a blessing in disguise and there were no other problems with his trip. If I had to take someone out of that race it would be 2nd place finisher Pixelate who was wide throughout and simply outkicked Field Pass in the stretch. While the War Chant pace scenario favoured closers, there is no confirmed speed today so the race flow figures to favour horses on or near the lead.
Summer to Remember (7/2 ML) is the horse I want. He has shown tactical speed in the past and with the lack of pace in this race, I wouldn't be surprised to see him setting the pace. Also, think the stake events at Gulfstream that Summer to Remember is coming out of were tougher than the War Chant as he was finishing behind Gufo who was winning for the 3rd consecutive time. He also finished behind Proven Strategies and 2 back he was behind Decorated Invader and those 2 figure to be the top 2 choices in the Pennine Ridge at Belmont today. Those difficult races along with a tactical advantage should help Summer to Remember in this spot.
Belmont 9th (4:53 pm Et): Giving Hidden Scroll one last chance
The Belmont 9th is the grade one Jaipur going 6 furlongs on turf for 3-year-olds and up. I'm against the horses coming out of the Daytona at Santa Anita as I just don't like that race as a whole. Don't see the race that would make Texas Wedge the winner and Stubbins is at his best when he can sit near the back and make one big rally but isn't the mare Oleksandra the better closer? Also, think Texas Wedge and Stubbins are at least supposed to get past the 70-1 shot that finished 2nd in the Daytona and they didn't. 
Pure Sensation is the morning line favourite and while it makes sense to cover him in multi-race bets like the pick 4, I don't see the appeal of betting him in this race itself. Yes, he could be the controlling speed and has won this race before but 6 furlongs is a bit farther than his best distance and he is now 9 coming off a layoff when in previous years he has had at least one prep heading into this race.
Three horses have appeal here. White Flag who loves Belmont is one as he has posted a 7-4-1-2 record on the Belmont turf. He does have a tactical speed which is likely to be an asset. The only issue with him is he has raced twice in the last 17 months and those 2 efforts were not his best.
Oleksandra the mare taking on the boys would be the closer I want. She beat the boys at Belmont last year albeit in an easier race. She has shown improvement in her last couple of starts. 2 back she turned the tables on Morticia and last time at Santa Anita she rallied strongly off the layoff. Note that when Stubbins has run in the east coast in Kentucky Joel Rosario had ridden him and Rosario also had the mount on White Flag last time but he sticks with Oleksandra here. The only concern would be pace which I don't think will be overly fast.
Hidden Scroll (8-1 ML) is my pick. He ran so spectacularly in his debut that the connections got Kentucky Derby fever despite the fact he lacked seasoning and he was put into several difficult spots. Therefore I'm just throwing out the rest of his 3-year-old campaign. He took care of business in his first start of the year than in the Count Fleet Sprint he was one of several horses who were capable of setting the pace and as expected it was contested and it collapsed late.
Tactically I expect him to stalk pure Sensation today as on paper they are the only 2 speed elements and if 6 furlongs off the layoff is stretching it for Pure Sensation, Hidden Scroll can run him down late. After Hidden Scroll lost the rider last time, this in effect is his turf debut. He is bred to handle the surface and can't help but notice the bullet works.