Horse Racing Predictions and Best Bets for June 21, 2020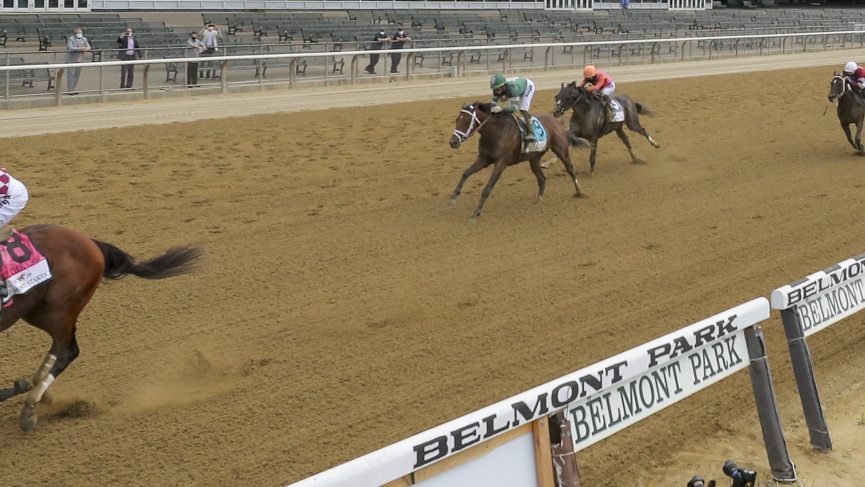 Our horse racing predictions had plenty of phenomenal performances yesterday even if the stake races across Belmont, Churchill and Santa Anita mostly chalked out. Gamine who won by over 18 lengths in the grade one Acorn and Tiz the Law who dominated the Belmont provided noteworthy performances.
No Parole (3-1) was the only non-favourite to win a stake at Belmont as he wired the grade 1 Woody Stephens. Note the final time in that race was 1:21:41 which was strong but it also flatters debut winner Happy Saver who at the same distance came home in 1:21:51. Happy Saver may be one to keep an eye on in the future. The stakes action continues today at various racetracks so let's look at some races:
Santa Anita 1st (3:30 pm Et): Big Runner can win again
The Siren Lure is a stake race for 3-year-olds and up going 5 ½ furlongs on turf. I'm against morning line favourite Sparky Ville who provided a career best performance in the Daytona last time at 70-1. Want to see him repeat that performance and I wasn't enamoured with the race as a whole. The 3rd and 4th place finishers did nothing to change that opinion as they came back to be just minor players in the Jaipur at Belmont yesterday. Also, he was part of the pace last time and today it may be stronger with the likes of Torosay and Yes I Am Free in this field.
Ultimate Bango can win but he only has one race, 2 starts ago that would make him really tough in this race. He is coming off a layoff and last year he ran just okay as the favourite off the layoff.
Big Runner (7/2 ML) is my play. Yes, he got a great setup last time despite breaking slowly but he has now won on the lead and from off the pace and that tactical ability should help him here. Also, he added blinkers last time and thought they helped him be more thorough. With this just his 6th lifetime start he could very easily take a step forward.
Woodbine 7th (4:09 pm Et): Ode to Joy in competitive stake
The Woodbine 7th is the grade 3 Whimsical for fillies and mares 4 years old and up going 6 furlongs on synthetic. Your morning line favourite is Jean Elizabeth who can obviously win. She has an impressive 20-14-4-2 record and has won 7 in a row. My only problem with her is that her only race at 6 furlongs that makes her a standout came at Turfway Park against easier where she was 1/5. She has plenty of early speed but horses such as Gamble's Candy, Ellyb and even the likely second choice Summer Sunday can all keep Jean Elizabeth honest.
As a result, I expect a strong pace. Alnilah is a logical closer to consider based on her powerful rally in the grade 3 Seaway last year. The only problem is her form can be a little inconsistent and she may need this race off the layoff. Last year she ran in this race off a similar layoff and was a non-factor.
Painting would be my second choice here as she can win with some improvement in her 4-year-old debut. I just want to see her win a race she's not expected to first and she has to turn the tables on a couple of horses in here and they are not the favourites. 
Ode to Joy (20-1 ML) is my play. I have no idea if she can handle synthetic but she works on the surface regularly. She has won 2 of her last 3 doing so as a one-run closer and think the connections have figured out that's the best strategy.
Last time the 2 pacesetters were able to build a big lead but Ode to Joy who broke outwardly and was wide throughout was able to run them down anyway. The race she did not win she was 4th but only beaten a length to today's likely favourite. She had to alter course late in that race and still came with a rally. She gets an extra furlong to work within this spot and if she takes to the synthetic, she maybe lives to pull the upset.
Belmont 8th(5:05 pm Et): Call On Mischief back on turf
The Belmont 8th is the Lady Shipman stake going 6 furlongs on turf for 3-year-old fillies. I don't want morning-line favourite, Miss J McKay, off the layoff from an outside post. Her only loss on turf was at Aqueduct. You can make the excuse that she was wide throughout but she has the outside post in this spot so she'll have to overcome it along with a layoff.
She's My Type is more than capable but she too is coming off a layoff all while going the shortest distance of her career. I wonder if this race is being used as a prep for longer races down the road. From a pace scenario, Chili Petin may be able to wire but she has to improve slightly. I'll use her but can't help but wonder if horses such as Bredenbury and Cofactor can keep her honest.
The horse I want is Call on Mischief (10-1 ML) as she has run well in both her turf races. She won one and just missed to the favourite by the narrowest of margins while being 5 lengths clear of the 3rd place finisher in the other. She hadn't shown much on dirt prior to her last and think her last where she earned a career-best 87 Beyer was the product of a young horse improving. Prior to that, her turf form was better than her dirt form and she should appreciate getting back on turf.