Pony Picks: Pimlico and Keeneland Plays – Oct 3rd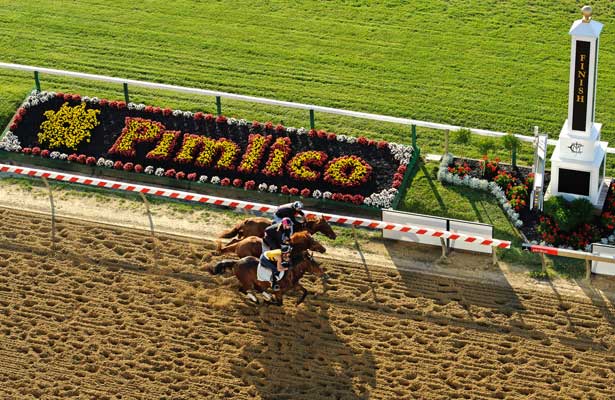 Odds.com's Horse Racing Picks for Oct. 3rd: Preakness Saturday at Pimlico is here on what is a loaded Saturday for Stakes action as many horses make their final starts prior to the Breeders' Cup next month. Multiple graded stakes on the Pimlico undercard where I'm not trying to beat Mundaye Call in the Miss Preakness. In the Dinner Party, Somelikeithotbrown should be more competitive this time from a better post to utilize his speed but still prefer favored Factor This. Hembree is the logical closer but I'm not sure he's as good as he once was. A fast pace is projected in the Frank J. De Francis Memorial and while Nitrous is the logical closer, I don't think he's good enough. Krsto Skye who has seemed to have found the fountain of youth at eight and Laki who was on top of a fast pace last time are the alternatives. 
At Belmont, I am not against Frank's Rockette in the Gallant Bloom or Code of Honor in the Kelso. In the Joe Hirsch Turf Classic, I am against all the local runners with the exception of Channel Maker who may have returned to form last time though it also could have been the yielding turf which he handled and others didn't. I prefer the horses running in North America for the first time in Master Piece and Laccario.
At Keeneland, I much prefer Fast Boat and Just Might over the two-morning line favorites in the Woodford. I have a slight preference to Just Might who might be able to set a moderate pace. In the First Lady, Uni has not been the same horse she was last year thus I suspect Beau Recall and Newspaperofrecord who finished 1-2 when they met last time, will decide the race again. Let's look at some races:
Pimlico 10th: Hopeful Growth can show more 4:41 pm Et
The Pimlico 10th is the grade two Black-Eyed Susan for three-year-old fillies going 1 1/8 miles on dirt. Morning line favorite Bonny South will take plenty of money as she has been facing better horses in her last three starts. Last time in the grade one Alabama, she was second to Swiss Skydiver who came back to run second in the Kentucky Oaks and will be competing in the Preakness. Bonny South's performance that day makes her the favorite but it's the only race that makes her favored and she was no threat to the winner. Note she got a perfect trip that day to be second as she made the last move and picked up the pieces when other horses flattened such as the third-place finisher who was beside Bonny South approaching the far turn but made a premature move. I can't take her off that perfect trip as the favorite today.
I am against Perfect Alibi who might take money as the new face. She has been in some tough races this year but she hasn't taken a step forward after showing promise as a two-year-old.
Landing Zone and So Darn Hot both come out of an allowance race at Delaware. Landing Zone won that day and has seemingly improved when switching to route racing but of the two, I prefer So Darn Hot in this spot. Consider that race was just the fourth career start for So Darn Hot and she was coming off a three-month layoff. It's possible that race was a prep for this spot and she has plenty of room to improve thus she's the alternative.
The horse I prefer is Hopeful Growth (8-1 ML). Three starts ago she tried routing for the first time and finished behind Project Whiskey and Dream Marie, who both run today. She turned the tables on Project Whiskey in her subsequent start to win the Monmouth Oaks. Last time she faced the top of the class in the Kentucky Oaks and understandably did not show her best. This is a reasonable spot for her and now that she has a little more routing experience, wouldn't be surprised to see her take another step forward. 
Keeneland 9th: Calibrate dazzled in debut 5:24 pm Et
The Keeneland 9th is the grade one Breeders' Futurity for two-year-olds going 1 1/16 miles on dirt. I am against morning-line favorite Essential Quality who was professional in winning his debut and did take a lot of money that day. The race however came back slow and if I'm going to take a horse who ran slowly in a winning debut, it would be King Fury who won his debut routing for trainer Kenneth McPeek. Note winning with first-time starters is not McPeek's specialty thus his horses are always worth considering when they win at first asking because they are likely to improve.
Upstriker dazzled in his debut at long odds and now has to stretch out for a trainer in Ronald Moquett who doesn't have the strongest stretch out numbers. He can win with a repeat of his debut but I'm not certain that will happen.
The founder had an interesting debut over a muddy track at Saratoga. He showed very little speed, rallied up the rail, angled out, took a bad step which cost him to lose momentum, and then proceeded to get up late to win the race. He can win but off that eventful debut, he might be over bet and thought he got strong fractions to run into which I'm not convinced he'll get today.
The horse I prefer is Calibrate (7/2 ML) who took pace pressure throughout in his debut while going a tough 6 ½ furlongs at Saratoga at first asking. He shrugged off the pace pressure to eventually be an easy winner. Note that unlike the majority of the contenders, Calibrate has plenty of speed and that could help him create separation in the stretch.
Keeneland 10th: Analyze It is more talented 5:57 pm Et
The Keeneland 10th is the grade one Shadwell turf mile for three-year-olds and up. Most of the contenders either ran in the Maker's Mark Mile or the Fourstardave in recent races. I am against all of them.
In the Maker's Mark mile the pace wasn't overly strong which likely aided Parlor who lost by a nose while finishing in front of some of today's rivals. My issue with Parlor is he appears to have a ceiling which usually leaves him just short against this caliber of competition. 
In the Fourstardave, today's morning-line favorite Halladay got a favorable pace scenario as there was no flow, and he and Got Stormy ran 1-2 the entire way. Perhaps he gets a similar scenario today but at the very least Spectacular Gem should be keeping the pace honest. 
Without Parole and Raging Bull have run in the exact same three races recently. In the Shoemaker Mile, three starts ago Raging Bull got an ideal pace setup and rallied from well off the pace to win while Without Parole was hopelessly blocked on the inside. In the Maker's Mark Mile they both had minor rallies. While the pace held together last time in the Fourstardave, they both did no running. They both have back races that would be competitive but considering their recent performances, it's hard to be enamored with either.
Of the new faces, I am against Flavius who looked good last time winning the Tourist Mile at Kentucky Downs. My issue with him is that is by far the best race he has ever run and Kentucky Downs is a quirky track thus I want to see him repeat that effort again today.
The horse I prefer is Analyze It (9/2 ML) who was an easy winner last time in his return to the races after 22 months off. His form going a mile (5-3-0-1) is excellent and a third in the Breeders' Cup Mile as a three-year-old to Expert Eye gives him credentials against this group. Note he has good speed so if no one goes with Halladay early, he should be very close and think he is the most talented horse in the field.