Pony Picks: Churchill, Woodbine and Gulf Stream plays for Thursday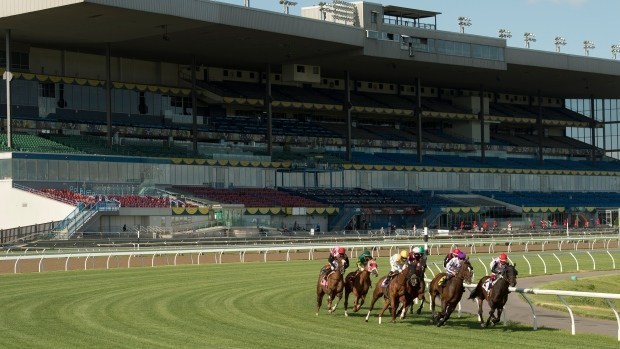 OddsHQ's Horse Racing Picks for September 17th

Yesterday at Indiana, favorite Unbridled Class and Expect Indy turned the Richmond into a match race where Expect Indy out finished the favorite. Unbridled Beast stayed perfect at route racing when being a dominant winner of the Gus Grissom.
 The Kentucky Downs meet ended with Guildsman pulling the upset in the Franklin-Simpson. My general take away from the Kentucky Downs races the last couple of days was to be lenient to horses that underperformed, as it was evident a majority of them were not handling the track while wondering of some of the performances from the winners were dressed up.
Today, Churchill Downs resumes their meet and Woodbine starts a new week leading up to a busy weekend with some Breeders' Cup win and you're in races. Let's look at some races:
Churchill Downs 5th: Regal Passage can improve 2:45 pm Et
The Churchill Down 5th is a maiden allowance for fillies and mares three-year-olds and up going 1 1/16 miles on turf. Morning line favorite Great Island figures to take a lot of money for trainer Chad Brown despite not competing for the past 11 months.  She finished second in her debut last year and note the winner Mean Mary has won multiple graded stakes since. Obviously, Great Island can win but her price off the layoff won't be very appealing.
I'm against the outside horses Take Charge Patti and Urbana as they have both had their chances and note Urbana has lost some races at very short prices.
The horse I want is Regal Passage (6-1 ML) who like the favorite, comes off a lengthy layoff with just one career race under her belt. Note that the race came back very live as the 2nd, 4th, 8th and 11th place finishers all came back to win their subsequent start. I have confidence in trainer Cherie DeVaux to have the horse ready and unlike the favorite, I expect a reasonable price to find out if she's good enough.
Woodbine 2nd: Words of Gold can make all 2:48 pm Et
The Woodbine 2nd is a $5,000 maiden claimer for fillies and mares three-year-olds and up going five furlongs on synthetic. Don't Smile Lilah provided one of her best efforts at this level last time when missing narrowly. Note she went off the Lasix program that day and stays off Lasix for this race. My issue with her is that is one of her better races and there are some class droppers thus she'll likely need to do better to win. 
I'm against Dea Del Cielo who plummeted in class last time, went off as the favorite, and was mediocre. Note her last race and debut were relatively the same in that she stalked the pace and lost ground and positions in the stretch. Her drop-in class today isn't as big as the one from start one to start two thus I'm not sure how much better she'll be.
Morning line favorite Merino Wool has shown some ability to pass horses and stay on which will likely be an asset against this group. She gets a rider upgrade to Kazushi Kimura, which might be important. Don't consider cutting the evaluation in half that important as other horses are taking bigger class drops and I do think she is better suited to be an underneath player rather than a win contender.
The horse I want is Words of Gold (6-1 ML) who drops in class and probably has enough early speed to take the lead. In a race that is lacking both in early speed and horses that have proven a rating ability, she seems like a threat to wire this field. Note that she had been facing much better horses to start the year including two starts ago when the 1-2-3 finishers all came back to win. Last time she was in an impossible spot from post 11, while trying her longest distance to date and attacking a fast pace. She ran deceptively well considering the circumstances and expect her to show more today.
Gulfstream 8th: Iconic drops in class 3:40 pm Et
The Gulfstream 8th is a $6,250 claimer for three-year-olds and up going one mile on dirt and I'm against most of the horses expected to take money. Millionaire Runner only has a couple of recent efforts that would be competitive and they both came on sloppy tracks which likely won't be the track condition today. I'm also against Monmouth Dr who won two starts ago but he was beating easier nonwinners of three competition and will likely have to improve to win this race.
Morning line favorite Tipsy Kitten has run okay on dirt and has won 3 of his last 5 on the surface. Note however that those three wins all came in easier off the turf races. His lone scheduled dirt race during that span, he was a well-beaten third as the favorite. Yes, he is dropping in class but until he wins a scheduled dirt race, he is an unappealing favorite.
The horse I want is Iconic (7/2 ML) who drops to his lost evaluation to date, didn't have to love going nine furlongs last time and all his recent races at today's one-mile distance would be competitive. Good luck!