Pony Picks: Churchill plays for Wednesday 9/23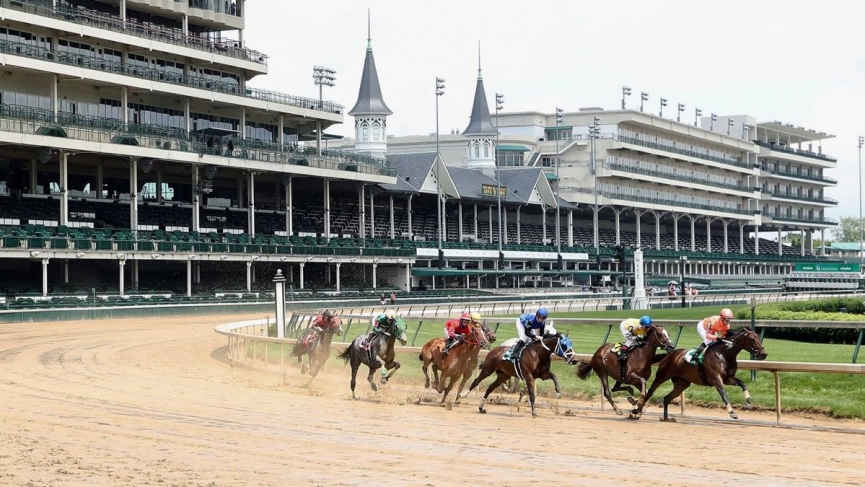 Odds.com's Horse Racing Picks for Sept. 23rd:A new week begins with Churchill Downs leading the way as they start their final week of racing with the Kentucky circuit shifting to Keeneland starting next week. Let's look at some races:
Churchill Downs 7th: The first Rate finds right group 3:48 pm Et
The Churchill Downs 7th is a $50,000 claimer for three-year-olds and up that have not won two races going 1 1/16 miles on dirt. Lightly raced morning-line favorite Looking At Liberty takes a step down in class out of allowance races. Note he was bought for $200,000 and in his debut, he was immediately entered for the $50,000 tag. He outperformed expectations and was protected after that race. He has hit the board in all of his starts yet the connections decide to again run him for a $50,000 tag. He can win with his best but I can't trust him.
Street Class came to Churchill last time after running exclusively in California. He was a non-threat against allowance rivals when turning back to a sprint so perhaps he needs this drop to claiming competition. A logical contender if he returns back to form but the 1/12 record with 7 minor awards does leave something to be desired especially at his 5/2 morning line quote.
The horse I prefer is First Rate (9/2 ML) who has competed in three straight starter allowances at Saratoga. Three starts ago he was facing better horses and the 1-2 finishers came back to win, two starts ago he had a no-chance trip when the pacesetter set slow fractions and was able to run away in the stretch. Thought his third-place finish last time was exactly where he was supposed to finish considering the race dynamics. Getting back into an unprotected event should be beneficial in elevating his chances of winning.
Churchill 8th: Golden Dragon can win again 4:21 pm Et
The Churchill Downs 8th is an allowance optional claimer for three-year-olds and up going 1 1/16 miles on turf. Set Piece is the morning line favorite and he was a visually impressive winner in his stateside debut two starts ago beating the talented Ballagh Rocks at Churchill. Last time he did little running in an event at Saratoga. He had some problems around the first turn which perhaps cost him a length or two but based on his lack of stretch rally, don't think it cost him a placing. His win at Churchill Downs makes him competitive but it doesn't make him the standout his morning line suggests. 
Cullum Road found himself in a new barn to begin the year and has been off the board in all of his starts save for a third-place effort three starts ago. Easy to throw out his last race on dirt but his recent efforts at today's level and distance have involved settling for minor awards and failing as the favorite. He's on an 11 race losing streak and this field isn't lacking in talent thus I'm against.
In typical trainer Michael Maker fashion, he picks up a new turf route horse in Big Agenda and wins immediately as Big Agenda did last time. Perhaps Big Agenda can repeat but don't really think he improved much in that last race but rather he just found the right spot. Also hard not to notice that was just the third win for the camera-shy gelding compared to 10-second place efforts.
I prefer his stablemate Golden Dragon (5-1 ML) who returned to form last time with a win at Churchill. Consider his two previous efforts came in stakes, against much tougher, going longer distances so the return to form last time at a more reasonable class level and distance seemed logical. Initially didn't love that he was the only horse being run for a claiming tag but consider he ran for a claiming price last time and he has not been productive when stepping up in class therefore the connections realize that this is likely the top of his range in terms of class levels where he can be competitive. Two of his four wins have come on the Churchill Downs turf thus expecting another strong effort at what should be a reasonable price.
Churchill 9th: Stay Home is dropping 4:53 pm Et
The Churchill Downs 9th is an $8,000 claimer for three year olds and up going 6 ½ furlongs on dirt. Sharp Act and morning line favorite Malpais come out of the same race at this level where Malpais won and Sharp Act finished 2nd. Note they were both dropping in class that day and today they are both likely to make money off that 1-2 finish. My issue with both of them is that neither has a class edge as they needed the drop-down to produce better results. There are other horses in this race that are now dropping after some poor efforts and they will offer better value.
Some will gravitate to Nomo Ron and he did win four races ago in today's condition. Note however he was in the high percentage barn of Robertino Diodoro at the time and was claimed out of that race. His form since then has not been as good thus I'll let him beat me.
One alternative is Snaggletooth who was an easy winner two starts ago at Colonial Downs. It is probably fair to ask who he beat that day and last time he lost to today's favorites. He has some appeal if you think last time he just bounced off his previous strong effort and will be a fair price to see if he can turn the tables.
The horse I want is Stay Home (8-1 ML) who has either been competing in starter allowances or for twice today's evaluation recently. The class relief should make him more competitive at what is expected to be an honest price.