Saturday College Football Picks: Week 15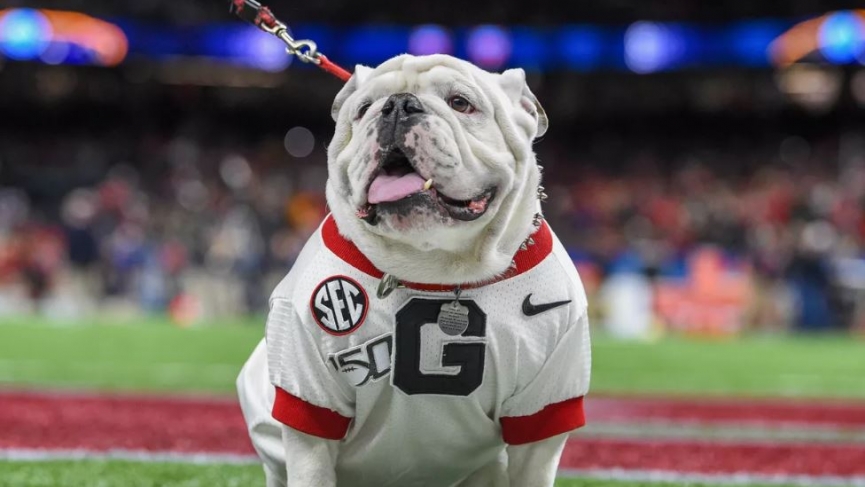 College Football Picks – Saturday December 12th
Georgia vs Missouri: It's makeup week on the NCAA football betting schedule, and even some of the makeup games are being canceled. Among those that are still a go is a ranked battle in the SEC as the Georgia Bulldogs travel to the Show-Me State to meet the Missouri Tigers.
WEEK 15 MATCH-UP
Georgia
Missouri
-13.5 (-110)
+13.5 (-110)
Total
Over 54.5 (-110)
Under 54.5 (-110)
Where/When
Faurot Field
Sat. Dec 12th, 12:00 PM ET
Missouri wasn't ranked when this contest was initially slated to be played in mid-November, the Tigers having to call that one off for virus issues in their locker room. The midday boot will be aired on the SEC Network, and DraftKings is suggesting Missouri's time in the polls will be short-lived with Georgia favored by 13½ on the road, the total sitting at 53½.
Match-Up and Trends
Team
Record
ATS
O/U
Georgia
6-2
3-5
5-3
Missouri
5-3
5-3
3-5
Things started well enough for Kirby Smart and the Bulldogs, opening with 3-straight moneyline wins that included home dubyas against ranked Auburn and Tennessee. Georgia struggled a bit away from Athens after that, falling twice in a 3-game span to Alabama and Florida, then ranked No. 2 and No. 8 respectively. Two of the Bulldogs' next four were waved off, first the matchup with Missouri and then again last week against Vanderbilt.
Georgia hasn't had the services of Stetson Bennett since early-November, and the junior QB is questionable this week due to a bum shoulder. The Bulldogs are hopeful of getting Richard LeCounte back, the senior out since Halloween following a motorcycle accident and projected as the 4 th-best safety in the 2021 NFL Draft.
After losing their first two games, the Tigers have reeled off five wins in the six subsequent contests. Missouri is coming off a wild 50-48 win against Arkansas this last week, the Tigers scoring 27 points in the final 13 minutes to pull it out. They're 0-3 against ranked teams this season, covering the college football odds only the season-opener against Alabama.
Georgia vs Missouri Pick:
A mix of rain and snow is in the forecast for Columbia on Saturday, making for some sloppy conditions at Faurot Field. Georgia has won the last six meetings, covering a healthy 18½-point spread at home last season. Let's go with the 'under' for our free NCAAF pick in this one.
---
Coastal Carolina vs Troy Pick: – College Football Week 15:
It has been a great season for the Coastal Carolina Chanticleers, but it's not quite over yet. Coming off a huge win last week against BYU, Jamey Chadwell has to guard against the proverbial letdown this Saturday on the road at the Jekyll-&-Hyde Troy Trojans.
WEEK 15 MATCH-UP
Coastal Carolina
Troy
-14 (-110)
+14 (-110)
Total
Over 52 (-110)
Under 52 (-110)
Where/When
Veterans Memorial Stadium
Sat. Dec 12th, 3:00 PM ET
Veterans Memorial Stadium is the site for this mid-afternoon skirmish, the game available via ESPN's streaming services. College football futures had Coastal Carolina a 60/1 pick in the Sun Belt earlier this season, with Troy a 12/1 choice. It's the undefeated Chanticleers who have turned that around now with FanDuel favoring them by 13½ and 51½ for the total.
Match-Up and Trends
Team
Record
ATS
O/U
Coastal Carolina
10-0
8-1-1
5-5
Troy
5-5
4-6
2-7-1
A hastily-scheduled battle with BYU last week found the Chanticleers 10-point underdogs in the clash of unbeaten squads. Coastal Carolina rallied from a 17-13 deficit early in the third quarter, then held on in an exciting finish for the 22-17 upset. A couple of missed PAT tries, one a 2-pointer, almost came back to haunt the Chanticleers, and the credit goes to a nice effort by the defense against the Cougars' Heisman-caliber QB Zach Wilson, along with a stout ground attack.
Chip Lindsay's Trojans were waxed by BYU up in Provo early on the schedule, and have fought inconsistency all season. One week they look downright awful, and the next play like national champions. The latter was the case a week ago in a rivalry matchup against South Alabama, the two campuses less than 200 miles apart. Troy put on its own defensive performance with a 29-0 decision in the Battle for the Belt, Gunnar Wilson gutting through fractured ribs to throw for 297 yards and three touchdowns.
Coastal Carolina vs Troy Pick:
It's going to be a nice afternoon in Troy as far as the thermometer goes, the afternoon high climbing into the low-70s. But there's a 50% chance of rain that could fall on the 12,000 or so fans who find their way into Veterans Memorial Stadium. I jumped on the Chanticleers' bandwagon a couple of months back, and am not about to jump off now. Lay the points on Coastal Carolina in a 33-17 final
---
USC vs UCLA Pick: – College Football Week 15:
Think the Pac-12 might like a redo on its late start to the season now that they're seeing millions  disappear with the hopes of sneaking a team into the College Football Playoffs? Oh well, at least the conference has its showcase rivalry to promote this Saturday night between the USC Trojans and UCLA Bruins.
WEEK 15 MATCH-UP
USC
UCLA
-4 (-110)
+4 (-110)
Total
Over 64 (-110)
Under 64 (-110)
Where/When
Rose Bowl
Sat. Dec 12th, 7:30 PM ET
The alphabet rivals collide at the gridiron cathedral known as the Rose Bowl, ABC handling the prime-time broadcast to most of the country. Numbers at Bet365 point to an entertaining matchup in Tinseltown, the Trojans laying 2½ with 62 for the scoreboard target.
Match-Up and Trends
Team
Record
ATS
O/U
USC
6-2
3-5
5-3
UCLA
5-3
5-3
3-5
Southern Cal can wrap up a spot in the conference title tilt with a victory, which will lead to grumbling from Colorado should the Buffaloes beat Utah earlier in the day. Just where that championship game might be played remains up in the air, another fine mess the conference has created. The Trojans came out of a COVID-19 time off with a blazing start last week in a 38-13 win over Washington State. Clay Helton's crew exploded to a 28-0 lead as Kedon Slovis and Amon-Ra St. Brown connected on four scoring tosses in the first 15 minutes. Slovis is showing up on injury reports this week as questionable, but expect him under center.
Count me among those who believe Chip Kelly's Bruins have been a pleasant surprise. The 3-2 record might impress many, but considering the two setbacks were by a combined 9 points on the road to now-No. 21 Colorado and then-No. 11 Oregon, UCLA isn't far away from making this game a collision of undefeateds. The Bruins got Dorian Thompson-Robinson back last Saturday following a two-week absence, and the junior directed the game-winning score late in Tempe to top Arizona State, 25-18, covering as 3-point underdogs on the betting spread.
USC vs UCLA Pick:
Clear skies and temps in the low-60s at kickoff are in the forecast. The Trojans have dominated the rivalry the past 20+ years, winning 16 of the last 21 meetings, including a couple of 'vacated' dubyas in 2004-05. The safest bets at the Rose Bowl have been the Bruins who have covered six of the last eight in Pasadena. Another good bet has been the 'under,' which has sent bettors back to collect 10 of the last 14 matchups. The 'under' is tempting, but I'm counting on Southern Cal to upset UCLA's home cover trend, going with a free NCAA football pick on the Trojans -2½.