Clemson vs Notre Dame Pick: College Football Week 10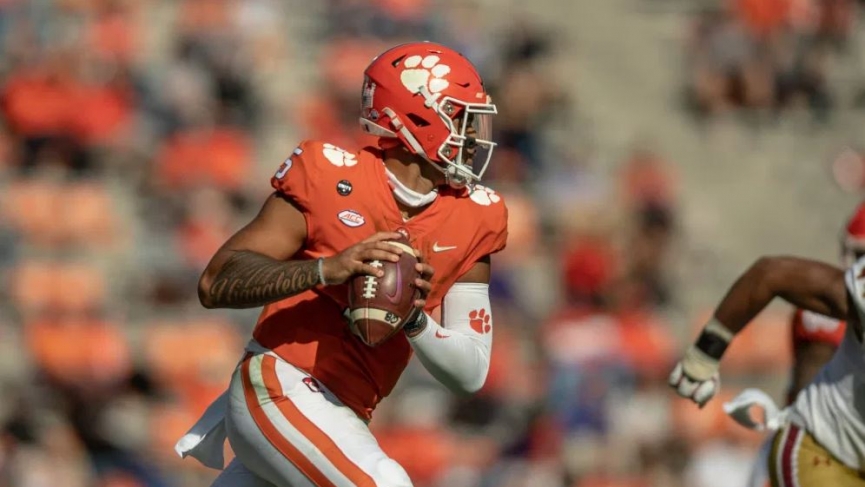 Clemson vs Notre Dame Pick – College Football Week 10: What if I told you this game between the Tigers and Fighting Irish will decide the College Football Playoffs, would you think I'm crazy? The safe answer is yes, but hear me out.
WEEK 10 MATCH-UP
Clemson
Notre Dame
+7.5
-7.5
Total
Over 50 (-110)
Under 50 (-110)
Where/When
Notre Dame Stadium
Sat. Nov 7th, 7:30 PM ET
Let's say Alabama and Ohio State win out, that puts the Crimson Tide and Buckeyes in the CFP, guaranteed. Either Clemson or Notre Dame wins a close game in South Bend this Saturday, then the rematch is a close win for the other side when they meet again in the ACC Championship, scheduled for December 19 in Charlotte. That would be another top 4 clash, assuming neither the Tigers nor Irish lose another game. Not so crazy, am I?
Of course, the whole scenario also includes the understanding that the Big 12 has already punted its chances to have a CFP representative and the Pac-12 is unable to catch up with the big boys due to their late start. Clemson is giving up 5½ at FanDuel where the total is 51½.
Clemson vs Notre Dame: Match-Up and Betting Trends
Team
Team Record
ML Profit (Units)
ATS
O/U
Clemson
7-0
+0.27u
2-5
4-3
Notre Dame
6-0
+0.64u
2-4
3-3
Hats off to D.J. Uiagalelei for stepping in for Trevor Lawrence last week and helping the Tigers avoid a monumental upset against Boston College. Favored by nearly four touchdowns at home, Uiagalelei and Clemson fell behind by two scores early before pulling off the 34-26 win. With Lawrence set to sit again due to a positive virus test, this is going to be a much tougher defense Uiagalelei and the Tigers will be facing.
Brian Kelly and the Fighting Irish spent the last two weeks on the road, churning out wins at Pittsburgh and Georgia Tech. Notre Dame just missed the cover in the 31-13 win over the Yellow Jackets thanks to a late GT score and a long fumble return early in the game, but played the usual tough defense that has the Irish ranked fourth in scoring and sixth in total yards.
Clemson vs Notre Dame Pick
Already claimed the big TV and the couch at home for this 7:30 p.m. (ET) boot on NBC in the shadows of Touchdown Jesus. They've only met four times, but at least the last two have been recent and three of the matchups close affairs. The last collision came in the 2018 CFP semifinals, a 30-3 skate for the Tigers at the Cotton Bowl as 10½-point favorites. Neither team has been good at covering this year, and I really like Notre Dame to pull off the outright upset with my free college football pick. Irish on the moneyline.
Keep it locked to Odds.com for all of your College Football betting needs for Week 10. The best current odds can be found at our College Football Odds Page. Stay tuned for plenty more College Football Picks throughout the season.