Big 12 Teams to Fade/Follow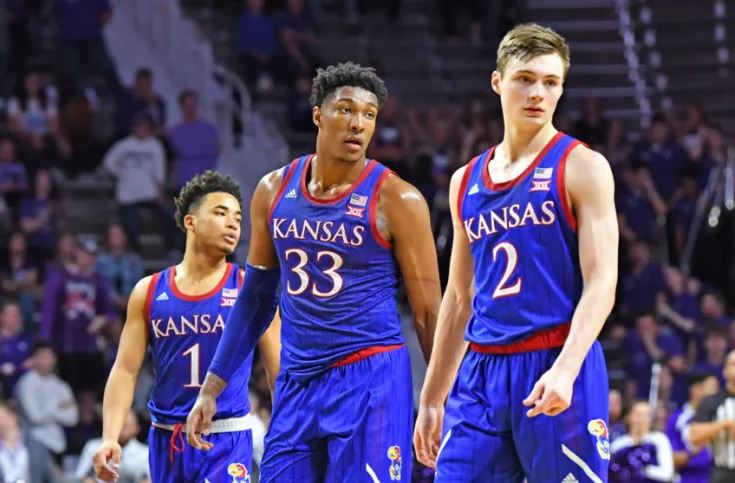 NCAA Basketball Picks: Big 12 Teams to Fade or Follow Week 3: A big week for the Big 12 is just ahead for college basketball bettors, culminating with a Sunday matchup (Dec. 13) between the Texas Longhorns and Baylor Bears. That will be the conference opener for both sides, and a huge matchup for both the Longhorns and Bears.
As crucial as that game is, three more teams catch our eyes that deserve attention as good bets to fade or follow during the third week of the college hoops campaign.
Jayhawks Still Looking for Offensive Consistency
Kansas
ats margin
ats as fav
ats as dog
2019/20 Season
+2.6
17-12
2-0
2020/21 Season
-0.9
2-3
1-1
Though the conference is stacked with half of the league in the top 25 last week, until someone starts beating the Jayhawks with regularity, the road to the Big 12 Championship still goes through Kansas. Like most teams, Bill Self's bunch has been involved in neutral-site matchups for the most part, but are now home to continue a season-long 4-game homestand this week against a couple of in-state rivals.
Kansas always carries a little extra chalk being a public team, so we can temper some of the 25-point spread the Jayhawks carried into Saturday's tilt with North Dakota State. We can't forgive all of it in a 65-61 win that was nearly an outright upset for the Bison. And it certainly didn't exactly give us a lot of confidence for the Jayhawks' Tuesday clash (Dec. 8) with Creighton in the Big 12/Big East Challenge.
This is a Bluejays team that should give Villanova a good run for its money in the Big East. Creighton has a very balanced mix in the frontcourt and backcourt, and Greg McDermott's group will be anxious to make a statement in the first meeting between the programs since the 1974 NCAA Midwest Region Finals. With no fans at Allen Fieldhouse, Kansas' edge is even smaller. Fade the Jayhawks and don't be surprised by an outright Creighton win.
Omaha follows the Bluejays into The Phog on Friday (Dec. 11), and the Mavericks figure to get at least as many points as North Dakota State did this past weekend. Again, grab the 25+ and fade Kansas.
---
Cunningham, Cowboys on Naughty List

Oklahoma St
ats margin
ats as fav
ats as dog
2019/20 Season
-0.3
7-10
7-8
2020/21 Season
-2.0
1-3-1
1-0
Oh, those pesky NCAA rules. Oklahoma State ran afoul of some and, as a result, is not eligible to participate in March Madness next spring. While the Cowboys are appealing the decision, their chances to have that overturned appear slim. That could play into the favor of Mike Boynton's cagers, who will simply play every game as if it was a tournament tilt.
It's also in their favor to have a player of Cade Cunningham's caliber on the floor. One of the top recruits in the 2020 high school class, Cunningham is only going to be in Stillwater for one season and has already made his presence felt with a team-leading 18.5 PPG average in leading the Cowboys to a perfect 4-0 start.
Oklahoma State will begin the week at home against Oral Roberts on Tuesday, and Boynton will certainly remind his team of last year's close call against the Golden Eagles. A double-digit win for OSU is in the cards, however, so play the Cowboys up to -13.
The Cowboys will then travel to Wichita State on Saturday (Dec. 12), and the Shockers had a tough one against Oral Roberts this past week. That gives Oklahoma State good film to study for both upcoming opponents. Expect tight odds for this one with the Shockers favored by a bucket and a total in the mid-140s. It's only the second game for Wichita State under interim head coach Isaac Brown, so take the bucket and follow the Cowboys.
---
Tech Still Regrouping After Ntambwe's Departure
Texas Tech
ats margin
ats as fav
ats as dog
2019/20 Season
+0.1
11-15
3-2
2020/21 Season
+1
4-4
0-0
Just three games into the season, Chris Beard and Texas Tech were dealt a blow by Joel Ntambwe's decision to opt out of the season for personal reasons. The 6-8 sophomore sat out last year after transferring from UNLV, and was expected to be a key part of the Red Raiders' frontcourt rotation.
That shouldn't hurt this week when Texas Tech takes on Abilene Christian and Texas A&M-Corpus Christi, but it will become a factor beginning next week when the Red Raiders step into the Big 12 slate.
Both upcoming contests are mismatches, with expectations of the Red Raiders favored by 18-19 points against Abilene Christian on Wednesday (Dec. 9) and 28-30 on Sunday in Frisco, Texas against A&M-CC. We're also looking at totals for both games around 130, and the last three for Texas Tech have fallen short of the marks. With a home matchup against Kansas the following week, I'm a little gun-shy laying all those points in the second game this week, but definitely follow the Red Raiders in the clash with Abilene Christian.