Maryland Odds to Win 2021 NCAA Championship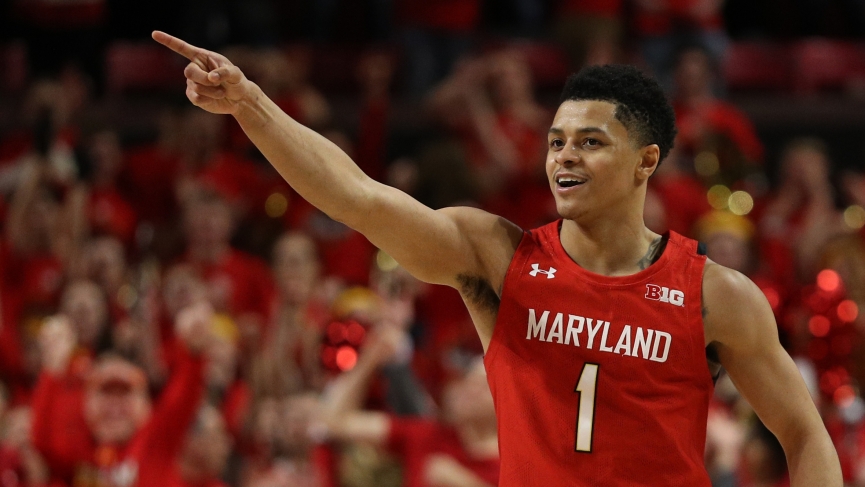 Before there was the who (could've) done it mystery caused by the cancellation of the NCAA Tournament, there were the mysterious ways of the 2019-20 Maryland Terrapins. That Mark Turgeon's troops started ranked No. 7 in the preseason AP poll and finished No. 12 might suggest everything pretty much according to plan, but it wasn't exactly a smooth ride.
There are signs of a much bumpier ride ahead. The Maryland odds market opened with Maryland getting a fair amount of respect for the 2020-21 campaign, but that was before Jalen Smith made it official that he would leave College Park for the NBA.
Losing their big man sent the Terrapins tumbling back in the ranks, FanDuel listing them as 55/1 longshots to win the second NCAA National Championship in school history. After sharing the Big Ten regular season title last season, that has Maryland trailing eight other teams from the conference.
Turgeon Hoping For The Best
Smith averaged a double-double for the Terrapins last season, scoring 15.5 PPG and scraping 10.5 balls off the glass. Those numbers were more than good enough for the 6-10 sophomore to garner 1st team All-Big Ten honors, and 3rd team All-American. His teammate, Anthony Cowan Jr., also landed on the league all-star team after scoring 16+ a game and leading Maryland in assists. In addition to the offense they supplied, Smith and Cowan were huge contributors on the defensive end of the floor.
Turgeon hopes the players behind those two are ready to step up in every phase of their games. Maryland has a nice trio to build around in the backcourt, with the plan going forward to move Eric Ayala into Cowans' spot at the point. Ayala had an inconsistent sophomore campaign but was second on the team in assists and average 8.5 PPG. Where his game really suffered was beyond the arc, the 6-5 guard going from a 40% success rate as a freshman to 27.4% as a sophomore. If Ayala can handle the point, it would allow the Terrapins to use Aaron Wiggins more as a shooting guard, though his 3-point success also suffered. The team as a whole shot just 31.1%, 286th nationally. Darryl Morsell, a 6-5 homegrown talent, has been a solid defensive performer, but will need to show more on offense to complete a decent backcourt.
All of the questions in the backcourt pale in comparison to the frontcourt. Donta Scott is presently the only sure thing as far as minutes go. The 6-7 forward was showing improvement as the season drew to a close, but then mysteriously contributed nothing in the Terrapins' final two contests. An even bigger uncertainty in the post is 7-2 center Chol Marial. He could be a rebounding and shot blocking force but needs to bulk up and gain confidence to play with the big boys in the Big Ten.
Mitchell Bros. Transfers Leave Thin Frontcourt
What really damaged Maryland's frontcourt for next season was the decision by twins Makhi and Makhel Mitchell to leave the program last December and transfer. Makhi was a 5-star recruit in 2019 with brother Makhel getting a 4-star ranking, and they recently announced they would be moving on to Rhode Island.
There's also the question of whether Jairus Hamilton will be able to play immediately after transferring from Boston College. That hinges on the NCAA granting a 1-time waiver for transfers, and though that might eventually be allowed, it appears unlikely for next season meaning the 6-8 forward would be forced to sit. Hamilton averaged 9.5 PPG for the Eagles.
There isn't any help for the front court coming via the recruiting trail. Turgeon's two big scores were guards Marcus Dockery and Aquan Smart. Dockery ranked 186th nationally, and 26th at the combo guard position, with Smart well behind both of those rankings.
Terps' Only Early Tourney One They Host
Maryland came out red-hot last season with a 10-0 start, that streak including grabbing the hardware in the Orlando Invitational with wins over Temple, Harvard and Marquette. The Terrapins also had a 9-game win streak during the Big Ten slate. They struggled in hostile gyms, however, with six of their seven defeats coming away from home, and went cold with three losses over the final five games. It was on the defensive end where things went south at the end, Maryland's final six games all going past the college basketball odds.
The Terrapins will host the Maryland Showcase in November, but won't get many style points taking on Duquesne, San Jose State and Cal Baptist in those contests. They could be in line for inclusion in the Gavitt Games and are a perfect 3-0 against Big East competition in those settings. And, of course, there is the Big Ten/ACC Challenge. Maryland beat Notre Dame in that event last year, its first win in the challenge since joining the Big Ten. The Terrapins were 10-5 playing as an ACC entry.
That 2002 NCAA title seems much longer ago than 18 years, and we'll never know if a second championship was in the cards for Maryland this year. All signs point to the Terrapins struggling just to reach March Madness next year, pushing that 2002 run further back in our memories.
Odds to Win 2021 National Title: 55/1 (+5500) at FanDuel