BetMGM Partners with Topgolf
BetMGM and Topgolf Entertainment Group announced a partnership on Friday around a sports betting and entertainment experience. Topgolf and BetMGM will collaborate to bring promotional offers to the BetMGM platform for select Topgolf locations.
"We look forward to introducing Topgolf guests to the immersive sports betting experience that only BetMGM can provide," said BetMGM's Chief Revenue Officer Matt Prevost. "Topgolf is known for offering unique and interactive entertainment options, which our loyal BetMGM users can now access through a variety of exclusive and customized packages."
Sponsorship Spotlight💡: Topgolf has added BetMGM to its list of partnerships. Branding of the sports betting app will appear at select Topgolf locations and be digitally integrated into World Golf Tour, the virtual golf game and esports platform owned by Topgolf. #partnerships https://t.co/fakPD4lCL4

— KORE Software (@KOREsoftware) February 23, 2021
Topgolf has over 70+ locations across the U.S., with many of them in states with legalized sports betting or soon to be. The partnership will help the customer entertainment business for both parties. States that already have a Topgolf and BetMGM Sportsbook or casino will see the partnership and all it has to offer first.
Topgolf and MGM Casinos are already located in Las Vegas (where Topgolf had its location at the MGM Grand), Indianapolis, Nashville, Detroit, Virginia Beach, and Denver. The six cities are in states that have legal sports betting.
BetMGM will add additional promotions and be featured within these cities' Topgolf locations and expand the experience to other locations as more states legalize wagering.
Although the promotional ideas were vague, there will most likely be promotions correlated with sports betting and possibly offering bonuses for visiting Topgolf locations. Similar to partnering with a professional sports franchise, BetMGM could offer Topgolf visitors a free bet if they play during a certain weekend or an odds boost on a local team.
It's hard to say betting kiosks will be available at these locations due to state regulations, but a potential BetMGM VIP Lounge could appear at some of the Topgolf locations. Topgolf could also flip the script and offer a free appetizer or drink if someone were to sign up with BetMGM with a special promotion.
There are many possibilities for promotional deals, but it would no surprise if there was some crossover like this.
More Growth for MGM
MGM's partnership with Topgolf comes as the gaming and casino empire announces Q4 earnings and reopening MGM Casinos in Las Vegas.
The partnership should help BetMGM the most through its mobile betting app and the cross-promotion that Topgolf will offer. BetMGM grew from three states to 10 in 2020 and will plan to enter more in 2021 and beyond. The sports betting operator has grown into one of the top sportsbooks in the U.S. – competing on the same level as DraftKings and FanDuel.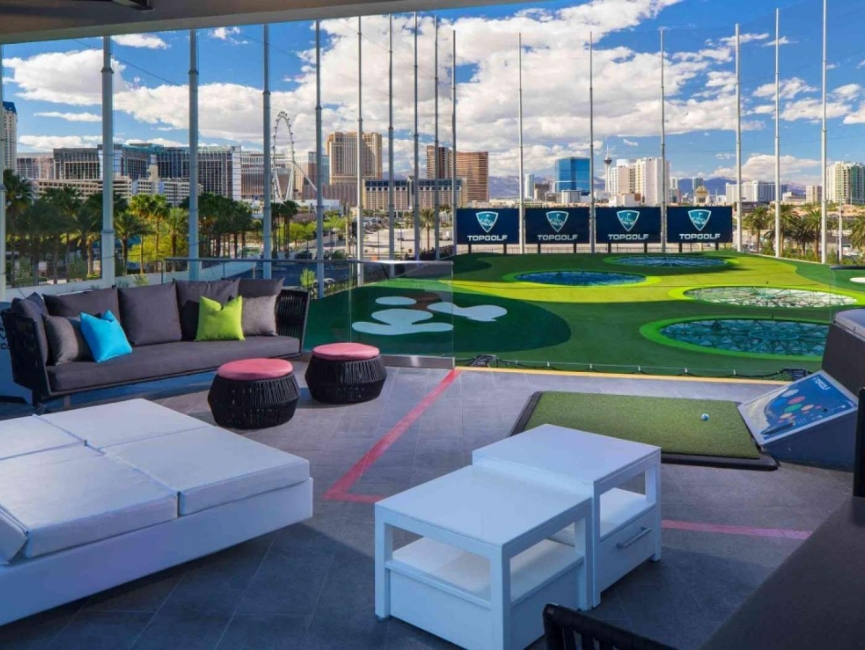 The partnership will prove to pay off in Las Vegas, where the Topgolf location is at The Signature at MGM Grand, and will also pay off at its Nashville location. BetMGM has the largest market share in Tennessee among the four sports betting operators in the state. With over a third of the share, BetMGM and Topgolf could increase that with the new partnership.
Topgolf in Detroit and Virginia Beach could become the most important for BetMGM as Michigan and Virginia launched sports betting in January. With the markets so new, getting a deal with a popular adult weekend activity could help get a sliver more of the share that will pay off in big ways.
MGM Resorts International (MGM) closed at $36.42 on Friday, with much news in recent weeks. Now, adding to the partnership with Topgolf could also add to stock growth in 2021. If more states legalize sports betting where MGM and Topgolf are operating, it only adds more to the pot.