BetAmerica Sportsbook Review: BetAmerica Sportsbook is the sports betting arm of Churchill Downs Incorporated (CDI). As you may have guessed, this platform is deeply rooted in the horse racing industry as it originally began as a horse racing betting site. But, BetAmerica has evolved over the years to become an all in one gambling platform with casino games, pari-mutuel wagering, and of course sports betting.
While BetAmerica has a little bit of everything, it doesn't quite outshine the competition in any area. BetAmerica is the prime example of the saying "jack of all trades, master of none."
You'll see throughout our BetAmerica Sportsbook review that the site does in fact have almost everything a sports bettor could ask for. Good odds, plenty of sports, live betting, and mobile betting are all offered here. It just seems as though the X-factor is missing.
One of those factors is the welcome bonus described below.
BetAmerica Sportsbook Welcome Bonus
We're not going to beat around the bush on this. The BetAmerica Sportsbook welcome bonus is one of the weakest in the industry. It's low paying and it's a little tedious to get.
The site advertises their Bet 50 Get 50 bonus more than any other promotion, despite the fact that they have better offers. Competitors offer upwards of $500 to new users so $50 feels like peanuts if you're serious about sports betting.
The Bet 50 Get 50 bonus is almost as simple as it sounds to get. There are a few additional rules to keep in mind when trying to qualify and use this bonus which will be made abundantly clear in the next section.
Just don't expect to come to BetAmerica and run away with free money.
Rules Breakdown of BetAmerica's Sign up Bonus
TYPE
AMOUNT 
MAX BONUS
HOW IT WORKS
Matched Bet
100% Match Bet
$50
Bet $50 Get $50
The first rule to take note of is that you have to put in the bonus code when making an account and making your first deposit.
After that, your initial bet can be whatever amount you'd like, but BetAmerica is only going to award you up to $50 in free bets. So for example, if your first bet is $10 then BetAmerica will give you $10 bucks. If your first bet is $50 then they will award you $50 in free bets. If your first bet is $5000 dollars then you'll still only get $50 in free bets.
Free bets have to be used within seven days or else they expire. So, be ready to bet multiple times in order to capitalize on this deal.
Also, if you were thinking about collecting that $50 and then withdrawing all your funds…you're S.O.L. You have to bet through that amount at least once before you can withdraw whatever is left from your free bet winnings.
It isn't a whole lot of steps to get it, and it's also not that much you get in return.
While this isn't necessarily the strength of the sportsbook, you also don't want your sportsbook's backbone to be their welcome bonus. What's scary is that this is actually their highest paying bonus.
---
Special Perks At BetAmerica Sportsbook
BetAmerica Sportsbook bonuses and promotions vary throughout the year depending on what sport is in season. But, to get an idea of what they offer, we can give you a few of their current deals that can be reached simply by clicking their promotions tab.
| BetAmerica | Perks and Promos |
| --- | --- |
| Multi-Sport Parlay Insurance | Make a 5-leg multi-sport parlay bet of up to $25 and get your money back if every leg hits but one. |
| NCAAF Double Down Touchdown | Get up to $25 if you bet on a CFB game spread and the last scoring play of the game is a running touchdown. |
| NFL & NCAA Live Bet Bonus | Bet $20 or more on the spread of a college or NFL game and receive $10 in free live bets for that same week's Monday Night Football Game. |
Again, all of these bonus amounts are minuscule compared to other sportsbooks but that doesn't mean that they are bad. They more or less signify that this sportsbook is just for the casual sports bettor and not for professionals or for high rollers.
There are also BetAmerica boosted odds for select games but the odds are barely boosted. You'll see odds for a game you would never think to bet on (like a random European soccer prop bet) go from +275 to +300.
Still not enough to get most sports bettors excited, but it's the thought that counts.
---
BetAmerica Website Review
The website experience is one of, if not, the main component sports bettors look for when considering a new sportsbook. BetAmerica unfortunately doesn't make the best first impression in this department.
You can see below the layout of the sportsbook uses a bland but patriotic color scheme.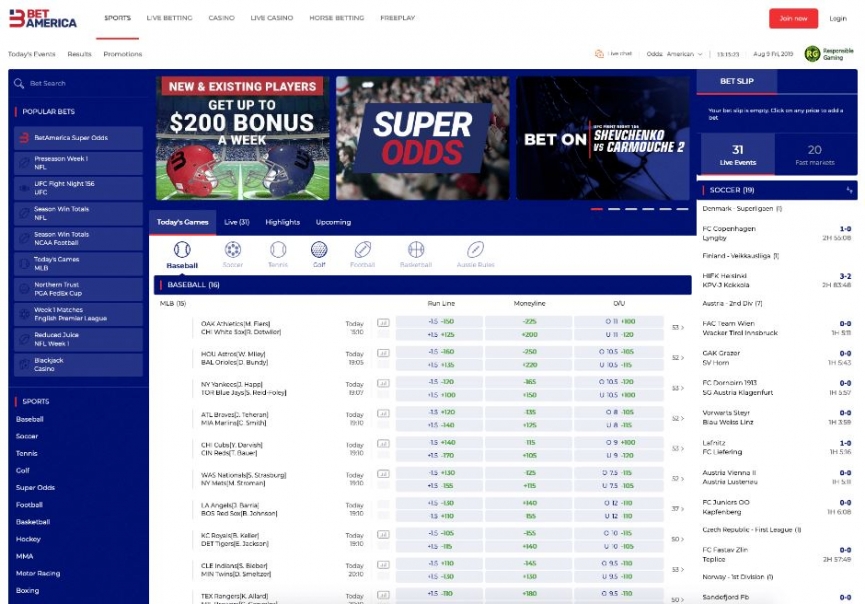 The sportsbook does do a good job of giving you the latest and current matchups as soon as you log on. But, where it shoots itself in the foot is when you're trying to find a specific game and/or specific betting line. The search bar unfortunately doesn't help as much as it should.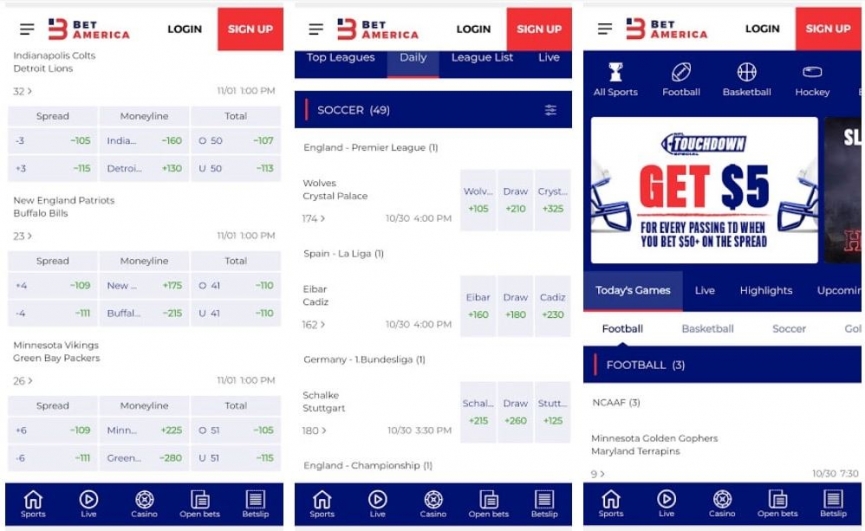 When you scroll down to try and manually go looking for a betting line for your favorite sport, you'll notice a whole lot of nothing on the page at first. While this is aesthetically boring, it's not necessarily a big problem.
What is a major problem is the fact that everytime you click on a sport on the left hand side, the website scrolls itself back up to the top of the page automatically.
So just to find college football lines, you'll have to scroll down hit football, then scroll down and click college football, then scroll down again and select what game you want to take a closer look at.
If you're just shopping around for multiple sports this could become the ultimate nuisance and reason enough to not want to come back. But, once you do find the game or match of your choice, the odds are pretty decent.
You'll notice two things once you're looking at the odds for a certain sport. On the right hand side you'll find any extra prop bets, first half, second half lines, etc. available for that match. There aren't a whole lot on average but the main ones are there.
What's more useful is that on the left hand side you'll find statistics that relate to that game. That helps people cut out the middleman (a.k.a. ESPN and the like) and make informed wagers straight from the site or app.
It's one of their best features along with their fair priced odds.
---
BetAmerica Sportsbook App Overview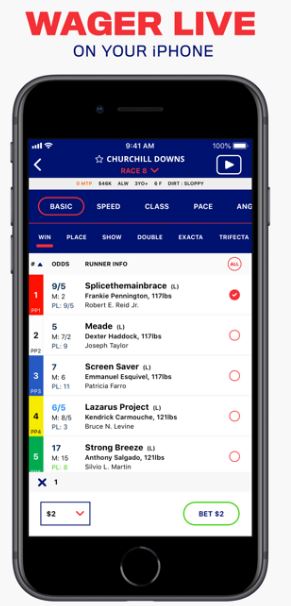 The BetAmerica Sportsbook app might actually exceed the website experience. This is pretty rare as in most cases using the website from a laptop or desktop is easier.
The color scheme and layout seem to work better on mobile devices. Finding everything you need is also easy with the bottom bar containing the betslip, open bets, and live betting opportunities.
The most important factor of the app is that it doesn't constantly crash and it only gets smoother and smoother with every update. Customer service can also be accessed from the app so you always have support, even if you have difficulty with the app.
It's one of the higher-rated apps on the Apple App store and after using it, you'll see why. It's also available for Android devices by downloading the app from your mobile browser.
---
BetAmerica Deposit Methods
BetAmerica has a solid lineup of deposit methods to make it easy to get your funds to your account quickly. Getting in funds before a last minute wager can be the difference between winning big or having a lame story to tell your coworker at the water cooler the next day. So it's nice that BetAmerica has you covered. Their list of options are as follows:
Ways to Deposit on BetAmerica
Debit/Credit (Visa/Mastercard)
ACH
PayPal
Skrill
Neteller
PayNearMe (pat at select 7 Eleven stores)
Play+
There is a $10 minimum for any deposit method you choose so keep that in mind. This is pretty standard among all legal U.S. sportsbooks.
BetAmerica Withdraw Methods
The best part about sports betting is collecting your winnings, but some sportsbooks limit the methods in which you can collect those winnings. BetAmerica is not one of those sportsbooks as the methods they have are:
Ways to Withdraw on BetAmerica
E-Check/ACH
Paypal
Skrill
Neteller
Play Plus Cards
Check by Mail
Each withdrawal method has its own time in which it will get sent back to you. The amount you withdraw might also have an effect on the length of time it gets back to you. If you have any problems in this department their customer service is great and should be able to help.
---
BetAmerica Sportsbook Betting Markets And Prices
BetAmerica sportsbook has all of the main sports you'd expect a typical American bettor would put money on. But they are missing some niche sports that certain sports bettors would really like to see. Some of those sports include
Esports
Volleyball
Handball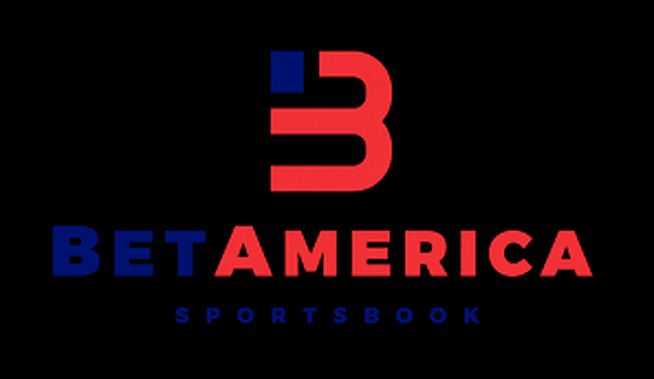 Of all those sports, esports might be the biggest hidden gem that BetAmerica is missing out on. Betting on esports is becoming increasingly more popular and that was especially the case during the pandemic lockdowns. This could be a symptom of state regulation, however, and not their own choice.
But, what's more striking is the fact that there are no futures odds at this sportsbook.
That would be the equivalent to going to a McDonalds, ordering a Big Mac, and the cashier saying "Oh by the way we don't have any fries." What a shame that would be. Futures bets can be some of the most profitable bets of any that can be made at a sportsbook.
Maybe one day BetAmerica will catch up to the rest of the sports betting world and introduce futures, but for now they're stuck in the past when it comes to this.
The BetAmerica Sportsbook odds prices for the games they do have are pretty standard. Their isn't too high of a vig for the most part and they have caught up to the others in this aspect.
---
BetAmerica Customer Service
This is one area that BetAmerica can hang their hat on. When we had questions that we felt their small FAQ section didn't answer, their 24/7 live chat came in handy. Their responses were fast and covered our questions thoroughly.
There is also a phone number that you can call from 9 a.m. to 2 a.m. which is not something every sportsbook can say. Their email service is also 24/7 so you should have no trouble getting the help you need.
BetAmerica is like a mom and pop shop in the sense that they may not have all the flashy stuff that the big corporations in their industry have, but they make up for it with genuine care and sincerity for your concerns.
---
BetAmerica Sportsbook FAQs
Can I Use My BetAmerica Horse Race Betting Account For Sports Betting?
No, you'll have to make a separate account if you want to bet on sports or even play casino games through BetAmerica. That's because the laws surrounding these types of gaming vary from state to state.
What Type Of Software Does BetAmerica Sportsbook Use?
SBTech is the sports betting platform provider to BetAmerica Sportsbook. In Spring of 2020, SBTech and DraftKings joined to become a single company.
Is It Safe To Use BetAmerica?
Yes, it is safe to use BetAmerica. Just be sure you're located in a state which it's licensed to handle sports betting before you try and place any wagers. Those states are New Jersey, Pennsylvania, and Indiana.
Does BetAmerica Sportsbook Have Live Betting?
Yes, all their live betting options can be accessed by clicking "Live Sports" on their top menu. Once you do you can also find their schedule for the next live events and the results of the live matches they accepted odds for before.
---
Bet America Sportsbook Pros And Cons
| Pros | Cons |
| --- | --- |
| Great for sports betting fans that also bet on horse racing. | Clunky website that makes it hard to find particular odds. |
| Decently priced odds for marquee games. | Tiny welcome bonus when compared to other sportsbooks. |
| Excellent customer service options with timely responses. | Limited number of betting lines for individual matches. |